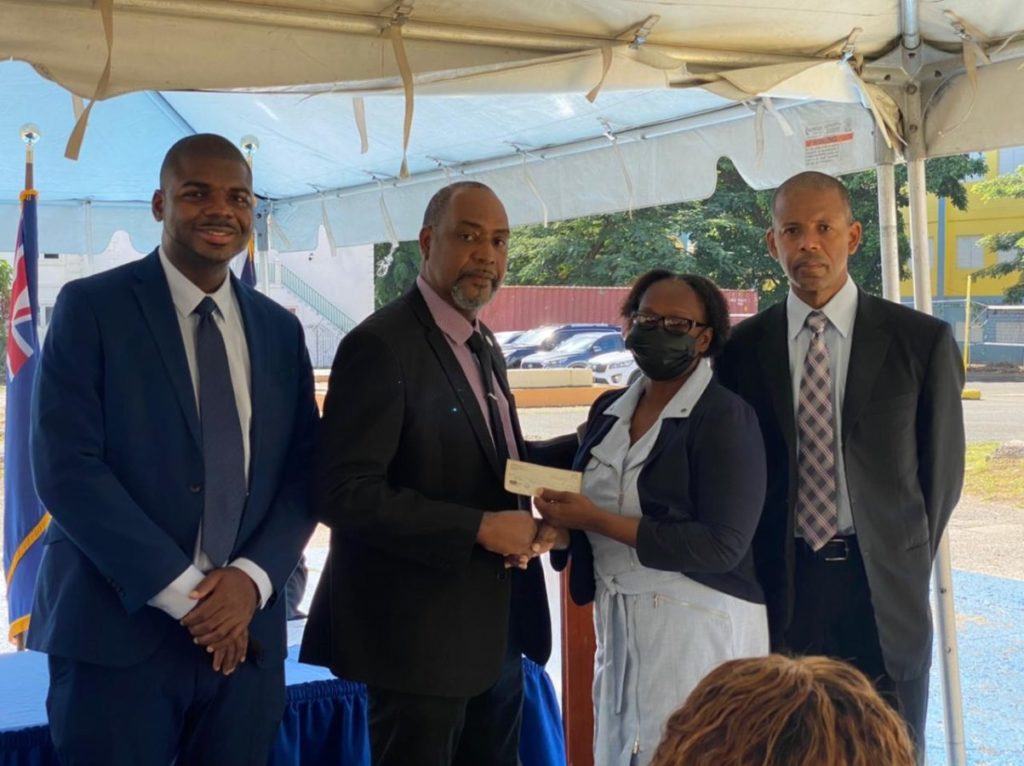 Public officials pledge thousands to ESHS from personal businesses
'Tis the season of giving and local public officials were in a generous mood today as they pledged monies to the Recovery and Development Agency (RDA) for the construction of new buildings at Elmore Stoutt High School (ESHS).
Deputy Speaker of the House of Assembly Neville Smith kicked off the giving festivities by handing over a $15,000 cheque to the RDA's Director of Programme Strategy Dr Neil Smith, the principal of ESHS Vanessa Garraway, and the Minster of Education Dr Natalio Wheatley.

"I am a product of this school and I'm a very proud product. I'm here today because of this school. I did not go to college, but I thanked all my teachers who have invested in me. So, today as a business person, I am going to invest in this school. I'm going to donate $15,000 from my company Caribbean Security to build a classroom," Neville Smith said in handing over the cheque.

"I'm doing this because what I want to see happen is that every student that leaves this school … if they can contribute whether it is $1,000 or $100 to a building fund, they should. As people that leave this school, we need to give back. As business people, we need to give back. So today, I'm begging and asking all who have been to the school to contribute by creating a building fund. Let us do it," the Deputy Speaker.

The baton was quickly handed off to the Minister of Social Development Carvin Malone and he said he and the ESHS class of '76 are committed to matching the $15,000 donation made by the Deputy Speaker.

"There is a lot more to be said and there are other team members who will say it. I am sure I can commit the class of '76 to match the $15,000 donations… We will do this together. We will raise the funds and we will continue to build the schools," Malone said.

Meanwhile, Dr Neil Smith shared a story of the McMaster family. He said ESHS has helped to develop 25 of the 30 members of the family living in the BVI including Olympian Kyron McMaster. He said for this, his family are making a donation to the school.

"The McMaster family would like to give back. They are contributing $250 per person to the school. For a total of $7,500," Dr Neil Smith said.

Representative of the Fourth District where the ESHS is located, Mark Vanterpool, also got in on the donation act. Vanterpool noted that his company has been giving scholarships to students to pursue education for years. For that reason, his board of directors have budgeted $100,000 annually for the next five years to contribute to education in the territory.

"We give students scholarships because we believe education is the foundation and businesses have to give back to education. Having said all that, yes, $25,000 from Vanterpool Group of Companies," the Fourth District Representative said.

The outpour of donation commitments happened during the contract signing for the redevelopment of the Elmore Stoutt High School (ESHS).

The new buildings to be developed at the high school is expected to be completed for the upcoming 2022/2023 academic year.