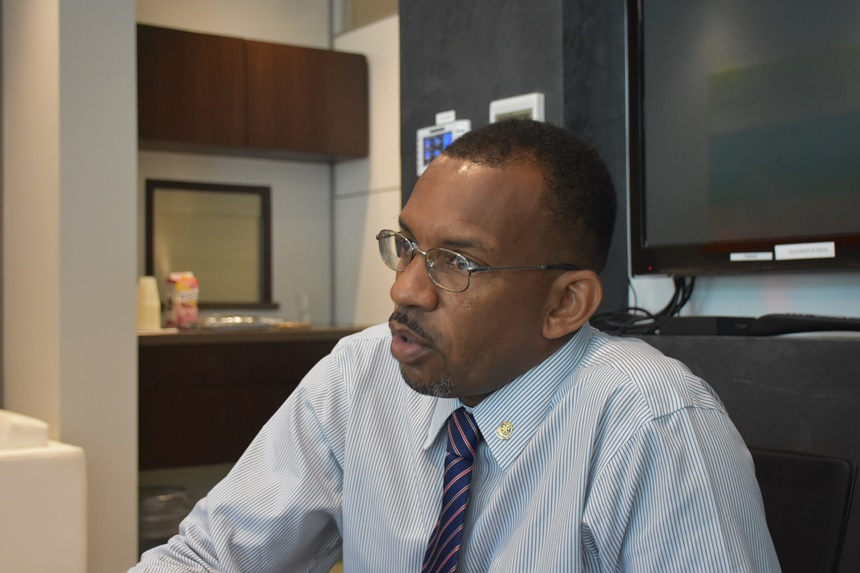 PVIM: Ian Smith replaces Hewlett for D4 as 'MB' added for D5
The Progressive Virgin Islands Movement (PVIM) made what it described as some 'big changes' to its electoral ticket ahead of its launch at the Noel Lloyd Positive Action Movement Park in Road Town last evening, March 19.
The PVIM removed Paul 'On the Ball' Hewlett as its District Four candidate, replacing him with former Social Security Board (SSB) Chairman, Ian Smith and selected Marvin 'MB' Blyden as its Fifth District candidate.

Hewlett, who appeared as the MC for the evening, addressed comments that had been circulating earlier in the day. He argued that he only withdrew his candidacy because he wanted to put the party first. "I want everyone to understand that I am a not just a people person but I'm a party person first," Hewlett explained. "So, I support the party and what the party wants."

Smith, for his part, argued that the country is in shambles and called the sewerage-riddled capital city of Road Town, which forms part of the Fifth Electoral District, a 'shameful excuse' for the beauty that can exist otherwise. "Garbage, pollutants, export-only pesticides and an over-reliance on imports are making our people severely ill," Smith argued.

He touted his business acumen as a senior banker as well as his tenure as SSB Chair and member of the Financial Services Commission. According to the former board chairman, he served the territory in numerous areas and capacities over the last 30 years without compensation.

In the meantime, Blyden claimed that business people are suffering in the BVI and said questions about why he chose to join the political movement at this time will be answered at his district launch soon. "The PVIM is ready. They are ready to take up the responsibility of moving this country forward," Blyden shared.

The PVIM now has nine candidates, including four Territorial At-Large candidates and five district candidates contesting the elections. The At-Large candidates are Ronnie Skelton, Shaina Smith, Ingrid Moses-Scatliffe and Stacy Mather, while Sylvia Moses (D1), Melvin 'Mitch' Turnbull (D2), Ian Smith (D4), Marvin Blyden (D5) and Shereen Flax-Charles (D9) are the district candidates.