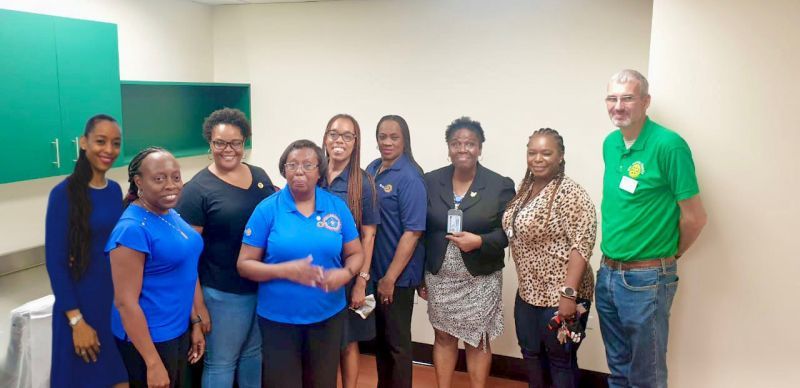 Rotary Tortola secures $45K funding to expand local blood bank
The Rotary Club of Tortola has successfully secured $45K for the purchase of needed equipment to expand the blood bank laboratory services at the BVI Health Services Authority (BVIHSA) and in the process, living up to a challenge first put to the club by Dr. Kedrick D. Pickering earlier this year.
Some $25K was raised via their grand raffle as well as support from the community as the balanced needed to make up after the raffle was provided by generous donors which see the Rotary Club of Tortola with the needed $45K for this project.

According to a release from the Rotary Club of Tortola, "In the spring of 2022, Dr. Kedrick Pickering was the guest speaker at the Club's weekly luncheon meeting where he spoke on maternal health and issues surrounding birth as an expert in the field, having the record for most deliveries in the Territory. An issue he said the hospital is facing is the availability of blood and blood products such as plasma in a quick time. He challenged the Club to make an impact where this is concerned and do something to help the blood bank at BVIHSA."

Never one to back away from a challenge, the Club went to work in partnership with BVIHSA and the BVI Red Cross and determined what would be the necessary equipment and training needed for an expansion of the Laboratory at BVIHSA.

The Laboratory is also in the process of moving into an expanded space in the hospital.


Additional equipment will increase laboratory capacity - BVIHSA CEO

Dr June Samuel, current acting CEO of the BVIHSA explained that the additional equipment to be purchased with the funding from the Club will increase the ability for the Laboratory to have units of blood in its inventory immediately available, and will also allow for components of blood, such as plasma (which has a longer shelf life) and platelets, to be extracted locally.

"This expansion comes as an opportune time as the Laboratory is actively working on achieving certification early in the New Year," noted Dr Samuel.

She concluded, "The BVIHSA is focused on expanding and improving its services, and partners such as the Rotary Club of Tortola will help us to meet these goals."

On Friday, November 4, 2022, with the Rotary District Governor for District 7020, Ms Deborah Howell visiting the VI Rotary Family for the past week, the Club used the opportunity to give DG Deborah a tour of the new space the Laboratory will occupy and to meet Laboratory Manager Devye Nicholson and other key lab personnel.

DG Deborah expressed satisfaction with the progress made to date with the project and of the importance of the project for the VI community and is looking forward to the improvements that will be made to the patient experience at the Hospital once the project is completed.