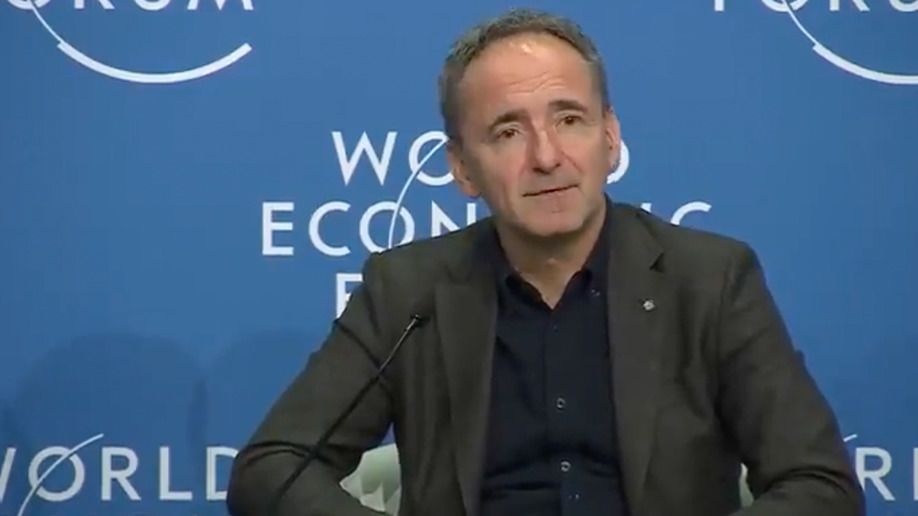 Siemens AG Chairman calls on one billion people to "stop eating meat" to "combat climate change" at Klaus Schwab's World Economic Forum
He did not suggest to stop paying bribe to government officials around the world in order to gain contracts in outrages prices (a common Siemens business tradition), nor to pay back the billions of dollars Siemens received from governments in exchange to bribe they paid in the past.
"If a billion people stop eating meat, I tell you, it has a big impact. Not only does it have a big impact on the current food system, but it will also inspire innovation of food systems," Siemens AG Chairman Jim Hagemann told the WEF crowd in Davos, Switzerland, on Wednesday.

He was "inspired" by his 24-year-old daughter who asked him how he could advocate for "zero carbon value chains" and still eat meat products.

"And so, I stopped eating meat," he said.

Hagemann noted the math says one person quitting meat for 11 years would only compensate for one flight to Thailand, but if billions did the same thing it would spur massive change.

In a major prediction, he also claimed that the world will have access to other proteins in the future that will taste "even better" than meat and knocked companies that try and "mimic" the qualities of chicken and beef.

"They will be zero carbon and much healthier than the kind of food we eat today," he said.


However…
Greenpeace International, a global climate group that opposes fossil fuels, released a study showing that elites largely travel to the WEF annual conference via private jets.

The analysis – published late last week by Greenpeace and the environmental research firm CE Delft – showed there was a significant uptick in private jet flights, many of which were short-distance, to airports near WEF's headquarters in Davos, Switzerland, during the 2022 summit.

"Europe is experiencing the warmest January days ever recorded and communities around the world are grappling with extreme weather events supercharged by the climate crisis," Greenpeace campaigner Klara Maria Schenk said in a statement Friday. "Meanwhile, the rich and powerful flock to Davos in ultra-polluting, socially inequitable private jets to discuss climate and inequality behind closed doors."

Several speakers have been knocked for their choice of words when discussing climate change and how everyday people can help to save their environment.

Special Presidential Envoy for Climate John Kerry was mocked online Tuesday for characterizing efforts by elites to combat climate change as "almost extraterrestrial."

"When you start to think about it, it's pretty extraordinary that we — select group of human beings because of whatever touched us at some point in our lives — are able to sit in a room and come together and actually talk about saving the planet," Kerry remarked. "I mean, it's almost extraterrestrial to think about 'saving the planet.'"
---