Despite the coronavirus pandemic that initially paralysed tourism across the world and the challenges of travel, many tourists were still determined to make the Virgin Islands their choice of destination since the territory began accepting international visitors from December 1, 2020.
Statistics from the BVI Gateway Portal show that between December 1, 2020 and August 26, 2021, more than 36,200 persons entered the territory through its air and sea ports.

This includes approximately 28,000 non-residents coming to the VI shores for vacation.

The stats were given by Premier and Minister of Finance during a statement on August 27, 2021.

"These tourist arrivals have been bringing business to our hotels, guest houses and villas; providing work for our charter companies, taxi drivers and tour operators; patronising our restaurants, bars and food vendors; contributing to economic activity across our various sectors; and generating revenue for the territory. However, we still have a lot to do," Premier Fahie said.

Interestingly, even during the period of the COVID-19 spike, which started at the end of June, the tourist arrival numbers were encouraging.

"In July 2021, we welcomed over 6,800 visitors and so far for August we received over 2,000 tourists," Premier Fahie shared.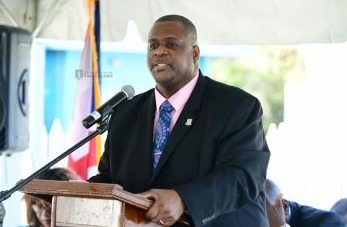 Premier and Minister of Finance, during a statement on August 27, 2021, said even during the period of the COVID-19 spike, which started at the end of June, the numbers of tourist arrivals were encouraging.
'Air & sea port teams kept economy moving'

Honourable Fahie noted that these numbers were achieved even though air and sea port staff were also affected by the recent COVID-19 spike.

"Several employees tested positive and had to be quarantined. Coworkers who were exposed to them also had to be quarantined as a precaution. But despite this, our air and sea port teams pulled together and ensured that our ports remained open. In so doing, our air and sea port teams kept the economy moving. We must commend them for their efforts for finding the right balance to achieve this."

With the August tourist arrivals showing a decline, Premier Fahie reminded that it was expected due to the Hurricane Season, and heading into September, which is usually the most active month for hurricanes.

"This is, therefore, the traditional slow season for tourist arrivals.

"Additionally, many of our charter companies and accommodation properties closed their bookings to perform preparations for the new tourist season, which will commence in October," Premier Fahie said.

The leader of government's business said with the COVID-19 numbers back down and more VI residents vaccinated, the territory can be optimistic that the upcoming tourist season can be a healthy one given the appetite in the global tourism market and the increase in travel, which he said is happening in part due to the vaccination programmes in all countries.

"This is another reason for us to get more of our residents to become vaccinated," Premier Fahie stated.