The Government of the Virgin Islands is working to dispose of the more than 50 dead Shortfin pilot whales discovered on the East End of Anegada at the weekend.
Some of them will be dragged out to the open ocean, Minister for Natural Resources and Labour Hon Melvin M. Turnbull (R2) has said.

Hon Turnbull was part of a team that visited the area on Monday, June 4, 2022. Others included Deputy Premier Hon Kye M. Rymer (R5); Governor John J. Rankin, CMG; Junior Minister for Trade and Economic Development Hon Shereen D. Flax-Charles (AL); Marine Biologists Mervin D. Hastings and Argel Horton; Rotary members, fishermen, tour guides and other persons.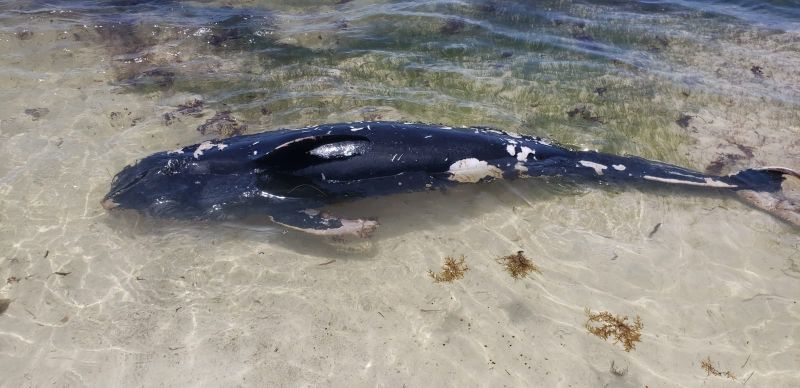 A dead Shortfin pilot whale at Anegada on July 5, 2022.
Situation 'damaging & dooming'- Hon Turnbull

"We are here where the whales have been beached. Some of them have been swollen.

The teams are here, the situation is much more damaging and dooming than we have seen in the pictures," Hon Turnbull commented.

Hon Turnbull added: "We are working with solutions to try to dispose of these animals, samples are being collected by the scientists."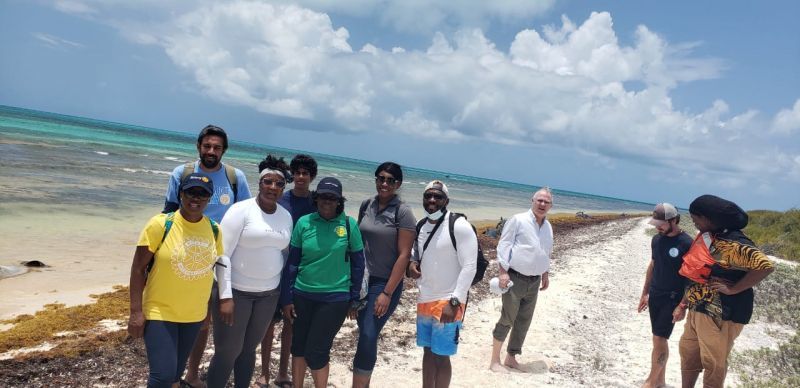 Some of the members of the team that visited the area of the beached whales on Anegada on July 4, 2022.
Disposal

The Minister said Government is "going to make a decision really soon" to move the dead whales off the beach.

"Some of them will be dragged to the ocean to continue the circle of life, so to speak," Hon Turnbull disclosed.

The pod of whales was estimated to be some 150 observed in the area.

The public has been urged to stay out of the water around the dead whales and to notify the Ministry of any more possible sightings of strandings in the Territory.

"I want to assure the people of the Virgin Islands, the tourists, the fishermen, the divers and all persons in this territory to know that this is important and we want you to keep safe. We want you to avoid being in the waters diving and fishing around this time being, until we can bring about the solutions," Hon Turnbull stated.