Information coming into Virgin Islands News Online (VINO) is that House of Assembly Speaker, Hon Julian Willock has lambasted the Attorney General, Hon Dawn J. Smith for allegedly misleading the court.
In a memorandum of September 16, 2021, seen by our newsroom, the Speaker told the AG that it was his understanding that Hon Smith had told the court that in filing the injunction to prevent the Commission of Inquiry (CoI) lawyers from practising, that he may not have been acting in his 'official capacity."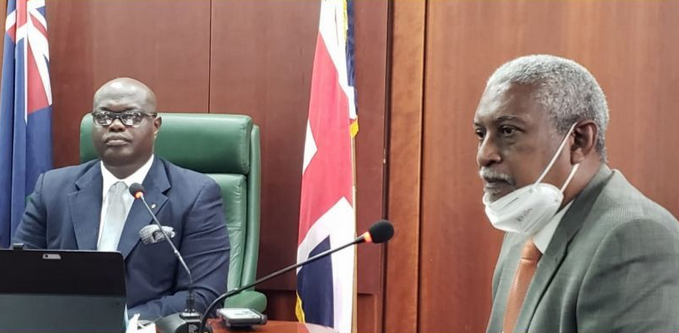 Attorney Richard G. Rowe, right, has said Silk Legal, representing Speaker Julian Willock, will be taking an action against the Attorney General for a declaration from the court that her appointment of these persons to the CoI before they have been admitted to the Bar, is void.
AG did not grant consent for an injunction

House Speaker Hon Julian Willock, along with the Deputy Speaker before withdrawing a case, had filed an injunction against Bilal M. Rawat, Andrew King and Rhea Harrikissoon, who are currently assisting with the works of the UK-sponsored Virgin Islands (VI) Commission of Inquiry (CoI) in the Virgin Islands, having accused them practicing law in the territory and doing so while not being called to the Virgin Islands Bar, a violation of the Legal Profession Act 2015.
The case was subsequently withdrawn by Hon Willock.

However, it was subsequently revealed that Attorney General Smith did not grant consent to the Speaker of the House of Assembly to move forward with the injunction that had already been filed in the court.

Injunctions are usually brought by the Attorney General or the Director of Public Prosecutions.

In a ZBVI 780 AM interview this week, the attorney representing Hon Willock, Richard G. Rowe, said despite penning a letter to AG Smith for her permission, "she gave no response to his letter."

As a result, Mr Rowe said without the AG's consent and Justice Jack's order, the decision was made to withdraw the application.

Hon Willock, in the leaked correspondence, told the AG that for her to tell the court that he was not acting in an official capacity was 'troubling and misleading."


Speaker was always acting in 'official capacity' - Hon Willock

"I remind you of my memorandum of the 19th August 2021, 2nd March 2021, and 25th of February, 2021, where we made clear of our intention to hire independent legal counsel in my official capacity, as it related to the Commission of Inquiry," Hon Willock said.

Hon Willock also indicated that in a letter of August 30, 2021, he also indicated that he was operating in his official capacity.

Mr Rowe has since said that he intends to use Attorney General's Smith's own words against her in an upcoming court appearance in the matter, involving the alleged illegal practice by the three attorneys from the United Kingdom (UK).