Opposition Member Honourable Julian Fraser RA (R3) said ministers risk losing their ministerial portfolios if they do not obey dictates from the sitting Premier.
"There were times other things happened in my ministry because people went to the Premier," Honourable Fraser said on Thursday, September 16, 2021, when giving testimony to the Commission of Inquiry.

Hon Fraser is a former Minister for Natural Resources and Labour, Deputy Chief Minister and Minister for Communications and Works under the VIP's tenure in office under the late Premier (then Chief Minister) Honourable Ralph T. O'Neal OBE.

When lawyer to the CoI, Mr Bilal M. Rawat, pressed him to expand on his statement, Hon Fraser said, "I am not going there … I don't want to get into that."

Mr Rawat asked him: "What you can say, once you are a minister things happened within your ministry that you as a minister were bypassed?"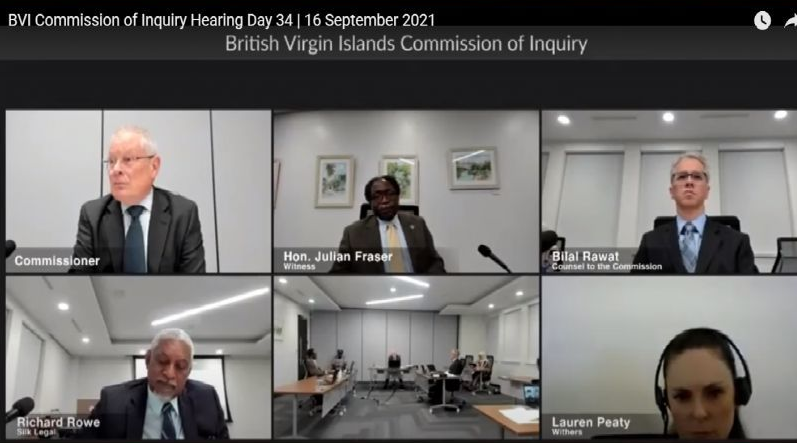 Honourable Julian Fraser appeared as a witness on the Commission of Inquiry on Thursday, September 16, 2021.
Premier 'basically omnipotent'

"Yes. The premier in any administration is basically omnipotent. I am not getting involved in all the different things that happened to me while I was minister, do your research, and you will find out and not just me; it happens to all ministers," the former minister said.

Hon Fraser said he could speak to this happening as far back as 1999 when he was a minister, "nothing has changed, it's the same."

"If I knew that anything I say regarding those kinds of activities supposed to be off the record and no chance of it being included in what's going on, I could speak freely, but I am not getting involved in those things right now.

"I am not saying they are improper. There is nothing improper about what the premier has done; the premier acted within his rights, I believe. If I am your boss and you are telling your staff to do something, I am supposed to walk in the room and tell the staff differently," he added.


No one to complain to

Honourable Fraser said although a minister would get a ministerial portfolio and is supposed to be in charge of his ministry, "there are times when dictates comes from above. There is nobody for a minister to complain to between himself and the premier; however, in the case of a minister and a Permanent Secretary (PS), there is somebody for the PS to complain to, which is her boss, the Deputy Governor and the Deputy Governor would tell the Governor who would tell the Premier."

In the case of the minister, he stated: "You are literally at his mercy or her mercy, and I am not suggesting in any way, shape or form that these people are abused as ministers, I am just saying. If the Premier passes by you today and tell you that I don't think so, and so should be the case, you better fix it or change it; else you would no longer be the minister. These things happen."