The Virgin Islands government has officially received the keys to the Theodolph Faulkner Administration Building in Anegada following an official handover ceremony on Friday.
The admin building was one of the many government structures damaged during hurricanes Irma and Maria in 2017.

It houses the district office and police station and was repaired through a partnership between the Government of the Virgin Islands and the Recovery and Development Agency.

No Limit Construction, a local construction company, completed the rehabilitative works which included the removal of floor, ceiling and wall tiles, electrical and plumbing works, installing of handrails, repairs to the cistern and exterior cosmetic works.

Governor John Rankin said the reopening of the building was a sign of the progress that has been made in the territory and for the people of Anegada.

Premier and Minister of Finance, Andrew Fahie said it was fitting that the administration building should carry the name of a stalwart who was perhaps one of the territory's most inspiring figures.

"By a simple stand, Faulkner altered the course of the political, economic and social development of the Virgin Islands and we are honoured to see to the rehabilitation of this administration building today," Fahie said.

Ninth District Representative Vincent Wheatley said the work is a signal that the government is progressing with its mandate to repair facilities damaged during the hurricanes.

Meanwhile, the Junior Minister for Trade and Economic Development, Shereen Flax-Charles said the Anegada community has a special place in the hearts of many people from around the world.

"Today, I am pleased that the vision of an icon, Theodolph Faulkner, has taken a 2021 step closer to fulfilling the legacies of giants like himself. This administration building represents a heightened commitment to ensure that every Virgin Islander and resident has equal access to public services," the Junior Minister added.

Deputy Governor, David D. Archer, Jr. said he was pleased to see the efforts being made to enhance the service offerings for the people of the Anegada community through the handing over of the administration building. Archer Jr said transformation initiatives are ongoing and that he was pleased with steps being taken to allow for the improvement of the public service.

Faulkner was a key figure along with Isaac Fonseca and Carlton deCastro, who led more than 1,500 Virgin Islanders in the Great March of 1949 to present their grievances to the Commissioner's office.

This ultimately led to the reimplementation of what was known then as the Legislative Council.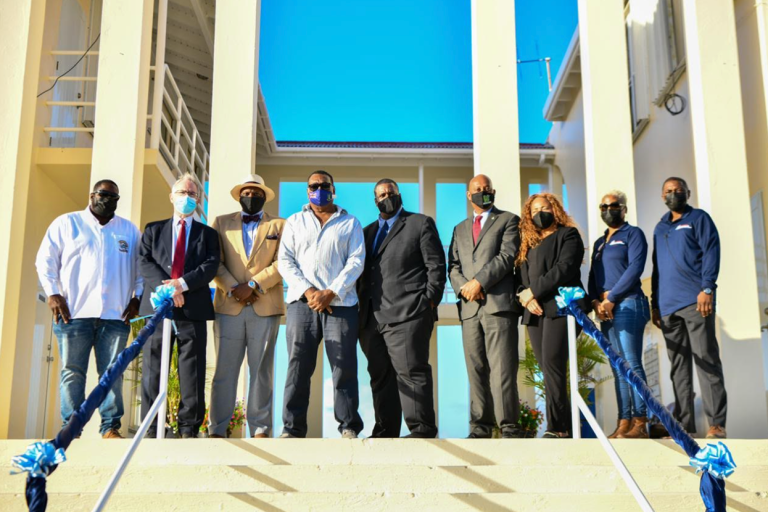 Government Officially Receives Keys To Theodolph Faulkner Administration Building in Anegada