Weslene Walters has replaced Luce D. Hodge-Smith as the new President of the Tortola Toastmaster Club, which installed its 2022-2023 Executive Committee at a 'Starry Night – A Black Tie Affair Installation Dinner' on July 16, 2022.
The 2022-2023 Tortola Toastmasters Club Executive Committee members, who are all females, are: President- Weslene Walters; Vice President Education- Kristal Collins; Vice President Membership- Laurel Freeman; Vice President Public Relations- Sharona Pickering; Secretary- Renette Jennings; Treasurer- Patricia Thomas; Sergeant at Arms- Melony C. James; Immediate Past President- Luce D. Hodge-Smith.

According to a press release from Tortola Toastmasters Club today, July 27, 2022, Outgoing President Luce D. Hodge-Smith provided "admiring remarks" to the outgoing Executive Committee as the club once again obtained 'President Distinguished' for the Toastmaster Year 2021-2022.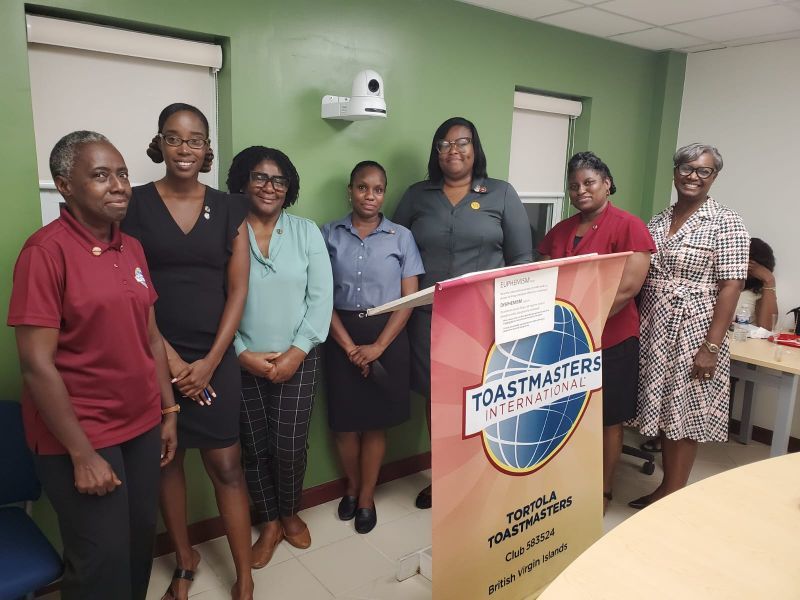 President of the Tortola Toastmasters Club, Weslene Walters, left, assured the Club; present and aspiring members that the new Executive Committee is vibrant and ready for the constructive challenges ahead.
New Executive 'vibrant & ready'

President Walters assured the Club that the new Executive Committee is vibrant and ready for the constructive challenges ahead.

The Guest Speaker of the Evening was Toastmaster Dr Arliene T. Penn who encouraged fellow Toastmasters and invited guests passionately on "Changing your perspective and not settle where you are; however, reach for the stars."

According to the press release, the mission of Toastmasters Club is to provide a supportive and positive learning experience where members are empowered to develop communication and leadership skills, resulting in greater self-confidence and personal growth.

The Toastmasters International motto is "Where Leaders Are Made".

Tortola Toastmasters Club said it is proud to be a part of District 81 which serves the Caribbean Region. Division E Director Yvonne Thomas represents all the Toastmasters Club in Division E, including Anguilla, Antigua & Barbuda, St Maarten, St Martin, St Kitts & Nevis, US Virgin Islands and [British] Virgin Islands.

The Tortola Toastmasters Club meets every 1st, 3rd, and 5th Tuesday of the month at 6:00 pm via WebEx and in person.