Immanuel Kant said 'Ingratitude is the essence of vileness'; William Shakespeare said 'Ingratitude is monstrous'; and W. Eugene Hansen said 'It has been said that the sin of ingratitude is more serious than the sin of revenge. With revenge, we return evil for evil, but with ingratitude, we return evil for good.'
Britain is now being blasted as ungrateful for its treatment of Nepalese Gurkha soldiers, who have been an integral part of the British Army for more than 200 years. During the two world wars, 43,000 Gurkha men lost their lives.

The issue has been given international attention after two Gurkha veterans and the widow of a veteran began a hunger strike on Downing Street in the City of Westminster that houses the official residences and offices of the Prime Minister of the United Kingdom (UK) on Saturday, August 7, 2021, over meagre pension compared to British soldiers who they fought alongside.

Many have expressed on social media their horror on learning of the treatment of the Gurkha veterans, considered one of the most loyal people to Britain.

According to the BBC today, on August 11, 2021, more than 200,000 Gurkhas fought in the two world wars, and in the past 50 years they have served in Hong Kong, Malaysia, Borneo, Cyprus, the Falklands, Kosovo, Iraq and Afghanistan.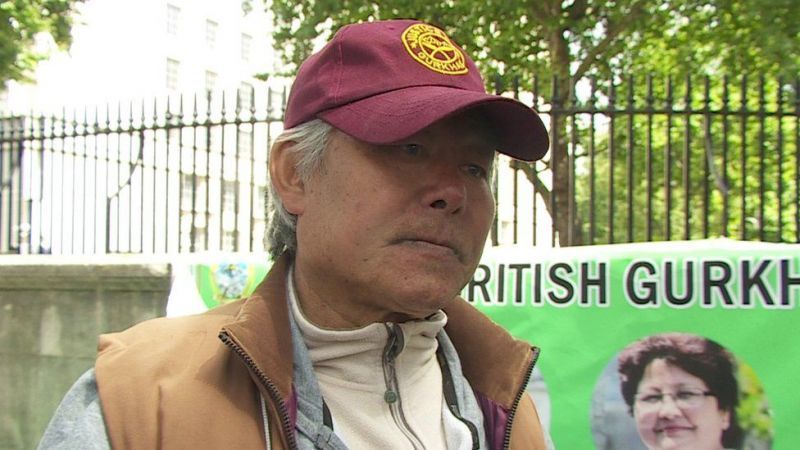 Gyanraj Rai says his pension is £350 a month compared with £1,200 for an ex-British soldier.
'Bravest of the brave' but for what?

Professor Sir Ralph Turner MC of ex-3rd Gurkha Rifles described Gurkha soldiers as the "Bravest of the brave, most generous of the generous, never had a country more faithful friends than you."

Yet Gurkhas who retired before 1997 receive a fraction of the pension the rest of the British Army receive.

The Gurkha Pension Scheme (GPS) was based on Indian Army rates for those with at least 15 years' service.

The UK government says it was designed for retirement in Nepal, where the cost of living is significantly lower than in the UK.

But in 2009, all retired Gurkhas won the right to live in the UK, following a high-profile campaign led by actress Joanna L. Lumley, whose father served with the 6th Gurkha Rifles.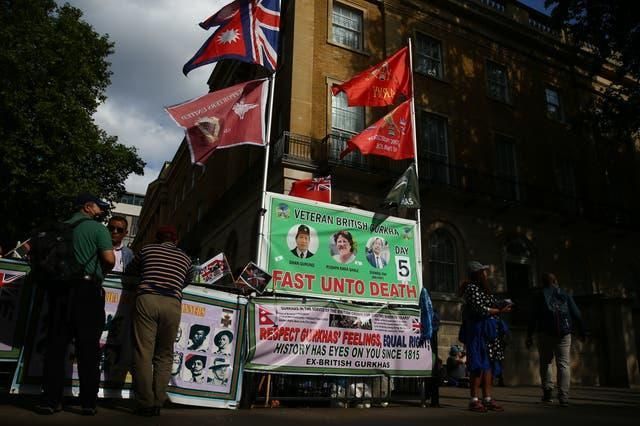 The protest is close to Alexander Boris de Pfeffel Boris Johnson's Downing Street home.
'Big discrimination'

One of the army veterans, Gyanraj Rai, told the BBC he joined the British army at aged 17.

"During service, we were given a very small amount of salary compared to our British counterparts," he says.

"And after our service, the pension was very low. My pension was only £47 a month, where a British veteran used to get over £800 a month."

He says his lump sum on leaving the army was £3,000 compared to that of a British veteran who received between £60,000 and £70,000.

He says today he receives a monthly pension of £350 compared to British ex-soldiers of the same rank who receive £1,200 to £1,300.

The BBC said when it put these figures to the Ministry of Defence it did not dispute them.

Dhan Gurung, 59, called it a "big discrimination" that he was forced to retired when the normal term of engagement for his British counterparts was 22 years.

"When I retired in 1994 my monthly pension was £20 only," he says. "How I survived...with my wife, my daughter and my son."

When he remembers the Gurkhas who died fighting for the British Army, Mr Gurung says he feels pain and his "blood gets hot".

"I remember those who were wounded in the war, after finished war they said 'You are wounded you are not fit for the army'. That's why they sent them back barefoot, empty-handed without pension. Once I remember those things it's really heart-breaking."


'I don't care even if I die'- Army veteran

Field Marshal Sam Manekshaw, an Indian Chief of Army Staff once said "If a man says he is not afraid of dying, he is either lying or is a Gurkha."

On Wednesday, August 11, 2021, the army veterans and one widow of a veteran entered their fifth day on hunger strike. According to the BBC, they don't even have a gazebo to shelter them from the elements as it was taken down by the Met Police, who said it was in breach of local bylaws.

"Our message is let's form a high level of dialogue team, confirm the day for the dialogue. If they do that we will postpone our hunger strike.

"If they solve the problem we will stop. If they don't want to solve the problem I don't care even if I die because I already sacrificed my life," Mr Gurung said.