Talkshow host and activist Mr Cromwell Smith says poor eating habits and food have been inculcated in the minds of Virgin Islanders through the local culture.
Mr Smith made the remarks on his 'Umoja' show on ZBVI 780 AM on November 15, 2022, alongside Dr Sharlon Lewis. The topic was diabetic awareness and the need to prevent chronic diseases.

Calling for more national persuasion to eat healthy, along with building more awareness around the subject, Mr Smith said persons in the VI often don't even know what to eat.


Increased risk of chronic diseases
According to studies, diets high in ultra-processed foods, such as sugary cereal and some frozen dinners and luncheon meats, have been linked to increased risk of obesity and chronic disease.
According to Mr Smith, "A lot of us don't know the foods to eat and even when we hear about the foods to eat, we don't know about how to prepare the foods, times of the day to eat, water intake," he related.
"I know we like pleasure, but I think the concept of pleasure has been inculcated in our minds through culture… what we think is pleasurable has been thought to us," he added.
Dr Lewis said persons who would often speak about their love for candies and sweets should think about taking about it as a recognised drug.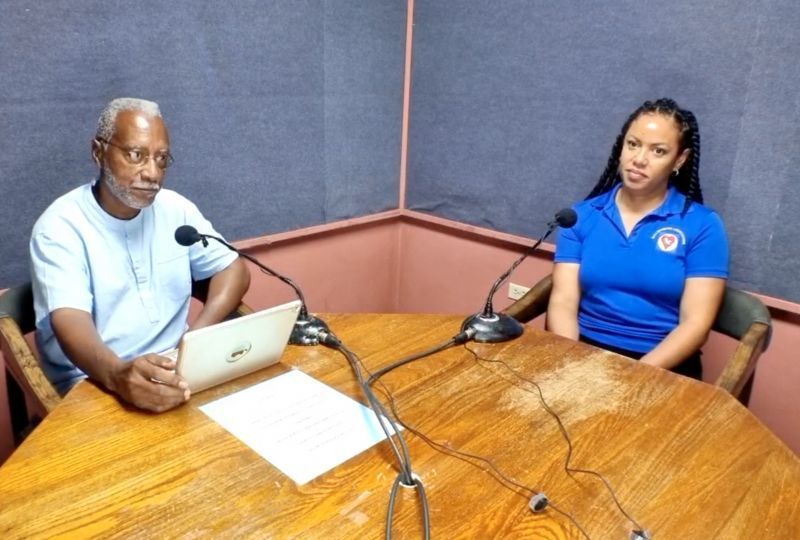 Mr Cromwell Smith, left, with guest Dr Sharlon Lewis on 'Umoja' on November 15, 2022.
Reject unhealthy foods from other cultures- Dr Lewis
"We have to acknowledge that these things actually have a detrimental effect We have to acknowledge that some of the foods, especially the heavily sweetened processed stuff that we have grown up on in recent time, we have to acknowledge how its negatively affecting our health," she said.
Mr Smith recalled raising children on healthy foods like fruits, vegetables, and water and discovering their disgust when trying a potato chip which was their first taste of processed food.
"And I'm telling that story to say that if we were raised eating what we should be eating, then we wouldn't desire those salty foods and those sweet foods," he added.
Dr Lewis urged Virgin Islanders to retrain their tastebuds if they find they cannot give up certain foods by rejecting processed foods from other cultures, along with eating healthy and teaching children about the need to eat healthily.