During a reading of her short poem "Cooking up Courage," Dr. Patricia Turnbull recounted a cherished moment she had while taking care of her mother, who was diagnosed with dementia.
"She was on her feet again making soup. I was sitting in her floral armchair gathering memories on a good day, taking notes," she said. "We women cook up courage just like that. Keep busy, busy. Biding time. Making this, trying that, until things simmer down."

Dr. Turnbull said the poem commemorated International Women's Month and paid tribute to one of her own heroes. She shared three new poems at SushiBar during a March 24 poetry reading, which was part of the territory's celebration of Poetry Week.

Starting on March 21 and in alignment with UNESCO's World Poetry Day, the territory hosted several events last week centred around the literary form.

"Poetry is exceptionally important because it's one form of expressing yourself and you can do it in so many different ways," said Dr. Alison Flax-Archer, secretary general of the Virgin Islands' National Commission for UNESCO. "Poetry is just a very clean way of a person celebrating who they are or expressing what they want to get across."

For three days, VI poets visited schools across the territory and held readings with students. In the middle of the week was the annual poetry reading.

'Full house'

Dr. Flax-Archer said that there was a "full house" at SushiBar that evening. Set in the heart of Road Town, the venue has mostly outdoor seating and a garden area. Many trees in its yard are decorated with stringed lights, and a stage decorated with bamboo and palm was set up for the event.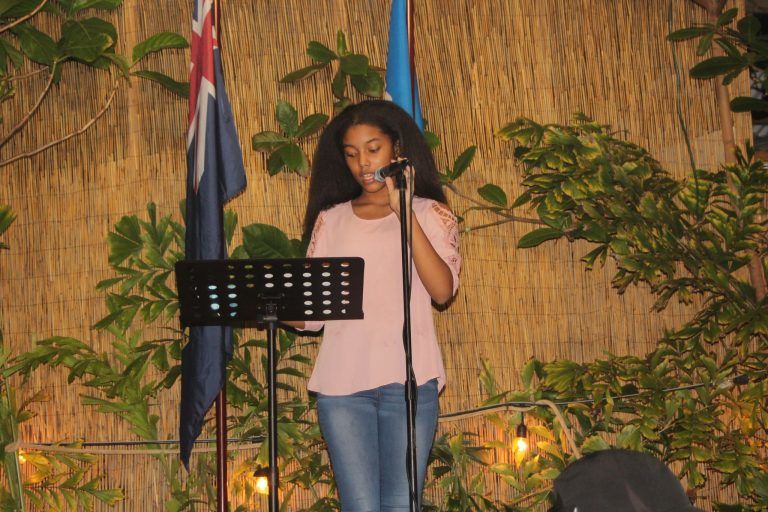 Attendees reserved tables that were socially distanced, and they were advised to wear face masks.

More than a dozen poets took to the stage that night. During the event, organisers awarded the winners of a poetry competition which launched on Feb. 15 and ended on March 21. The theme of the competition was "Perspectives of Our Past: The Unsung Heroes." There were five age groups in the competition.

"Our society watered by the sweat and tears from heroes we may never know," said Nicklous Kanhai, reading his winning poem titled "The Unmentioned" for the "Adult" age group. "They wore no capes nor possessed any magical powers, but time and time again they proved to be the true heroes."

On the stage

Other performers included VI Poet Laureate Dr. Richard Georges, Deputy Governor David Archer Jr., Deputy Premier Dr. Natalio "Sowande" Wheatley, Giovanni Herbert, Aliana Smith, Bobbi Fawcett, Celeste Waterman, Kamaal Lettsome, Jovan Wilson Cline, Kedrick Malone, Rob Wallace, Anthony Cheltenham Jr., April Glasgow, Linette Rabsatt, and Daiikiru Maximillion.

The week wrapped up with a writing workshop in collaboration with the Department of Culture and Dr. Georges. Dr. Flax-Archer said the event was well received and that the turnout was good.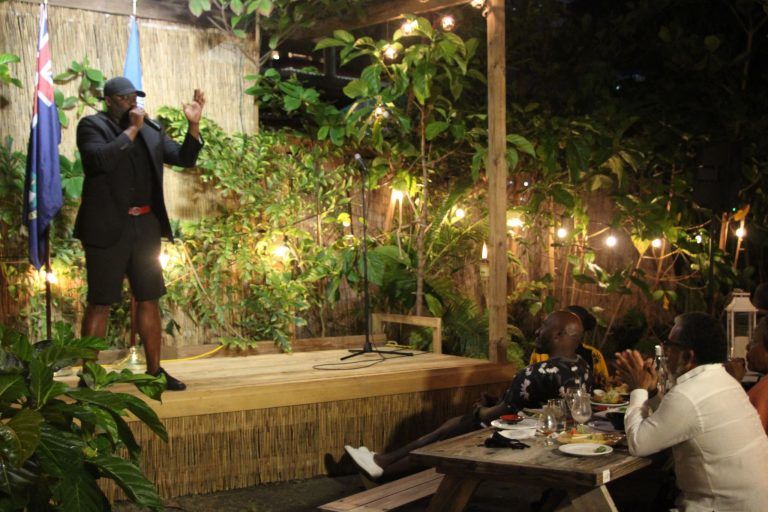 UNESCO declared World Poetry Day in 1999 "with the aim of supporting linguistic diversity through poetic expression and increasing the opportunity for endangered languages to be heard." Before that, it was generally celebrated in October, when it is still observed in many countries, including the United Kingdom.