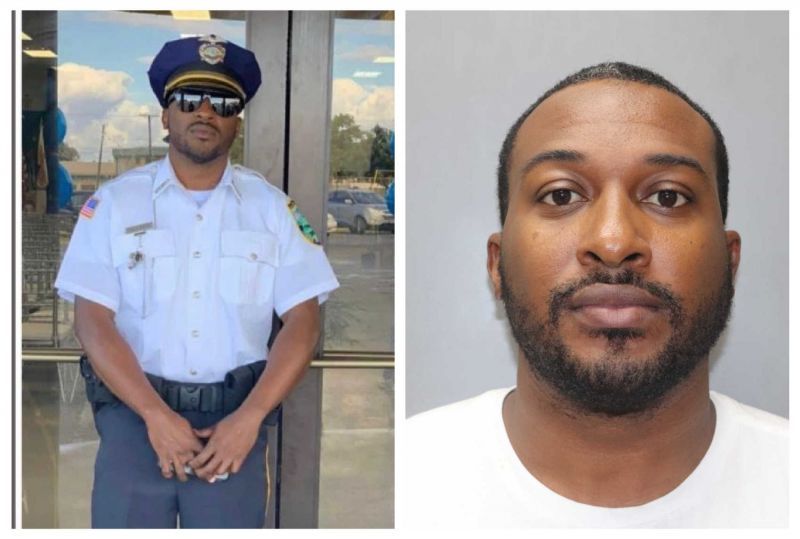 USVI police allegedly body slams & batters girlfriend in head, chest & shoulder
A police officer charged with simple assault and battery has been ordered to maintain a minimum distance of 100 feet from his girlfriend. The charges against 25-year-old Kimanie King stem from a November 16, 2021, incident where he allegedly battered his girlfriend who resided with him at the time.
According to the probable cause fact sheet, the woman told police that she accompanied King to his son's baseball game because she needed to use the car to collect a prescription. She noted that he initially objected to her coming with him. However, he later instructed her to remain in the car and wait for him after she returned with the medication.

The woman said she waited in the car for about two hours but eventually began to feel ill as a side effect of the medication. She then called King to collect the car keys and called her best friend to pick her up because she did not want to disturb him from the baseball game. According to the woman, after King collected the keys, she realized she forgot her house key in the car so she called him to open the vehicle but he did not respond.

She said she then went towards the field where King was in the company of his children and their mother. When she asked him to open the car he got upset and she assumed that this was because she showed her face. She said that as she returned to the car, King screamed at her and asked her to pack up her things and vacate his residence. Later, while she was gathering her belongings he arrived home enraged and asked, "What are you to my children? I was spending time with my children." The woman alleges that King then threw a folding chair at her but she moved out of the way. According to her statement, he then grabbed her by the neck, slammed her on the ground and began hitting her in the head, shoulder and chest.

The woman further alleges that she ran outside and shouted for her best friend to call her parents. She says as King got into his car to head to work, she pleaded through tears for him to allow her to retrieve her glasses and some paperwork from the car. However, she says he slammed the door but later hopped out of the car after she tapped on the window. The alleged victim said King then grabbed his police belt and she saw him reach for the harness which holds his firearm. According to her, she then ran inside in fear and declared that she would tell the police. She shouted, "So you going to shoot me, that's what you trying to do?"

Yet the woman later told police that King never pointed the weapon at her and did not take it out of the holster. She suggested that he may have been trying to scare her, noting that he is "hot tempered". She says King then threw her belongings out of the car and slammed the door before leaving.

The victim's medical discharge papers revealed that she had suffered "multiple contusions". However, the probable cause fact sheet notes that she was initially reluctant to give a police statement as she did not want to get King in trouble. When she eventually provided a statement, she said that this was not the first time she was hit by King. She showed officers pictures of previous injuries which allegedly resulted from him punching her to the mouth.

While King was later arrested and charged, his bail was set at $500, along with an order by a magistrate releasing him until his advisement hearing on Friday. At that hearing, he was represented by Attorney Clive Rivers who asserted that he saw no reason why those bail conditions could not continue. Rivers also told the court that while his client was the one leasing the shared apartment, King was willing to make arrangements to let the alleged victim take over the lease if she chose to return to the residence. He stated that the woman had already moved her belongings out of the apartment.

Meanwhile, Assistant Attorney General Brenda Scales recommended that bail should be set at $1000 in keeping with the mandatory provisions for domestic violence charges. However, the judge concluded that bail shall continue in the amount of $500 which had already been posted.

As part of his bail conditions, King is strictly prohibited from having any contact with the victim and any alleged witnesses, particularly her best friend. He must maintain a minimum distance of 100 feet from the woman at all times and is forbidden from going to any place where she resides or her place of employment.

The judge further noted that if the victim has indeed moved out of the apartment, he sees no reason why King cannot reside there. However, he stressed that if the woman has not moved then King cannot return to the residence but will be allowed one opportunity to retrieve his belongings under police escort.