Already selected to represent the [British] Virgin Islands at the Birmingham Commonwealth Games this summer, national cycling champion Darel Christopher Jr has even more reasons to celebrate.
According to the BVI Cycling Federation (BVICF), Christopher Jr has now been given approval to compete professionally in Europe.

In January 2022, Christopher Jr travelled to Nice, France to join a cycling team, Sprinter Nice Metropole, and on February 1, 2022, he signed a contract with the team.


Approval given

According to the BVICF in a press release on July 12, 2022, it was agreed between the Team's President and his Manager that Christopher Jr completes three months of training camp to prepare him for competition in Europe.

It said his training was completed mid-May 2022 at which time he was expected to compete at the end of May 2022; however, this did not materialise due to his registration process not being completed by the France Professional League.

"Nevertheless, on Saturday 9 July 2022 via email, BVI Cycling Federation President received confirmation from Union of Cycliste Internationale (UCI) President Mr. David Lappartient stating that Darel Jr's registration was approved by the French Professional League and immediately after by UCI and that everything is in order for Darel Jr. to compete in professional cycling events," the BVICF stated.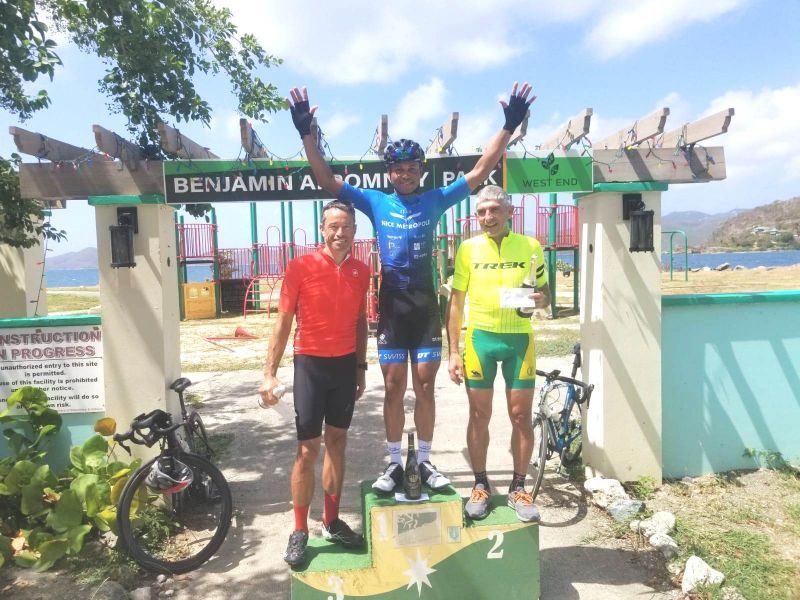 France-based cyclist Darel Christopher Jr takes the top podium spot at the National Road Race Championships on Sunday, June 27, 2022. Right is Phillipe Leroy and left is Mark Stephenson.
'Major accomplishment'- BVICF

It also said this is a major accomplishment for Darel Christopher Jr, his family, the BVI Cycling Federation and Sporting Family, the Government of the Virgin Islands and the Caribbean.

According to the BVICF, in September 2018 at the UCI Congress in Innsbruck, Austria the BVI Cycling Federation received its Affiliate to UCI and four years later has registered its first Professional Cyclist. "An accomplishment we are most thankful to have achieved," it noted.

Meanwhile, Christopher Jr and his team members will be competing in 5 days of competition from July 26 – 30, 2022 and on August 1, 2022, he will travel to Birmingham, England to represent the VI in the Commonwealth Games.