A desire to chase his dreams and a passion for fashion has led Designer Curtis Callwood aka 'CurtisC' down the path of owning a high-fashion Couture store.
Before starting Callwood Couture LLC in Fort Lauderdale, Florida, Callwood recalled that as a young lad at the BVI High School in the early '90s, he had to petition the school board to allow him to do Home Economics instead of the technical subjects traditionally sorted for men.


Raised on Tortola

'I grew up in Baughers Bay right there in Tortola, the country area among women especially who loved to dress, and my passion for the design field I wanted to continue to making women especially look and feel their best," he said.

"The Initial challenge was, attending high school where it was the norm or the tradition for females to do Home Economics and Boys to do technical subject, I had to basically petition the board and prove myself that this is something that I actually want to pursue," Callwood told Virgin Islands News Online (VINO).

More potential roadblocks he recalled, was a stigma that he as a man was not supposed to go into the design field based on cultural norms of the time.

"I know a lot has changed, but there was always a lot of backlash," Callwood told VINO.

He said; however, he was inspired by the vibrant Caribbean heritage and culture of the country area, "all I was surrounded by was the splendor of nature, so I decided to incorporate that into my work," he said.


Teachers planted the seed - CurtisC

Using that inspiration to craft his skills; however, still did not come easy. Callwood recalled said it was the teachers at his high school in the Virgin Islands that were instrumental in helping him develop his design skills.

Teachers such as Judith Vanterpool, Ruth Frazer, Dianne Davies and Eideen Smith he said planted the seeds in his life, "these actually taught the basics there," he said.

Callwood eventually relocated to the USA and pursued a BSc in Fashion Design and Marketing at the American Intercontinental University where he was able to learn a lot more technical skills and gain outside mentorship from Sir Gregory Brown of Gregory's Designs who taught him to perfect his craft and work.

"I do believe that we are all individually blessed with unique gifts and talents and there is a space in the industry or home, or wherever you are to showcase this," he said.

Callwood said while in the VI, for years he was unable to access career resources and a scholarship to pursue his passion of becoming a designer, which also included a dream to make the VI the Couture capital of the entire Caribbean region.

"I think all of those years cultural norms that have been perceived as something that would not benefit the country has slowly begun to shift perceptions," he said.


Follow your heart - Callwood to young designers

For upcoming male fashion designers, he said, "I would say follow your passion, follow your heart, never allow someone to impose their perception of what should be and what is considered the norm," Callwood said.

He also spoke of the oppression as being somewhat hindering and has been something that has affected him for years, however, despite this he followed his dreams despite the backlash and obstacles he had to overcome.

"In the end, it's going to be worth it," Callwood said.


Dreams to design for celebrities

'My desire has also been to design for the red carpet, so that's one thing I am pushing every day," he further said as he shared hopes to dress celebrities such as Beyonce Knowles, Rihanna Fenty, and Fantasia Barrino.

In closing, Callwood thanked God for giving him the ability, "for without him we are nothing!" He also thanked parents Dennis and Cherel Callwood of Brewer's Bay, siblings; Debbie, Denise, Derise, and Courtney as well as "my entire Callwood family and friends for their years of ongoing love and support"

More thanks were expressed to close friends Mrs Odette Samuel Todman, also Hon Alvera Maduro Caines (R6), HoA Speaker Hon Jullian Willock, and Umi's 'Debbie' for the career support.

He also expressed gratitude to friend/mentor Andrew Cox of CBN Virgin Islands and Kareem Nelson-Hull and Franka Potter for their support over the years and he acknowledged models; Nigeria-American Funmi Okusi (NY), who will be the face of the Callwood brand, and his nieces Ashantae and Ashlee Maduro.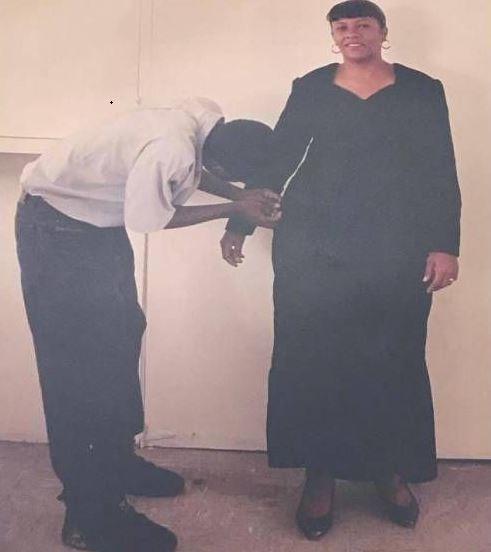 Dress designed for mom to wear at his 2008 highschool graduation.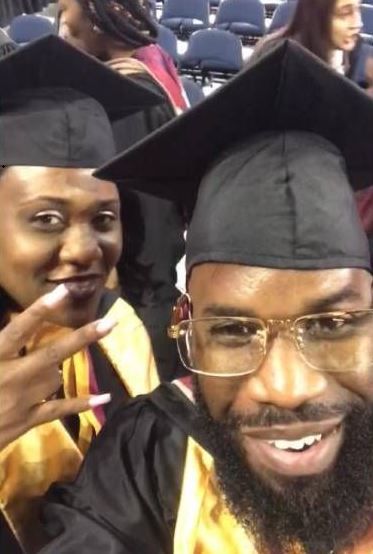 Curtis and sister Deborah Maduro and Strayer University Graduation in 2018.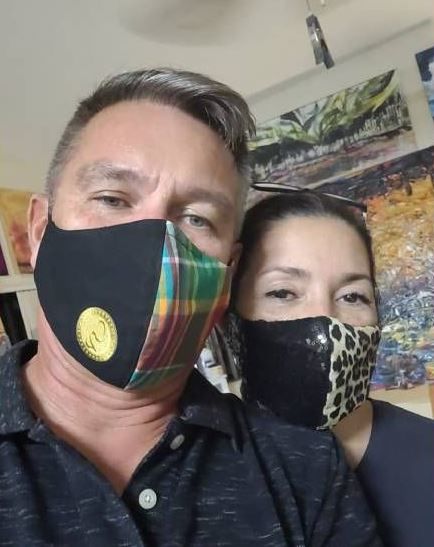 Face-masks designed by Callwood Couture LLC.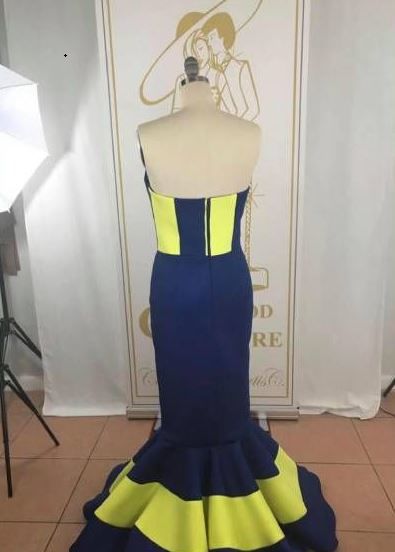 Dress Designed by Curtis Callwood.