The Virgin Islands' top three students, based on preliminary results of the Caribbean Secondary Education Certificate (CSEC) Examinations released by the Caribbean Examinations Council (CXC), were revealed by Education Minister Honourable Sharie B. Y. de Castro (AL) on October 25, 2022.
Top 3 students

In a statement during the Continuation of the 7th Sitting of the Fourth Session of the Fourth House of Assembly at Save the Seed Energy Centre in Duff's Bottom, Tortola, Honourable de Castro listed the top three CSEC students as Sarah Ramdatt of St George's Secondary School, Jade S. Smith of BVI Seventh-day Adventist School and Reina A. Wheatley of Claudia Creque Educational Centre on Anegada.

Ramdatt of St George's Secondary passed 10 subjects, with 8 Grade Ones and 2 Grade Twos, including Mathematics and English A.

"Jade Smith of BVI Seventh Day Adventist Secondary [came] in 2nd place with passes in 8 subjects, including Mathematics and English A, with six Grade Is, one Grade II and one Grade III and Reina Wheatley of Claudia Creque Educational Centre in 3rd place with passes in 7 subjects, including Mathematics and English A, with six Grade Is and one Grade III," Hon deCastro disclosed.


Trio caught by surprise!

Our newsroom interviewed the top three students who all disclosed their achievements came as a surprise.

"I expected some of the Grade Ones but most certainly not 8 of them. Some of the grades did not surprise me as I have always done well in the past paper questions [such as] Social Studies, POB, English A but others such as POA and Biology were a pleasant surprise," said future lawyer Ms Ramdatt, who admitted Mathematics was one of her weakest subjects but was thankful for a Grade II.

Ms Smith, who aspires to become an entrepreneur and an actress, said the results came as a surprise "but not a big surprise. This is because I knew I had put in the work for my exams and had expected great outcomes. However, the most surprising result came from my Grade 1 for Agriculture which I had taken as an extra class and had difficulty finding time to study for."

Ms Wheatley, who would like to become a pediatrician, said the results did in fact come as a surprise "mainly because during this time I struggled with learning how to balance both studying for CSEC and still [doing] regular schoolwork and not to mention the preparation for graduation was added to the workload. This resulted in me feeling a little unsure about my performance in the exams."


Challenges

The trio also shared some of their challenges.

Balancing all the exams was a struggle. Since I took 10 subjects, most of them were back to back which left me limited time to study. The nervousness I felt for every exam never got easier and studying for maths was very stressful," Ramdatt shared.

Smith said one of the major challenges for her, leading up to CSEC exams, was learning that her beloved grandmother Ingah Smith was hospitalised on her [Jade's] birthday and just two days before she sat her first exam.

"Knowing that she was quite ill weighed heavily on my heart. Exactly, one week later, during one of my CXC exams, my grandmother died and my parents called the school to ensure that no one informed me about it. When I returned home later in the day, after my exams, my parents pulled my younger brother and me together and told us the sad news. Having to deal with my grandmother's death and funeral preparations/funeral during CSEC was tough, but I had God by my side and a tremendous amount of support from my family members, friends, teachers, and church family. I knew that I should continue to push on, and work hard because that is what she would have wanted me to do," Smith said.


Gratitude

The students did not take all of the credit for their success.

Ramdatt credited her mother Nandnaie Ramdatt, her godfather William Driver, her brother Ronald Bridgelall, and "all of my teachers at St Georges for their excellent teaching, extra special shoutout to Ms Joseph for holding private maths tutoring after school, and Mr Doonauth for privately tutoring me."

Smith acknowledged the help of God, as well as the help and encouragement from her parents, Pete and Marsha Smith, whom she said always ensured she never gave up, as well as her grandparents Allington and Altagracia Hodge, other relatives and friends, and church members.

"I am also thankful to God for my deceased grandmother Ingah Smith who, before her passing, gave me encouraging words and told me to ensure to include the Lord in all that I do."

She also gave credit to the teachers of the BVI Seventh-day Adventist School, especially Mrs Monica Prendergast-McDonald aka 'Ms P' and Mrs Beverley Hinds-Callwood.

Wheatley said she had a very strong support system, which included her parents who always kept her motivated "and my teachers who pushed me to achieve those results especially Ms Sheri Edwards and Mrs ShellyAnn Varlack. It must be noted that Mrs ShellyAnn Varlack my Integrated Science teacher went the extra mile and taught me Biology and Human and Social Biology although they were not any of my courses, and for that I am very grateful."


What's next?

Ms Ramdatt is currently pursuing an International Baccalaureate Diploma at Cedar International. She said the IB diploma is equivalent to the A levels in the UK and she will be seeking to enter university on completion.

Ms Smith is currently attending the H. Lavitty Stoutt Community College (HLSCC) where she is reading for an Associate's Degree in Small Business and Entrepreneurship. She has plans to also pursue a minor in Theatre Arts when she goes overseas to further her studies.

Ms Wheatley will be entering the field of medicine in January. She plans to study at St George's University in Grenada.


Advice

The top academic achievers were asked what advice they would give to persons seeking to write CSEC exams.

"Study hard as you will be able to fully relax once the exams are over. All you have to do is try your best and know how you study. Everyone studies differently so don't feel the need to follow everyone else. Take study breaks as it helps clear the mind," Ramdatt said, adding that she would recommend practising an instrument or doodling to relax the mind.

"Start thinking about your SBA projects ahead of time and watch videos about the recommendations other people make. Utilise past papers as they were a brilliant resource that greatly contributed to my success. Finally, use your time wisely so the amount of studying you have to do does not become a burden."

Smith advised students to practice past papers and to approach the exams with a strategy.

"Ensure to study, but do not push yourself past your limit. Take breaks and ensure to get proper rest. Set times for studying throughout the day and after that time has passed GO TO SLEEP! A common mistake that I made was staying up trying to study after my brain and body is already tired. The body cannot efficiently and effectively retain information when it is tired. As my parents repeatedly told me, "you need to go to sleep. Your body needs rest to properly function. Go to sleep and wake up in the morning when you will have a fresher and clearer mind." - Ensure to find proper studying techniques that fit you and limit your distractions," Smith said.

Wheatley encouraged students to give their best effort always.

"Although my results did come as a surprise it was well earned since I gave it my all and for this reason, I encourage everyone to just give it their all in everything that they do because you never know what benefits you may reap in the future."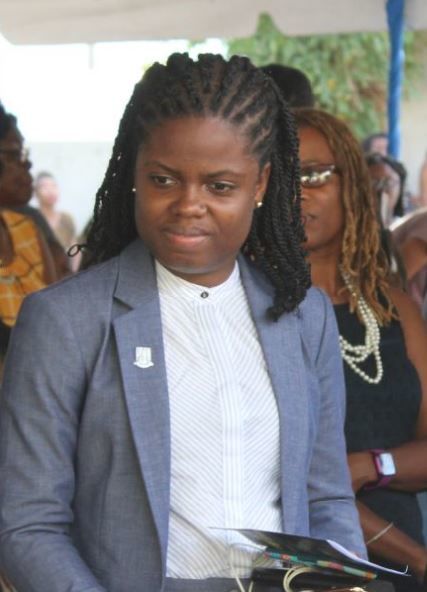 Education Minister Honourable Sharie B. Y. de Castro (AL) announced the top 3 achievers at CSEC in the Virgin Islands in a statement during the Continuation of the 7th Sitting of the Fourth Session of the Fourth House of Assembly at Save the Seed Energy Centre in Duff's Bottom, Tortola on October 25, 2022.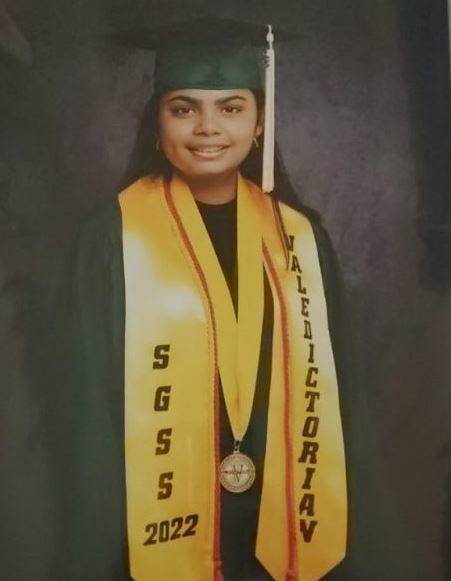 Sarah Ramdatt graduated from St George's Secondary School as Valedictorian.