Former Deputy Premier, Dr Kedrick D. Pickering, who was a member of the 2007 Constitution Review Commission, says he does not fully understand how ex-Premier, Hon Andrew A. Fahie (R1) was removed from office, which brings into questions whether the correct procedure was followed according to the latest version of the Virgin Islands (VI) constitution.
Dr Pickering was at the time appearing as a guest of the Honestly Speaking radio show of June 28, 2022, when he was questioned by host Claude O. Skelton-Cline on how the Premier was removed and whether the constitution was followed.

According to Dr Pickering, while he does not have an answer to the question at the moment, he would have to seek advice from greater legal minds to fully understand what transpired.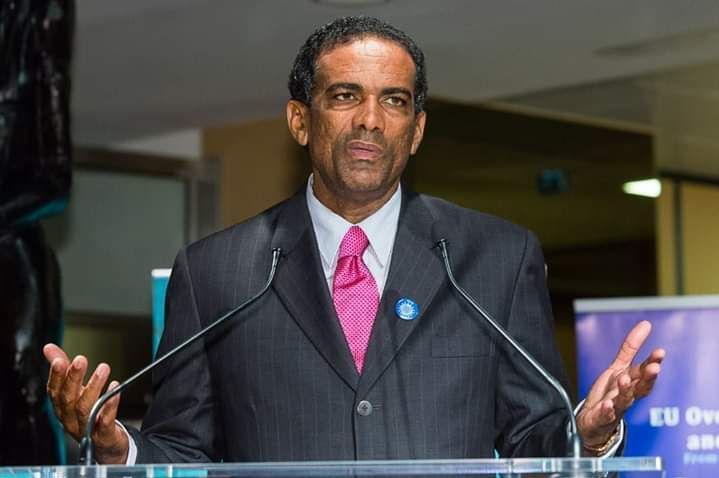 Dr Kedrick D. Pickering has said he will have to seek wiser counsel to fully understand if the removal of Hon Andrew A. Fahie as Premier of the Virgin Islands was constitutionally done.
'Spirit of law is as important as the law itself' - Dr Pickering

"I know fully well that during the constitution debate, it was subject to intense discussions and the issue of the spirit of the law is as important as the law itself, we had some long back and forth on how to remove a sitting Premier," he said.

Legislators in the House of Assembly (HoA) on May 5, 2022, unanimously passed a resolution for the removal of Hon Fahie as Premier of the Virgin Islands after 10 legislators voted for the resolution while one Member, Hon Carvin Malone (AL) was absent and sent his regrets.

At-Large Member Hon Neville A. Smith (AL) was acting Speaker and could not vote and the resolution was passed while Hon Fahie was still detained in Miami on charges of conspiracy to import a controlled substance and money laundering.

While Governor John J. Rankin did not have to approve the resolution, he subsequently granted a request for a new Premier, Dr the Hon Natalio D. Wheatley (R7) to be sworn in.

However, the VI constitution outlines how a sitting premier is to be removed and it remains unclear if this process was ever followed.


What the Constitution says?

The VI Constitution Order 2007 Section 53, (1) states, "If a motion on the Order Paper that the House of Assembly should declare a lack of confidence in the Government of the Virgin Islands receives in the House the affirmative votes of a majority of all the elected members of the House, the Governor shall, by instrument under the public seal, revoke the appointment of the Premier; but before so revoking the Premier's appointment the Governor shall consult with the Premier and, if the Premier so requests, the Governor, acting in his or her discretion, may dissolve the House of Assembly instead of revoking the appointment."

In the HoA sitting of May 5, 2022, legislators moved a Motion of Lack of Confidence against the sitting Virgin Islands Party (VIP) government; however, it remains unclear if Governor John J. Rankin, CMG ever consulted with the ex-Premier Fahie before his removal as premier.

However, the constitution also states that they are other ways to remove a Premier.

Section 53, (2) indicates, "The Premier shall vacate his or her office if, after the polling in a general election and before the House of Assembly first meets thereafter, the Governor, acting in accordance with section 52(1), informs the Premier that he or she is about to appoint another person as the Premier."


Removal of Ministers

It should also be noted that section 53 (4), of the constitution, states that a minister other than the Premier shall also vacate his or her office (a) if the Premier vacates his or her office, which could mean that with the removal of ex-Premier Fahie, all others holding Ministerial office should have also been removed from office.

Dr Pickering in his analysis of the events added, "I can't honestly tell you that what transpired, I understand."

He further added, "based on my knowledge of the events, based on my knowledge of the constitutional discussions and debate, based on what is written in black and white. I honestly don't think I understand, and I am going to seek wiser counsel."