Emphasising that he must run a clean political campaign, the Virgin Islands Party (VIP) candidate for the Ninth District, Honourable Vincent O. Wheatley, has said the people of the [British] Virgin Islands (VI) should not allow politics to divide them.
Hon Vincent was at the time speaking at the Party's official campaign launch in the Ninth District on Virgin Gorda last evening, March 25, 2023.

"One of the things that I've seen that I don't really like is that we are allowing politics to divide us. And, like my daughter said, after politics we still have to live together. We should not let politics divide us. We should be free to back whichever Party we want to back, or candidate, but still live together," Hon Wheatley said.

Dedicating his campaign launch in memory of his late mother whom he noted was his campaign partner in the last election, Hon Wheatley said he must run a clean campaign as it is what his late mother would have liked to see.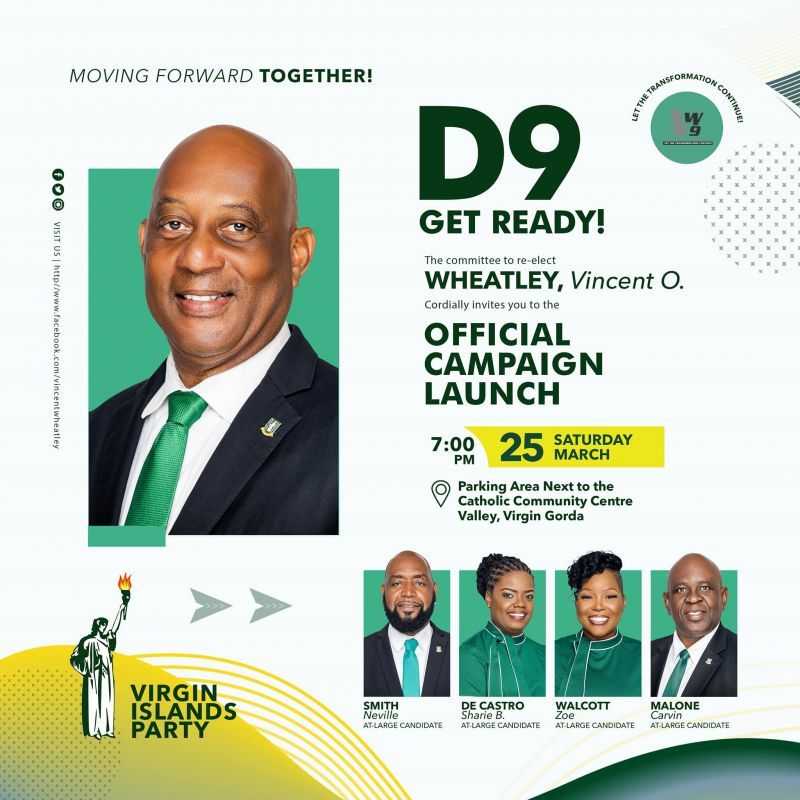 Incumbent Ninth District Representative Hon Vincent O. Wheatley launched his campaign in the district last evening, March 26, 2023.
'We don't have to be enemies'
Hon Wheatley continued that friendships are more important than anything else, as he referenced his friendship with someone from a different political background.
"Gumption is my friend, long-time friend, but we differ politically. But like I said, we still can be friends. We don't have to be enemies because we differ politically," Hon Wheatley said as he called Mr Allington O. Creque aka 'Gumption' up on stage and hugged him.
This was met with much applause from the audience.
Productive 4 years
Hon Wheatley reflected on four years ago when he ran as a Virgin Islands Party (VIP) candidate for the Ninth District on the platform of 'transformation and working together', noting that many great things were achieved from this.
"We went from near total destruction to number 8 on the Forbes list of places to visit in 2023... And that is number 8 in the entire world, the only country in the Caribbean to have made that achievement. When we work together, marvelous things can happen.
"Yet, there are those who will tell you that nothing was done in this district during my time in office. I have said it before and I will say it here now again, there has never been more action in a 4 year period in this district than in my 4 years. I threw this out about a year ago and to date no one has come back and said, 'I have found proof, it is a lie', because it is the absolute truth," he said.
Hon Wheatley noted that a lot was done very quickly that people might have forgotten.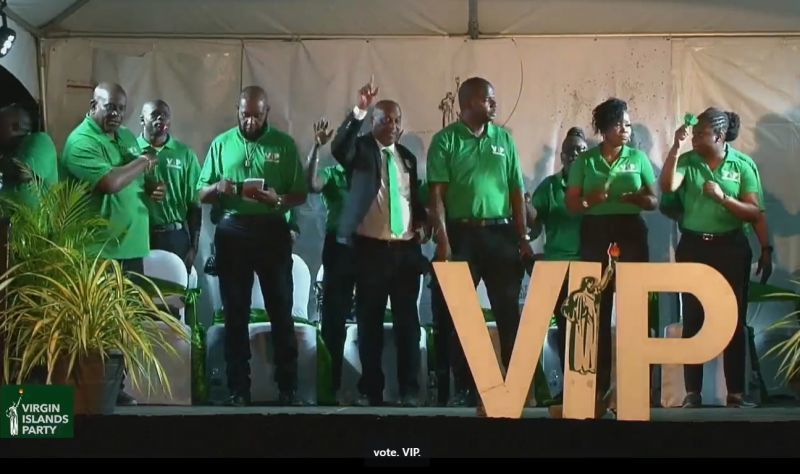 The Virgin Islands Party (VIP) candidates in support of Ninth District candidate Hon Vincent O. Wheatley last night, March 25, 2023.
'Let the transformation continue'
He pointed to significant transformation and improvements in the Baths, boasting that it was done under his watch.
He also referred to his achievement with enhancement in communication in the south, with improved internet and telephone access for businesses, while boasting about more achievements in the north.
"You might have forgotten that when I came to office our children were in a tent, hot and mouldy. Through strategic partnerships, the Bregado Flax Educational Centre was repaired and transformed into one of the most sophisticated schools in the entire territory," Hon Wheatley said.
He continued that he was able to negotiate for land and funding for the much-needed new school.
"But because of bureaucratic, red tape and nonsense, this project has been delayed. Delayed but not denied," he stated, while noting that he has placed it on his 2023 agenda.
Hon Wheatley described more transformation which he said he was able to achieve including recreational grounds and repairs to important buildings
"Let the transformation continue…under my watch significant improvements were made and much more to come," he emphasised.