The ever-popular and competitive National Football Leagues organised by the BVI Football Association (BVIFA) return to East End and Virgin Gorda this weekend with the Opening Ceremony for the Men's, Women's and Youth Championships scheduled for Saturday, October 15, 2022, at East End/Long Look.
Positive FC the 'new kid on the block'

The Men's league features a new team for 2022/ 23 with Positive FC joining the list that includes, defending Champions Sugar Boys FC, Wolues FC, Rebels FC, One Love Utd, Panthers FC, Old Madrid FC, Islanders FC, One Caribbean FC, VG Utd and Lion Heart FC.

The Women's League will include VG Utd, Avengers FC, Panthers FC and Wolues FC.

Head of Competitions and Club Development Mr. Humphry Leue commented, "that the FA and its Competition Committee are pleased and excited that a full slate of matches will take place after the interruptions caused by the Covid pandemic over the past two years. In addition to the National League, plans are being put together to hold several knockout and mini tournaments over the next 8 months, including a League of Nations Cup, a Memorial Tournament, and for the first time ever a Corporate and Industrial Futsal League."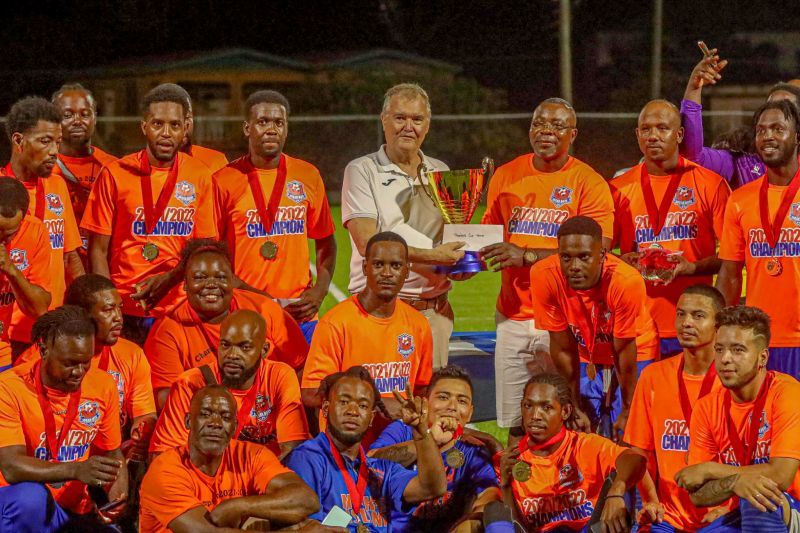 Sugar Boys are the defending champions of the BVIFA National Football Men's League.
'Exciting season of football' expected- Leue

The Opening Ceremony starts at 5:00pm at the FA's National Stadium venue at East End / Long Look, with an exhibition match scheduled for 6:15pm and then, at 7:00pm, action in the Men's League gets underway with Old Madrid against One Love.

"It promises to be an exciting season of football, so the public is invited and encouraged to come out and enjoy the friendly but fierce battles" concluded Leue

On Sunday, October 16, over at the VG Recreation Ground, VG Utd face Avengers in the Women's National League (WNL) at 5:30pm followed by VG Utd against Rebels in the Men's National League (MNL) at 7:30pm.

At the EE/LL venue, also on Sunday, Islanders play Sugar Boys at 5:30pm and Panthers face One Caribbean at 7:30pm.