Fans go wild in Buenos Aires and across the globe as country clinches third World Cup title
Celebrations erupted in Argentina as they won the World Cup after beating France on penalties in one of the most dramatic finals of all time.

Fans went wild in Buenos Aires and across the country as Gonzalo Montiel scored the penalty to clinch Argentina their third World Cup title in Qatar.

It came after a nailbiting 120 minutes of football during which France came back from 2-0 down to send the game to Extra Time.

Argentina's talisman Lionel Messi was then denied a last-gasp winner after Kylian Mbappe dispatched his second penalty of the game to send the game to penalties.

Lautaro Martinez also missed a late chance to win the game for Argentina, sending a header just wide of the post.

In the shootout, Emiliano Martinez denied Kingsley Coman before Aurelien Tchouameni failed with his effort, with Gonzalo Montiel striking the decider to spark wild celebrations at the Lusail Stadium.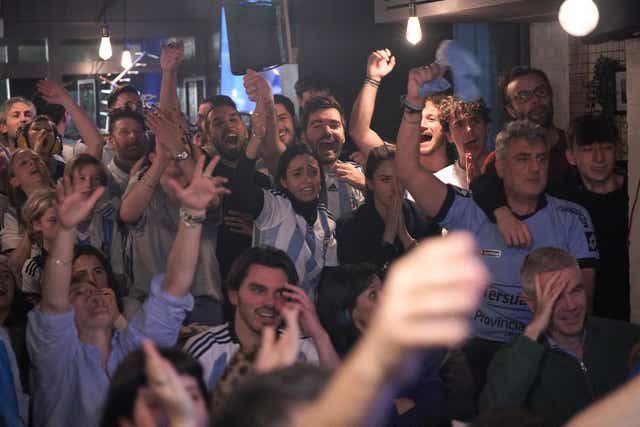 Argentina fans at Moo Cantina in Pimlico
Footage posted on social media showed fans going wild in a fan zone in sunny Buenos Aires after Argentina scored the winning penalty.
Crowds were also seen celebrating outside Argentina legend Diego Maradona's house in the capital after Lionel Messi's penalty gave them the lead.
"I can't believe it! It was difficult, but we did it, thanks to Messi," said Santiago, 13, celebrating the victory with his family in front of the late football icon's house.
Diego Aburgeily, 46, was among those cheering on the national side in a suburb in Buenos Aires.
"It was an incredible game, at times anguishing," he said. "This team made people fall in love with them for the first time in decades."
Maradona captained Argentina to victory in 1986 and passed away in 2020, aged 60.
"It is an immense joy after so much tension," Nicolas Piry, a 46-year-old lawyer, told the Reuters news agency.
"The harmony between the team, headed by a leader who plays at a level making him the best in the world, and the players' condition in general led us to this well-deserved success. Let's go Argentina!" he added.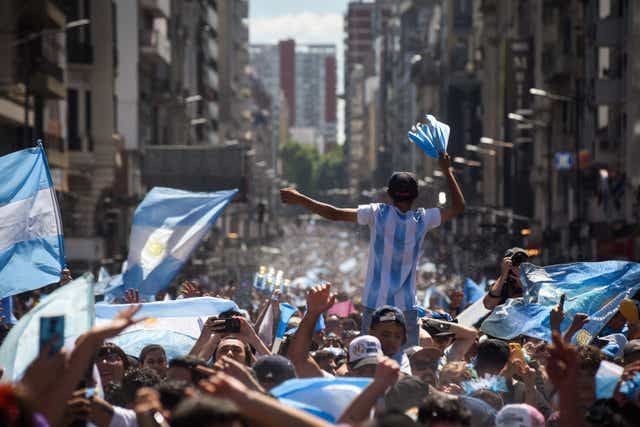 Fans go wild in Buenos Aires

In London, a large crowd of Argentina fans celebrated the win at Moo Cantina in Pimlico.

Hundreds of ecstatic Argentinian fans were also seen chanting and waving the blue and white flag in Barcelona and Berlin.

The thousands of Argentinian fans in the Lusail stadium greatly outnumbered the French crowd.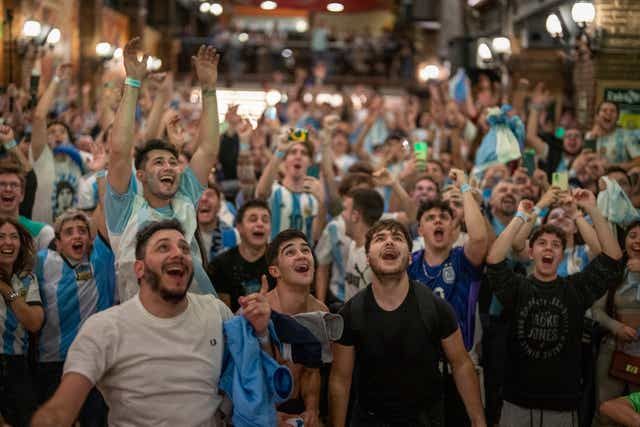 Argentina fans celebrate in a bar in Barcelona
"Our parents talked to us about Maradona, and we will talk to our sons about Messi," said Nicolas Gomez, a fan from Argentina.

Messi, 35, scored two goals for Argentina, while Angel Di Maria scored the other. Mbappe, 23, was the sole scorer for France, netting three goals.

Former Argentina defender Pablo Zabaleta was close to tears after the match.

"I'm so emotional. It's one of those moments," he said on BBC One.

"I'm just watching Messi. Thank you to everybody for that great game. What a perfect story for Messi. He deserves it. 100 per cent. Everyone is just crying."

Argentina coach Lionel Scaloni said: "I cannot believe that we have suffered so much in a perfect game. Unbelievable, but this team responds to everything.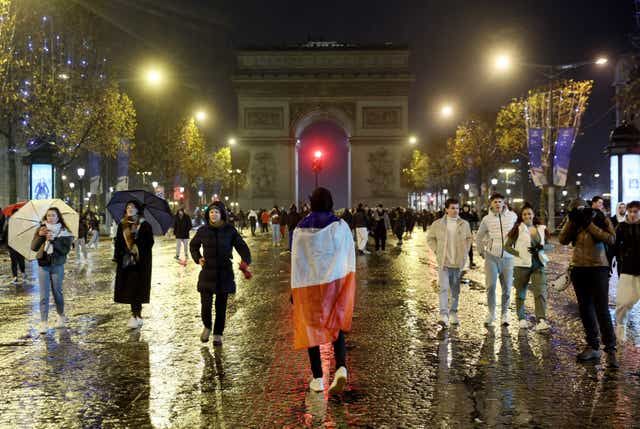 France fans on the Champs Elysee in Paris

"I am proud of the work they did. It is an exciting group. With the blows we received today, with the draws, this makes you emotional. I want to tell people to enjoy, it's a historic moment for our country."

It was an agonising night for Les Bleus who came so close to becoming back-to-back World Cup champions.

French President Emmanuel Macron consoled the French players as they went to collect their runners-up medals after staging an improbable comeback against Lionel Scaloni's team.

In Paris, French fans let off fireworks on the Champs-Elysee and later clashed with riot police.

Mr Macron later posted footage of himself speaking to the French players in the dressing room alongside the caption: "Proud of you".