Virgin Islands (VI) Premier and Minister of Finance, Hon Andrew A. Fahie (R1) has maintained that the United Kingdom-sponsored Virgin Islands (VI) Commission of Inquiry, once transparent and leads to a just outcome, may aid in the territory becoming better.
However, one caller on the VIP Let's Talk radio show on October 19, 2021, complained that there remains inequalities regarding powers between the United Kingdom and the Virgin Islands and this he says has racist undertones.


UK must face CoI interrogation too - Caller

According to the male caller, given that the VI should be in an equal partnership with the UK, he said just as the VI Government is being interrogated with the CoI, the UK Government must also face interrogation via their own Commission of Inquiry.

Premier Andrew A. Fahie (R1) said that part of the mandate of his government is seeking more self-autonomy and empowering the people of the territory so that the territory can take charge of its own affairs.

"Our country is larger than political parties and we have to understand that… so we have to look about the constitutional talks that are coming up… and decide where we want to see our country in the next 10-20 years," he said.

Hon Fahie said for the next two decades, most of the existing politicians will be paving the way for the next generation of leaders.

According to the Premier, "We want to make sure that whatever we do, we empower our people… so we need people to participate in the review when it begins, and to see how you can be the captains of your own ship, we have to have confidence in each other," the Premier said.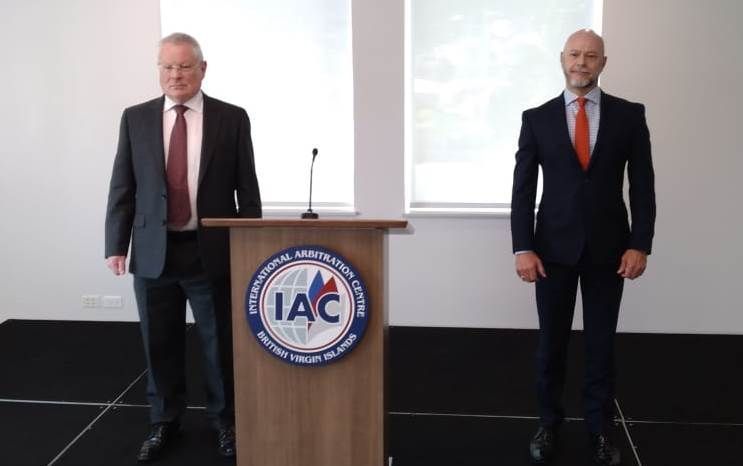 From left: Commissioner Gary R. Hickinbottom and Secretary to the Commission, Steven Chandler. One VI radio called has accused the CoI of being based on a racism coming from the UK.
VI must become captain of its own ship - Premier Fahie

As such, Premier Fahie said that the future of the VI remains in the hands of the people, however, it should start in the hearts and minds of the people in the way they see each other for the sake of future generations.

"I feel that the CoI, once done in a transparent and accountable manner, will help us to become better, but in no way should it help us become bitter and in no way should be an impediment for us to continue to be more forward-thinking with what we want to do with these Virgin Islands," the Premier reasoned.

Hon Fahie said the VI must now think about how to advance constitutional talks in the 21st century and beyond and which reflect that the territory can man its own ship and do so in a transparent and accountable manner.