Former Premier Dr D. Orlando Smith says a precursor to the Commission of Inquiry (CoI) in the Virgin Islands (VI) came as a result of people in the territory continuously complaining to the British government about corruption in the VI government.
Speaking on an episode of Talking Points on ZBVI 780AM on February 6, 2023, Dr Smith added that even before becoming Governor of the Virgin Islands, Mr Augustus J.U. Jaspert had asked him about alleged corruption in the VI.

"The last governor, I met him before he came here and the first question he asked me is 'What about this corruption the BVI?'
"I was taken aback because I didn't know of any corruption, I was not aware of any corruption in the party… which I was a part of, which I was the leader," he added.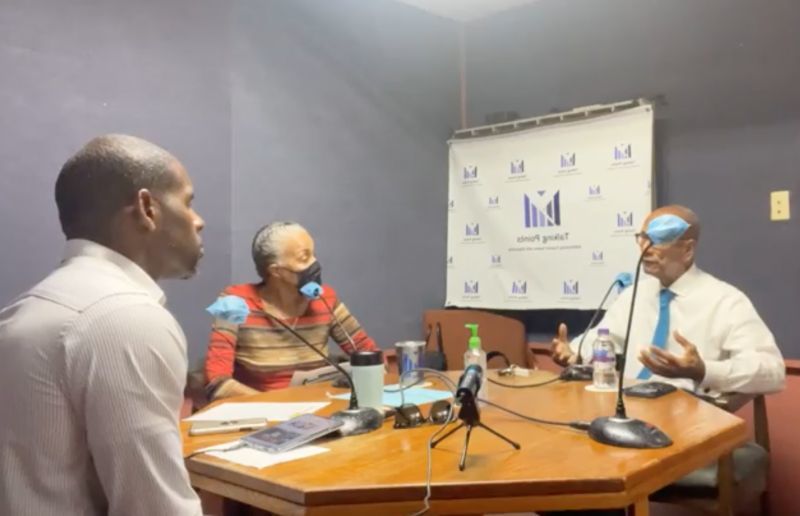 Former Premier Dr D. Orlando Smith, right, on Talking Points on February 6, 2023.
UK saw fire where there was smoke - Dr Smith
Dr Smith added that the British Government saw the VI as a case that where there is smoke there is fire and hence the
CoI
came.
He also pointed to the rocky relationship between the then Governor Jaspert and the then government led by ex-Premier Andrew A.
Fahie
(R1) as another reason why the
CoI
came about.
Dr Smith; however, added that during his tenure and under the system of Government in the VI, to prevent instances like a
CoI
there were ample opportunities for discourse between the Governor and elected government.
He said the Governor and Premier would have a meeting every Thursday, in addition to the Governor sitting in Cabinet.
"That is something that should have been happening more often, if this is the position… here's an opportunity for discussion," he added.
Jaspert called CoI
The
CoI
was called by Mr Jaspert and announced to the VI government and public days before Mr Jaspert exited
the Virgin Islands
.
CoI
Commissioner Sir Gary R.
Hickinbottom
was also hand-picked by Mr Jaspert, which led many to question the undemocratic process the
CoI
was established and executed.
The
CoI
failed to unearth corruption but did reveal there was a need for reform for better accountability, transparency, and fairness.
Mr
Hickinbottom
subsequently recommended, among other things, a suspension of the VI constitution and imposition of direct rule by the UK.
This recommendation was rejected by
the Virgin Islands
people, the Organisation of Eastern Caribbean States, CARICOM, USVI Governor Albert A. Bryan Jr and the United Nations.
Although suspending the constitution has been held back, there is an Order in Council in the UK Parliament that can be activated to impose direct rule if
the Virgin Islands
fails to implement recommendations made by a one-man commissioner.