Commentator and activist Mr Cromwell Smith aka Edju En Ka has said the Commission of Inquiry (CoI) Report is full of ambiguous language and lacks supporting evidence for the many serious pronouncements.
Mr Smith was at the time speaking during a May 11, 2022, episode of 'Territories Talk', a cross-border conversation on the challenges of British Overseas Territories.

"The report is not the easiest read, and I suggested to some of my colleagues that we get an attorney or someone competent in reading these types of documents to do an analysis of the document," he said.

Smith said that given the language of the report, the legal mind could look at all that is being said and break down what recommendations of the report may not be in the best interest of the VI.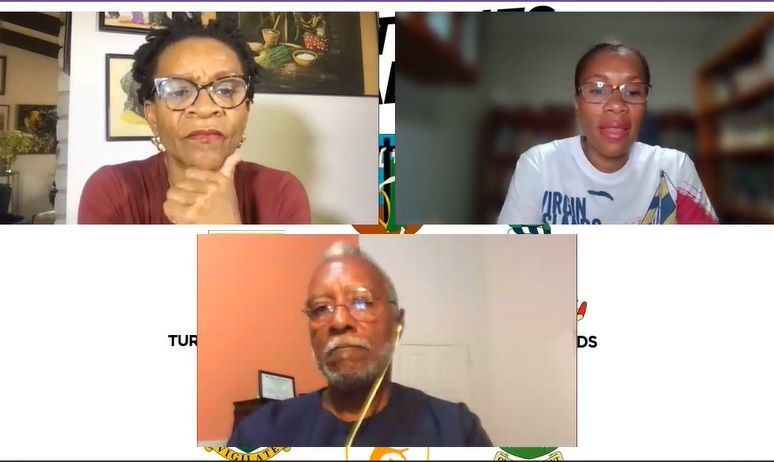 Cromwell Smith aka Edju En Ka (bottom) appeared on the show Territories Talk, alongside former Speaker of the Legislative Assembly of Montserrat Ms Shirley Osborne (top left) and host Shaina M. Smith-Archer on May 11, 2022.
No justification for direct rule – Cromwell Smith

Mr Smith added that the ambiguous language in portions read included phrases like, 'may have been some dishonesty' and 'environment conducive to corruption', which he said lacked supporting evidence."

"Most of the recommendations I think are designed to strengthen civil service processes, more audits, and better structures and processes to make sure the administration is better and close some of the loopholes and so on," he said.

Mr Smith added, "That gives me the feeling direct rule is not justifiable in the report although, Sir Gary Hickinbottom insisted that if the UK doesn't implement direct rule, the challenges of the civil service and the politicians' disregard for good governance will continue indefinitely."


Commissioner not qualified to make predictions on VI – Smith

He said such a prediction is one the commissioner, Sir Gary R. Hickinbottom, was not qualified to make on the future of the VI and its democratically elected leaders.

The predictions he said suggest, "As a people, we cannot fix a problem for ourselves, so if Britain does not take us over, those problems would never get fixed."

Smith said another major challenge with the CoI Report was that it went further to absolve the Governor of the VI.

He said the CoI Report takes away the responsibility of the Governor and Governors in what it called possibilities of corruption or dishonesty.