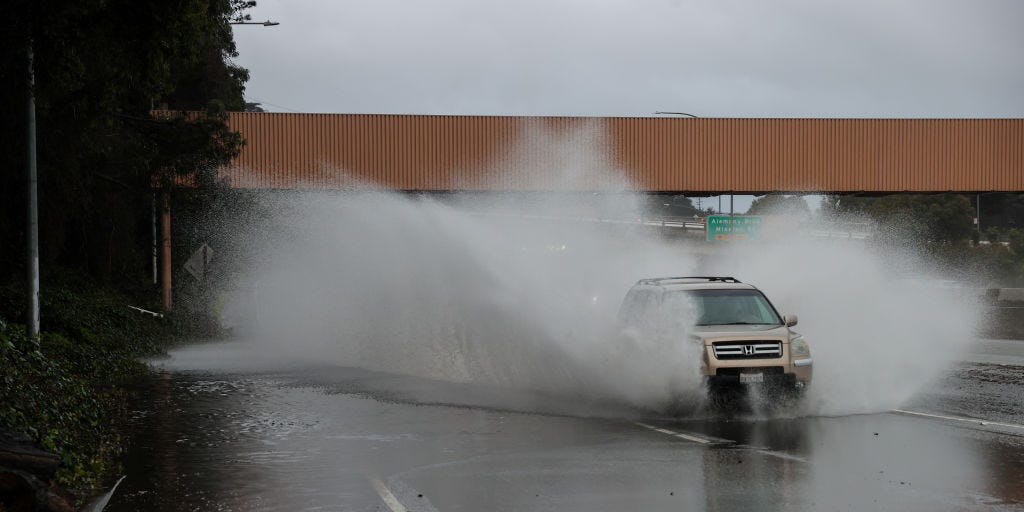 Flash floods inundate highways in the Bay Area and the Midwest is under winter weather watch as extreme weather hits parts of US to start 2023
A year of extreme weather ended in floods and landslides while 2023 begins with power outages and snowstorms.
Extreme weather is halting plans for many Americans again this holiday season. 

A week after a blizzard tore through much of the US over Christmas weekend, a storm that paralyzed much of Northern California starting Saturday is moving east, putting over 15 million in California, the Midwest and the Plains region under a winter weather watch. 

Since Saturday morning, about six miles of Interstate 580 in the Bay Area near Oakland has remained closed due to flooding, the San Francisco Gate reports. Nearby, officials are pumping water to clear another Bay Area highway, Niles Canyon Road, after rain triggered a landslide on New Year's Eve, according to ABC.

Several other highways along the coast also have been shut down since then, and over 100,000 residents have lost power since Saturday in the Sacramento region, per local station CapRadio. In Lake Tahoe, thousands more did not have power on New Year's Eve and cars spun out on some roads during the snowstorm, prompting more closures. Millions were asked to evacuate or shelter in place in the region.

As the storm moves east, meteorologists predict places like the Rockies will get up to two feet of snow by Monday, and that parts of the Midwest and Great Plains also will be hit, according to CNN. 

The storm is the result of an "atmospheric river," or long clouds holding massive amounts of water vapor "equivalent to the average flow of water at the mouth of the Mississippi River," according to the National Oceanic and Atmospheric Administration. Another one is expected in the Bay Area on January 2, the San Francisco Gate reported. 

Extreme weather like this defined 2022 worldwide: There was drought in Europe and Africa; flooding in south Asia; wildfires and heatwaves in Europe. In the US in September Hurricane Ian ripped through the western coast of Florida. 

Experts predict more in 2023, as climate change worsens, and a Pacific Ocean weather pattern called La Niña makes parts of the northern US colder and wetter, and parts of the southern US hotter and dryer.