Local long jumper Chantel Malone has made history for the British Virgin Islands during her performance at the Summer Olympic Games happening in Tokyo, Japan.
She has become the first athlete in the history of the territory to ever make it to an Olympic final.

Competing yesterday, Malone leapt to a distance of 6.82 metres on her third attempt — making the final the Women's Long Jump final which will take place at 9:50 pm (local time) on Monday, August 2.

Notably, she needed only jump to at least 6.75 to qualifying for the finals.

"I'm excited, I'm happy to be going into the finals … As you know, I've been struggling with being one hundred [percent] healthy and stuff like that. So to be able to go out there and hit 6.82 was the reassurance that I need. And, honestly, I feel like its a testament to the growth as an athlete just because the old me would have folded after I had two bad jumps," Malone said after the competing on Saturday.


Elinah Phillip the top female 50m freestyle swimmer in the C'bean

Over at Tokyo's Aquatic Centre, another local female athlete, Elinah Phillip wrapped up her Olympic campaign with a new national record and personal best of 25.74 which she set in the Women's 50-metre freestyle swimming event.

Not only is Phillip now the top female Caribbean 50m freestyle swimmer, her time automatically qualifies her for the FINA World Championships.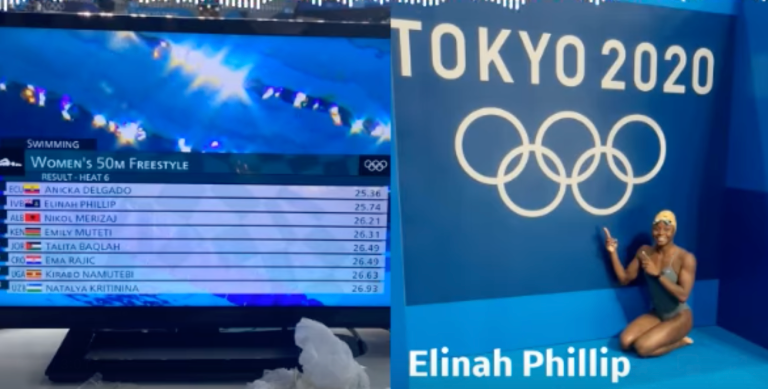 Elinah Phillip

"I already am so proud of myself because I had a pretty hellish year leading up to this and I know it's a miracle that I'm here," the local Olympic swimmer said after her performance.

As for the BVI's other Olympic athlete, Kyron McMaster; he will seek a spot in the Men's 400m hurdles finals by competing out of lane number seven in the third semi-final of the event scheduled to begin at 8:05 am (local time) on Sunday, August 1.