Kadeem Maynard, the son of former Managing Director of the BVI Ports Authority (BVIPA) Oleanvine Maynard-Pickering, has been jailed without bond while he awaits trial on drug and money laundering charges, along with his mother and former Virgin Islands' Premier Hon Andrew A. Fahie.
'Flight risk'

Maynard, 31, is being held at theFederal Detention Centre in Miami where is mother is also being held, after Magistrate Judge Chris M. McAiley signed a 10-page detention order on Thursday, July 7, 2022, which found there is no combination of conditions that would ensure Maynard would not flee prosecution if released pending trial.

Maynard was taken into custody on April 28, 2022, on St Thomas, US Virgin Islands (USVI), and indicted on charges of conspiracy to import a controlled substance, conspiracy to engage in money laundering, and attempted money laundering. If convicted, he is facing a minimum 10-year sentence and the possibility of life in prison.

US prosecutors said Maynard had traveled to the US Virgin Islands to meet with the "sister" of a confidential informant, "to pick up a satellite phone, $30,000 for bribes, and to arrange for the delivery of his cocaine from St Thomas to Tortola."

Judge McAiley cited as one reason why he would not grant Kadeem Maynard pretrial conditions of release is that he does not have close family members living in the district where he is being prosecuted.

"The defendant has no meaningful ties to this District. The pretrial services report reflects that the defendant has no relatives who reside here, and he has no employment history in the United States," McAiley wrote. "Most of his family resides in Tortola and St Kitts, although he has a brother who lives in Washington, DC, and another who lives in St Croix."


Maynard's wife booked Miami hotel for 3 months- Court

Further, the judge wrote, "The defendant advised that he resides in Baltimore, Maryland, and Tortola. The government advised that it searched for international travel records of the defendant traveling to or from Maryland, between 2008 and April 2022, and found nothing, which creates doubt about where Defendant lives.

According to the order, "The defendant's wife recently booked a hotel in Miami for three months, until October 2022. This temporary connection to this District does not assure this Court that the defendant is committed to appearing before this Court as required."

In addition, "The Defendant's alleged conduct is extremely serious; he coordinated and participated in meetings between the Premier of the BVI and the BVI's Director of Ports for the purpose of allowing safe passage of tens of thousands of kilograms of cocaine to and from the BVI on behalf of the Sinaloa cartel, for an enormous profit."

"The defendant also arranged for payment in the form of cocaine, demonstrating that he knows how to distribute significant quantities of cocaine and has relationships with others who could help him accomplish this goal," McAiley wrote. "The scheme involved the creation of shell companies, bank accounts, communications using coded language, and millions of dollars transferred internationally and demonstrates the defendant's sophistication about these matters. The weight of the evidence the government proffered is strong, and this is a factor that supports the defendant's detention."


Trio's trial set for January 17, 2022

Maynard's mother had not applied for bail while Hon Fahie has since been released on bail.

On Thursday, Kathleen M. Williams, a US District Court judge for the Southern District of Florida, granted the parties' motion to delay the trial to give both sides more time to review evidence in the complex case, and scheduled the trial date for January 17, 2023.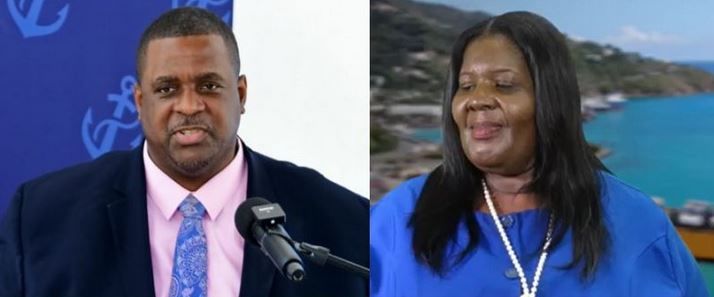 Former Managing Director of the BVI Ports Authority (BVIPA) Oleanvine Maynard-Pickering, right, and former Virgin Islands' Premier Hon Andrew A. Fahie (R1), left, have also been charged by the Drug Enforcement Administration and are awaiting trial slated for January 17, 2023.