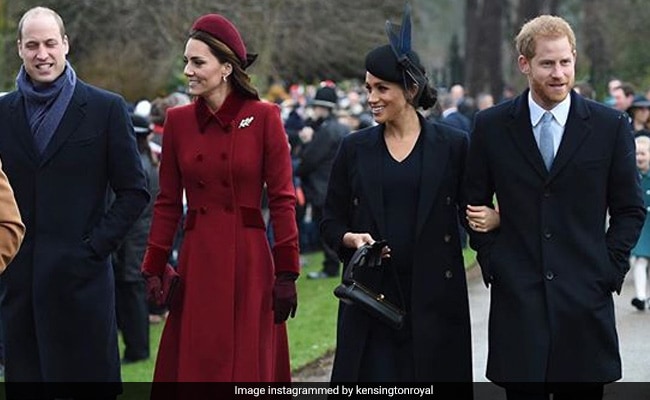 Meghan Markle Misled Oprah Viewers About Kate Middleton Feud, Says Prince Harry
Kate told Meghan that they weren't close enough for her to be making such comments.
Prince Harry in his memoir "Spare" revealed that his wife Meghan Markle misled viewers during their 2021 Oprah Winfrey explosive interview. The Duke of Sussex shared that his wife misled viewers about the cause of the feud with Kate Middleton. She tried to pin a spat over flower girls' dresses all on Kate Middleton- but in reality, the royal sister-in-law was also upset over a comment made by Meghan, New York Post reported. 

Prince Harry in his tell-all memoir shared that the Princess of Wales was upset after Meghan said that she "must have a baby brain because of her hormones," according to Page Six. Kate told Meghan that they weren't close enough for her to be making such comments. 

US Weekly cited an excerpt from the book, and quoted Harry as having written, "Meg asked if Kate was aware of what was going on right now. With her father. Kate said she was well aware, but the dresses were. 'And the wedding is in four days!'" "A short time later I arrived home and found Meg on the floor. Sobbing," Harry continued but noted that Kate didn't mean 'harm'. "I was horrified to see [Meghan] so upset, but I didn't think it was a catastrophe… Indeed the next morning Kate came by with flowers and a card that said she was sorry."

During the 2021 interview with Oprah Winfrey, the former 'Suits' actor said that tabloids falsely claimed that she made Kate Middleton cry during a spat over flower girl dresses for Prince Harry and Meghan Markle's wedding in 2018. 

In the explosive with Oprah, the Duchess of Sussex said, "The narrative with Kate, which didn't happen, was difficult and something that I think, that's when everything changed, really." She added, "No, no, the reverse happened." At that time, Meghan Markle said that her sister-in-law was upset about something but she made amends. 

"She owned it, and she apologized, and she brought me flowers and a note apologizing and she did what I would do if I knew that I hurt someone," Markle said. 

Markle then confirmed that the feud had to do with flower girl dresses "and it made me cry and it hurt my feelings."

Meanwhile, Prince Harry has shone a glaring light on his fractured relationship with his elder brother William, with whom he was once close.

While heir-to-the-throne William has not reacted publicly, UK media assessed that their feud had become so bitter it was unclear how the brothers could ever reconcile.

In interview excerpts and media leaks from his upcoming memoirs "Spare", Harry said the brothers had always had a competitive relationship but had fallen out over his relationship with Meghan, the American former television actress whom he married in 2018.

Harry told Britain's ITV television that he wanted his brother back, but the royals were treating him and Meghan as "villains".