Ahead of the CONCACAF Championships to be held at the end of August, the U17 team travelled to St Thomas last weekend to compete in a series of friendly matches.
4-0 win

The first game saw the Virgin Islands (VI) beat their USVI opponents 4-0 on goals from Jahari Lacey, Emmanuel Etienne, and Azarni Callwood.

"We won and it sounds pretty easy, but we had to play really well and still have a lot of things to work on ahead of the CONCACAF Tournament," commented Coach Jermain Abrams, who works with the squad alongside Richie Morton. "We threw away a lot of opportunities to score more on a very windy day!"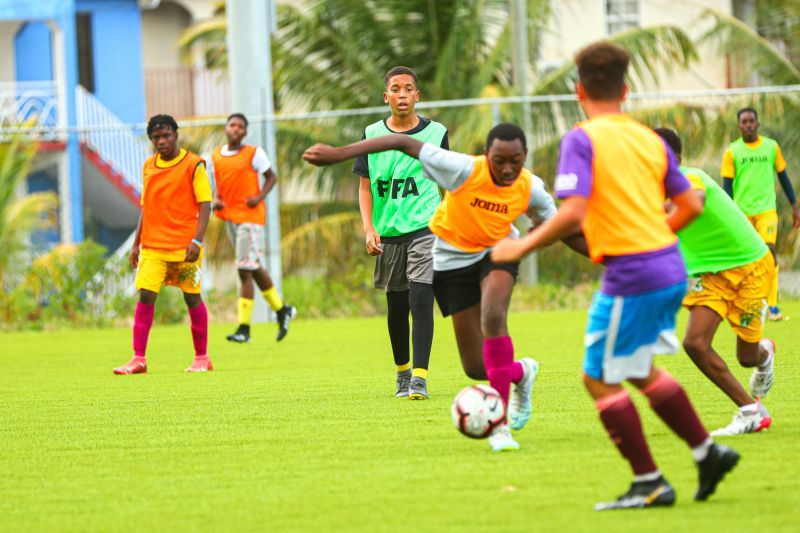 The National U17 Football Team in training at East End ahead of their trip to St Thomas.
Incredible fightback!

In game two, the VI found themselves down 3-1 and it took some stern words of encouragement from the coaches to focus the boys and get them back into the game, which they did to make the final score 3-3.

"They were complacent to start and we had to remind them of life's tough challenges and tough roads ahead," stated Abrams. "We were a man and two goals down at 3-1 when we reached the second half water break and we were able to tell them that even when you are down on the mat but that's the time a team shows resilience and that they had to fight to the end, and that's what they did to pull it back to 3-3"

The goal scorers for the VI were Rush Broderick and Azarni Callwood (2).

The CONCACAF U17 Championship is scheduled for the end of August and the VI are in Group A with the Bahamas, Bermuda, Guyana, Bonaire, and St Maarten.

The squad that travelled to the USVI included Oliver Henderson, Jaden Abrams, Jadon Abrams, Azarni Callwood, Rush Broderick, Tai Thomas, Gethin Jones, Sean Samuel, Jahari Lacey, Omari Simmons, T'Khay Morton, Orette Kennedy, Samuel Gilford, Emmanuel Etienne, Deshawn Richardson, Denvin Letteen, Nathaniel Williams and Pascal Perkins.