The Sugar Boys FC cruised past Lion Heart FC, 6-0, at East End on Sunday, May 8, 2022, to gain an unassailable points advantage at the top of the BVI Football Association (BVIFA) National League Standings and become Champions.
The win coupled with VG United's 3-0 victory over Panthers FC meant that the Sugar Boys have thirty-six points. Rebels FC and VG Utd can only muster a maximum of thirty-five and the Panthers just thirty-four. However, the top four can still be punctuated by Wolues FC, depending on how the remaining results pan out.

A top four finish guarantees a place in the prestigious Presidents Cup scheduled for June 19 and June 26, 2022.


Nanton & Roberts net double for Sugar Boys

Terry Nanton calmed any nerves for the Boys against Lion Heart with a 16th minute opener before Rolland Roberts made it 2-0 on the stroke of half time. Derrol Redhead made it three in the 48th minute, Nanton scored his second to make it four in the 56th and further goals came from Jorge Gonzalez in the 60th and Roberts in the 70th.

"It was a very crucial game for us and started out very well," commented Redhead. "Lion Heart usually give us a good game, but we put them under pressure from the start and it turned out to be one sided. The early goals broke their resistance and we capitalised from there. All the players knew what we had to do, the coaching staff were 100% and proved we wanted to be Champions," Redhead continued.

The Sugar Boys were Champions in 2021 and 2015/16.


VG United blank Panthers

VG United also helped their cross-town rivals with an emphatic win, which put paid to the Panthers chances of catching the Boys, as goals came from Sheldon Harry (38th), Bernard Cumberbatch (70th) and Marvin Browne (84th).

"It was a must win for us against top four opponents and we knew we couldn't play around," noted Manager Jermain Abrams. "The game started well and even though we wasted a lot of opportunities early on, the team showed good maturity to stick with to the game plan. The defense was able to shut out their top two goal scorers and eventually we took our chances. All around it was a good game and we deserved the three points," Abrams added.


Islanders demolish Old Madrid 8-0

The Islanders kept their slim hopes of a top four finish alive with an 8-0 rout of Old Madrid, but will still be reliant on other results going their way in the run in and will look towards their final game of the season, against the Boys, as perhaps pivotal in that outcome.

Kelroy Frederick got things going in the 18th minute, on his way to a hat trick (rounded out in the 59th and 84th), Kevon Smith doubled the lead in the 27th minute and further goals came from DeAndre Rogers (32nd), Rohan Lennon (62nd) and unnamed scorer in the 72nd minute and Joshua Lynch (88th).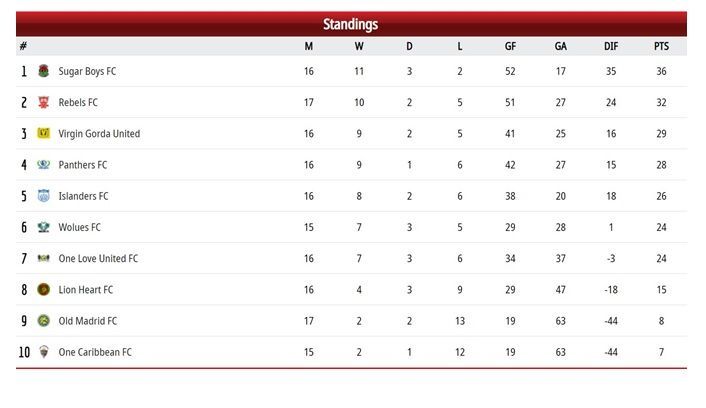 The points standings of the BVIFA National League.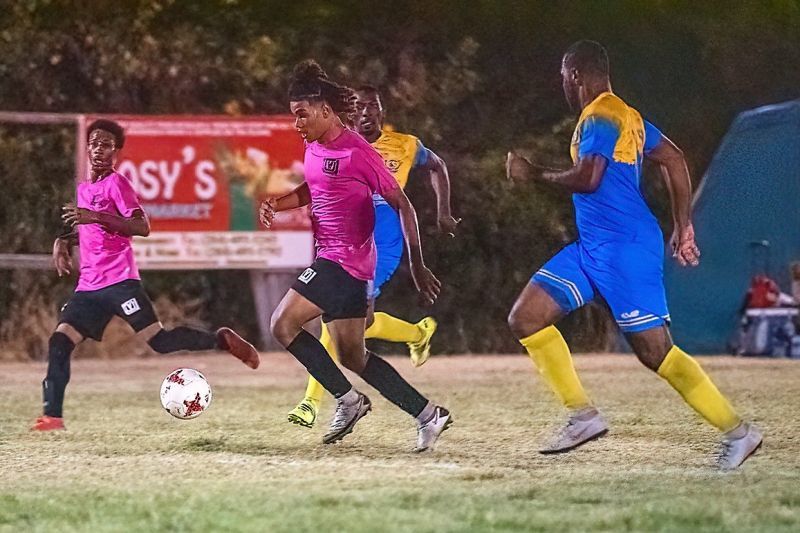 Sheldon Harry opened the scoring for VG United in their 3-0 victory over Panthers FC.