Homeowner, Mr. Carlton Benners and his caretaker have received the keys to a brand new home as part of the Government of the Virgin Islands Housing Recovery Assistance Programme.
The keys were handed over to Mr. Benners by Minister of Health and Social Development Honourable Marlon Penn on Monday, March 20 on Anegada. The home was built by Lawrence Wheatley Construction.

Honourable Penn said the process of rebuilding homes after Hurricanes Irma and Maria began in 2017 and that the government has put approximately $15 million dollars into the housing recovery programme.

Minister Penn said, "We are happy to be able to continue the process and continue to assist the people in the community who are struggling with these vulnerabilities."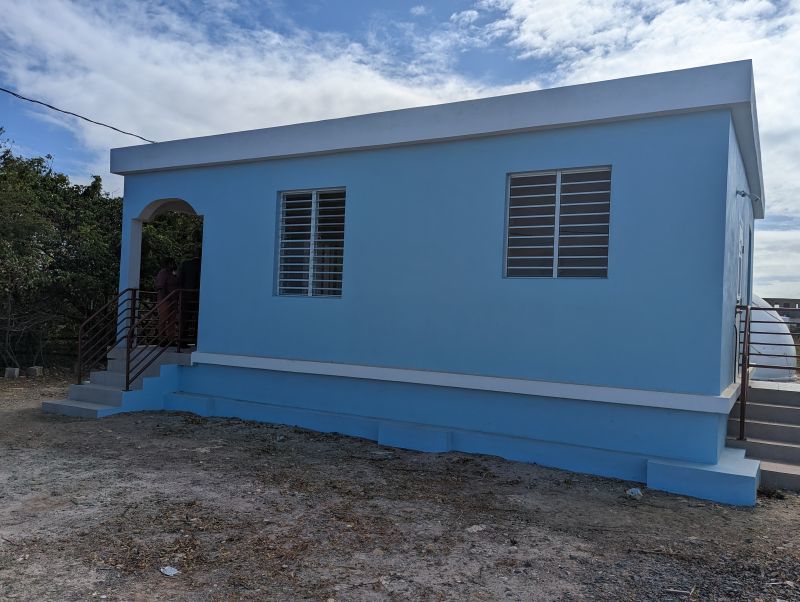 Honourable Penn also applauded the Housing Unit at the Ministry of Health and Social Development for their continued work in rebuilding houses for vulnerable citizens.

"I am looking at the home right now and Mr. Benners has one of the sturdiest homes I have seen on Anegada and the contractors have attested that it is built on bedrock which means it will stand firm through the test of time," the Minister added.

Honourable Penn also applauded the Housing Unit at the Ministry of Health and Social Development for their continued work in rebuilding houses for vulnerable citizens.

"There are many issues that we faced throughout the last five to six years and I want to commend them for the work they have done and the previous minister as well because the government is a continuum," he said, adding, "We all work in the best interest of the people and it is the ultimate objective for all of us."

A total of 19 social homes have been built while over 200 homes have been repaired since the commencement of the programme. Currently, eight social home projects are at various stages of the public tendering process.

The Ministry of Health and Social Development is committed to improving the health and well-being of the people of the Virgin Islands