Florida Governor Ron D. DeSantis signed a bill into law on Monday, June 27, 2022, aimed at increasing physical safety for renters that was named after 19-year-old Miya Marcano was believed to have been killed by a maintenance worker at her apartment complex.
Marcano had strong roots in both the US and [British] Virgin Islands and hundreds had travelled to Florida for her funeral in October 2021.

SB-898, sponsored by Senator Linda Stewart and Republican Robin Bartleman, is named after Marcano, who was found dead on October 2, 2021, after vanishing a week prior.

According to clickorlando.com, Governor DeSantis signed the bill during a private ceremony.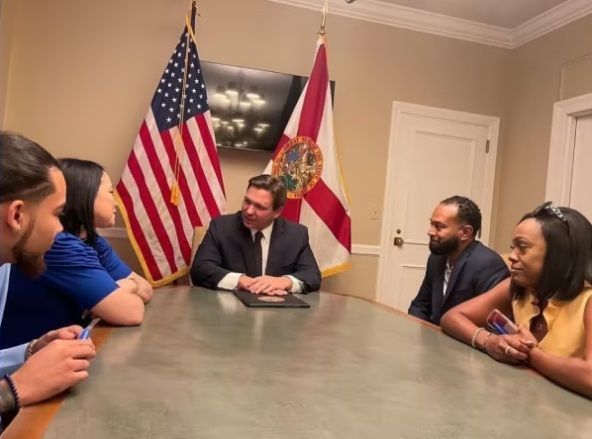 Florida Governor Ron D. DeSantis sitting with Miya Marcano's mother and other officials.
What is Miya's Law?

The new law will require landlords to get a background check on apartment complex employees. People with a violent criminal history or anyone listed as a sexual offender or sexual predator will not be eligible for hire.

Landlords will also have to give tenants 24 hours of notice before entering their apartments and keep a master log of who is accessing any master keys.

"While Miya's family will never receive justice and nothing can bring back their daughter, I do hope that with this new law going into effect, in honor of Miya, that some peace will be brought to the family in knowing that their daughter's death was not in vain," Stewart said in a release.


Suspected killer had criminal history

According to a lawsuit filed by Miya's family against the apartment complex, the maintenance man had a criminal history, a history of harassing women and unsupervised access to Miya's apartment.

Marcano was last seen leaving the front office of the Arden Villas apartments where she worked near the University of Central Florida around 5:00 pm on September 24, 2021, as shown in a surveillance photo released in the Orange County Sheriff's Office final report.

The sheriff's office and her family said she was supposed to fly to Fort Lauderdale that night but never made the flight.

Her body was found in a wooded area near Tymber Skan Condominiums off South Texas Avenue on the morning of Saturday, October 2, 2021, just over one week after she was reported missing.


'Homicide by undetermined means'

Orlando's District Nine Medical Examiner's Office determined Marcano died of "homicide by undetermined means," according to the final Dec. 16 report.

Authorities determined 27-year-old Armando Caballero, a maintenance worker at the complex, as a person of interest in her disappearance after learning he had "demonstrated a romantic interest in Miya" but was rejected by her several times.

He was found dead from suicide at another apartment complex a few days after Marcano was reported missing, deputies said.