The UK has announced a series of sanctions against Russia after it ordered troops into two rebel-held regions of eastern Ukraine.
Five banks have had their assets frozen, along with three Russian billionaires - who will also be hit with UK travel bans.

Boris Johnson said Russia's actions amounted to a "renewed invasion" and the sanctions were a "first barrage".

He stressed these could be extended - but faced calls for tougher action now.

Russian President Vladimir Putin ordered troops into the regions of Donetsk and Luhansk on Monday, after recognising them as independent.

President Putin said the troops would be "peacekeeping" in the breakaway regions - a claim dismissed by the US as "nonsense".

Mr Johnson announced the sanctions against Russian individuals and banks in a statement to MPs, after an emergency meeting early on Tuesday.

The effort comes as part of a co-ordinated Western response to the crisis, which has also seen the EU and US impose sanctions of their own.

The Foreign Office later announced the UK would also sanction Russian parliamentarians who voted to recognise the two-rebel held areas as independent last week.

The sanctions will be similar to those already imposed on the three billionaires, but could take weeks to enforce as new legislation will be required.

The department said that in the coming weeks British firms would also be prevented from doing business in the two breakaway areas - similar to Crimea, a region Russia illegally annexed in 2014.

It added "unprecedented" measures targeting the Russian financial sector had been prepared if Russia went further, and threatened to stop Russia issuing sovereign debt on UK financial markets if it did not "de-escalate".

Mr Johnson accused the Russian president of denying Ukraine's statehood, and "establishing the pretext for a full-scale offensive".

He said Russian tanks had already been "spotted" in the breakaway regions, amounting to a "renewed invasion" of Ukraine after the 2014 crisis.

The EU has also announced plans to target members of the Russian parliament, as well as banks financing Russia's military.

In addition, Germany has said it will freeze approval of the Nord Stream 2 gas pipeline to Russia - a move welcomed by Mr Johnson.

Labour leader Sir Keir Starmer welcomed British sanctions, but said the UK "must be prepared to go further".

He called for Russia to be excluded from the global Swift payment system, the banning of trading in Russian sovereign debt and action to prevent Russia "broadcasting its propaganda around the world", a reference to the RT news channel.

Sir Keir said he understood the government wanted to delay introducing some sanctions as a tactic to deter a Russian invasion of the rest of Ukraine, but without a "full set of sanctions now" President Putin would conclude that "the benefits of aggression outweigh the costs."

Senior Labour MP Margaret Hodge said there were "serious flaws" in the new sanctions regime, and expressed concern it would not affect "oligarchs close to Putin who do not hold an official position in a company".

Former Conservative leader Iain Duncan Smith and Liberal Democrat leader Sir Ed Davey were among MPs who welcomed the sanctions announced, but also urged the prime minister to go further.

Punches were clearly pulled

At times of actual war, economic war always plays it part. Sanctions aim to put pressure on governments and nations, by limiting their flows of trade and finance.

But punches were clearly pulled in the moves announced by the UK against Russia's hostile actions in Ukraine. A limited number of small banks and Putin allies will face sanctions.

Some of this is by design, to allow for retaliatory escalation. But it is difficult not to detect a familiar pattern, of treading very carefully, in the face of Russian hostilities, ranging from the invasion of Georgia, to the 2006 attack on Alexander Litvinenko in the UK.

Bill Browder, formerly Russia's biggest foreign investor, arch Putin-critic, and architect of the "Magnitsky" laws said he was disappointed, describing the sanctions announced as "very tepid".

He said the UK had the power to sanction 50 oligarchs close to Putin with money in the UK. "By not taking that decision, he's sending a message to Putin, which is that nothing bad will happen if you do this type of stuff," he added.

Certainly, the incremental approach to applying sanctions gives these fabulously wealthy men, ample chance to reorganise their finances, retail their yachts, and minimise the impact of any further harsher moves.

By far the most impactful measure today was the German announcement of a pause on the completed Nord Stream 2 pipeline. The Russian stock market fell, and the market gas price rose 10%.

Although it doesn't affect existing supplies, it does mark what could be a change in direction from Russian gas-addicted Berlin.

Mr Johnson later said he thought further sanctions were "inevitable" given the situation in Ukraine.

He also suggested Russia should be stripped of hosting this season's Champions League Final.

Culture Secretary Nadine Dorries said she had "serious concerns about the sporting events due to be held in Russia" and would be discussing the subject with sport's governing bodies.

Russia's ambassador to the UK Andrei Kelin was told his country would "pay the price for its actions" after he was summoned to the Foreign Office.

Who and what are being targeted by UK sanctions?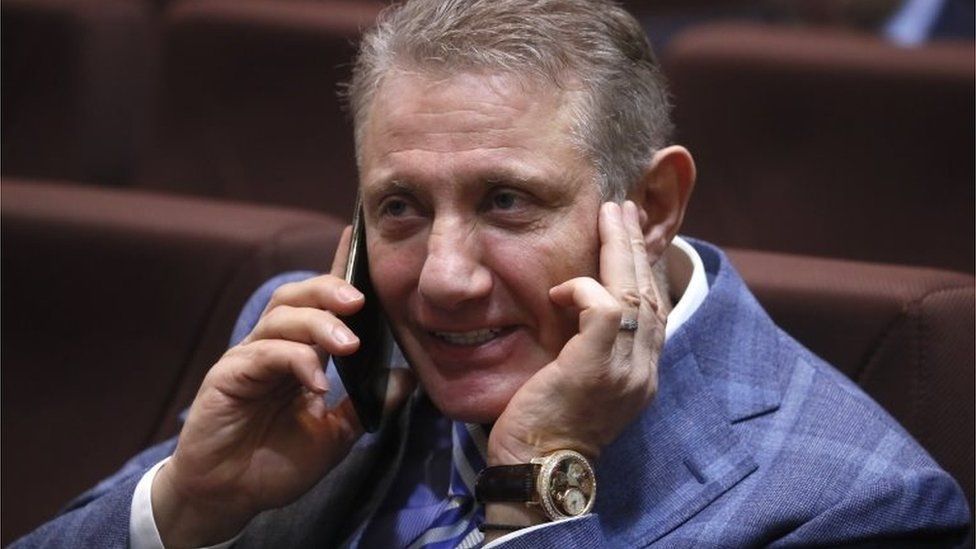 Billionaire Boris Rotenberg is among three men to be sanctioned by the UK

Putin ally Gennady Timchenko is a billionaire hockey enthusiast with wide business interests in energy, transportation and construction via his Volga investment group.

The UK government has accused him of supporting a Russian policy of destabilising Ukraine through his association with Bank Rossiya, of which he is a major shareholder.

Igor Rotenberg, another close associate of President Putin, is the oldest son of Arkady Rotenberg and the majority shareholder in the Gazprom Drilling company.

Igor's uncle, Boris Rotenberg, has also been targeted. Mr Rotenberg is the co-owner - along with his brother Arkady - of the SGM group, the largest construction company for gas pipelines and electrical power supply lines in Russia.

The UK's sanctions notice says he is "benefiting from or supporting" the Russian state in his role in a key strategic sector.

Rossiya is a privately-owned bank, which also has stakes in a television company.

The Black Sea Bank is a Crimean bank and was created in 2014 after Russia annexed the region.

The General Bank is a financial institution which also operates in Crimea.

Promsvyazbank is a Russian state-owned bank, which the UK government says provides funding to Russia's military.

The BBC's Business correspondent Theo Leggett says the UK was not targeting the biggest banks but banks known to be used by President Putin's inner circle.
Boris Johnson says Russian actions in Ukraine are a "renewed invasion of that country"
Labour's Keir Starmer: "Putin appears determined to plunge Ukraine into a wider war"