Boris Johnson has been pictured drinking at an event in Downing Street during lockdown.
ITV News has published four photos, saying they were taken on 13 November 2020 at a leaving do for the PM's director of communications, Lee Cain.

The Metropolitan Police have issued fines relating to No 10 gatherings on that date.

A No 10 spokeswoman said the Cabinet Office and the police had had access to information, including photographs.

The BBC has been told that at least one person who attended has been fined by the police. Mr Johnson himself was not.

After the leaked pictures were published, Labour's deputy leader Angela Rayner said the PM had "demeaned his office" and "the British people deserve better".

She added: "Boris Johnson said repeatedly that he knew nothing about law-breaking - there's no doubt now, he lied. Boris Johnson made the rules, and then broke them."

Liberal Democrat deputy leader Daisy Cooper said the images show Mr Johnson "has taken the British people for fools" while the SNP's Ian Blackford called him a "charlatan and a liar"

Both called on Conservatives MPs to remove Mr Johnson from office.

The former leader of the Scottish Conservatives, Ruth Davidson, said the prime minister's position was untenable, while veteran Tory MP Sir Roger Gale said the new images were "damning" and suggested Mr Johnson should quit.

Scottish Conservatives leader Douglas Ross, who had previously urged Mr Johnson to quit over the party controversy, said: "The prime minister must outline why he believes this behaviour was acceptable."

A No 10 spokeswoman said that with the Met's investigation concluded, senior civil servant Sue Gray would be publishing her report into the gatherings "in the coming days, at which point the prime minister will address Parliament in full".

The pictures obtained by ITV News show Mr Johnson toasting colleagues, while standing by a table on which wine bottles, wine glasses and what appears to be a hand sanitiser container can be seen.

A second lockdown was in force in England at the time the picture was taken, and the rules prohibited indoor gatherings of two or more people. An exception was allowed if the gathering "was reasonably necessary" for work purposes.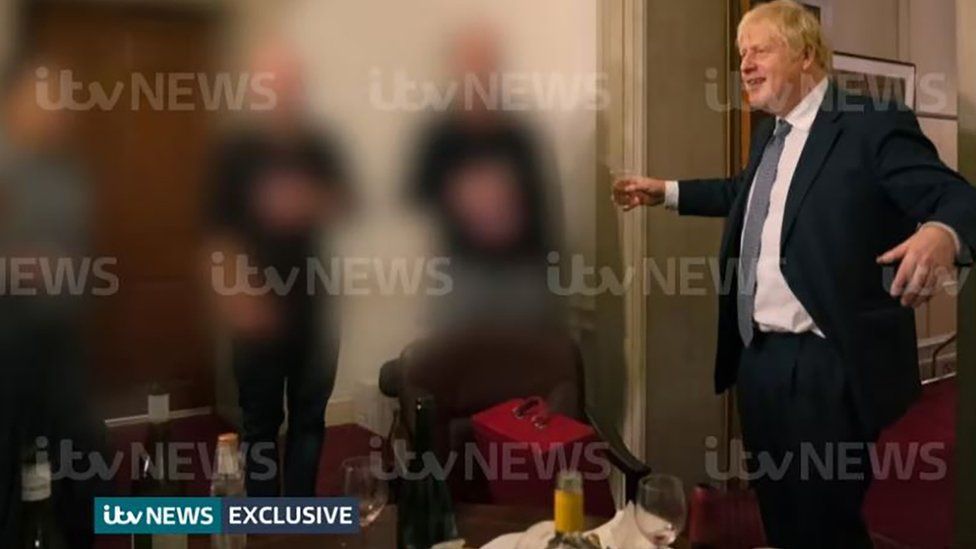 ITV published four photos from the event, including this one showing the PM's red box, used for official papers

A raft of allegations about gatherings held in Downing Street and Whitehall throughout the pandemic led to a Metropolitan Police investigation into 12 events.

The inquiry concluded last week, with a total of 126 fixed penalty notices being issued to 83 individuals for parties held over eight separate dates.

Mr Johnson, his wife Carrie, and Chancellor Rishi Sunak all received one fine each for attending a birthday party thrown in the PM's honour in June 2020.

But No 10 confirmed the PM was not facing any additional fines from the police.

The Liberal Democrats have written to the Independent Office for Police Conduct, questioning why the prime minister had not received more fines and asking them to examine the police's original investigation.

On 8 December 2020, Labour MP Catherine West asked Mr Johnson in the Commons if a party had taken place in Downing Street on 13 November - though it is not clear if she was referring to the event photographed.

He replied: "No - but I am sure that whatever happened, the guidance was followed and the rules were followed at all times."

The prime minister faces a further inquiry by the Commons' Privileges Committee about whether he deliberately misled MPs when he previously told them no Covid rules had been broken in Downing Street.

Under government guidelines, ministers who knowingly mislead Parliament are expected to resign.

MPs are also awaiting the outcome of an investigation by Durham Police into a gathering in the city on 30 April 2021 attended by Labour leader Keir Starmer and his deputy Ms Rayner.

Sir Keir has said he will resign if he is fined for attending the event.


There have always been two big questions at the heart of 'Partygate': Did the prime minister himself break the law and has he been completely candid about what he knew about law-breaking in Downing Street?

Responding to these latest pictures, No 10 is pretty bullish.

It says that the police would have seen these photos and didn't fine him.

On the second point though, things may get a little trickier for Boris Johnson.

These pictures show him at an event for which somebody else was fined so can his insistence that he thought all the rules had been followed hold?

And there are two big audiences which really matter: MPs and the public.

There will be huge scrutiny of exactly what the prime minister said to Parliament about this and whether or not it was misleading.

The outcome of that could have a very swift impact on his prime ministerial future.

Beyond that though, pictures like these pose a potentially longer-term issue.

While there will be plenty of people who won't be bothered by them, the risk is that others will be and more may lose trust in Boris Johnson.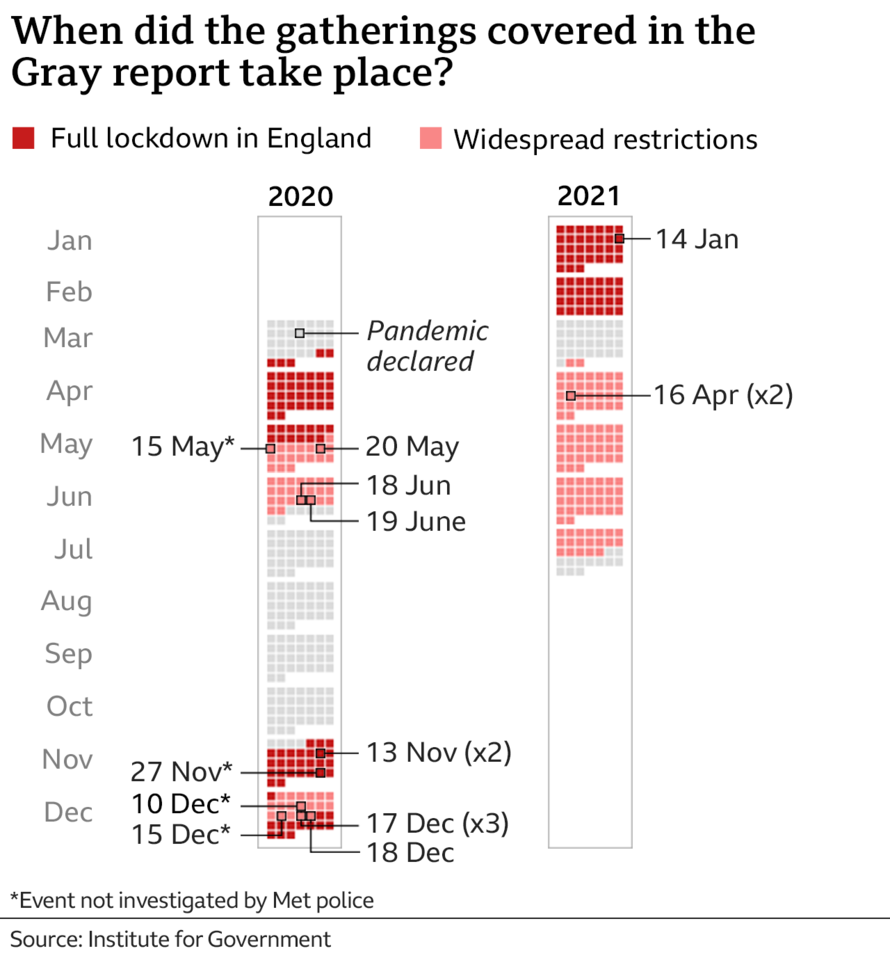 Angela Rayner on PM drinking images: "I think they are appalling."