The civil servant is expected to publish her findings on lockdown breaches in government within days, after having secret dubious meeting with Boris Johnson.
No 10 has confirmed it initiated a meeting between the PM and Sue Gray - the senior civil servant leading a much-anticipated report into lockdown parties in government offices.

The meeting took place weeks ago but only came to light over the weekend.

On Monday morning, Treasury Minister Simon Clarke said it had been instigated by Ms Gray.

However, the PM's spokesman later clarified that No 10 officials had suggested the meeting.

He said the aim had been to discuss the "timings and publication process" of the report - and that while it had been "minuted in the usual way", the notes would not be released as it was a private meeting.

Explaining the confusion, the spokesman said the "technical request" had come from Ms Gray's office.

No 10 also insisted Boris Johnson did not support allegations, attributed to his allies, accusing Ms Gray of "playing politics".

Speaking to reporters, the prime minister said he would not be giving a "running commentary", but insisted Ms Gray was able to act independently.

However, Labour leader Sir Keir Starmer accused the government of trying to "undermine" Ms Gray and her report.

"That's what we've seen going on...in recent days - a new low for the government," he said.

And Lib Dem chief whip Wendy Chamberlain said: "The public would be rightly angry if it turns out Boris Johnson put pressure on Sue Gray to water down her report into illegal Downing Street parties."

The release of the Ms Gray's full report, expected within days, had been delayed until an inquiry by the Metropolitan Police wound up last week.

The four-month police inquiry led to 83 people, including PM Boris Johnson, sharing 126 fines for Covid breaches.

A deadline for top officials Ms Gray wants to name in her report to lodge objections has now passed.

The BBC understands that no one is yet known to have lodged a complaint - something that has the potential to further delay the report's release.

Ms Gray's inquiry was established by the prime minister, and the terms of reference are set by him.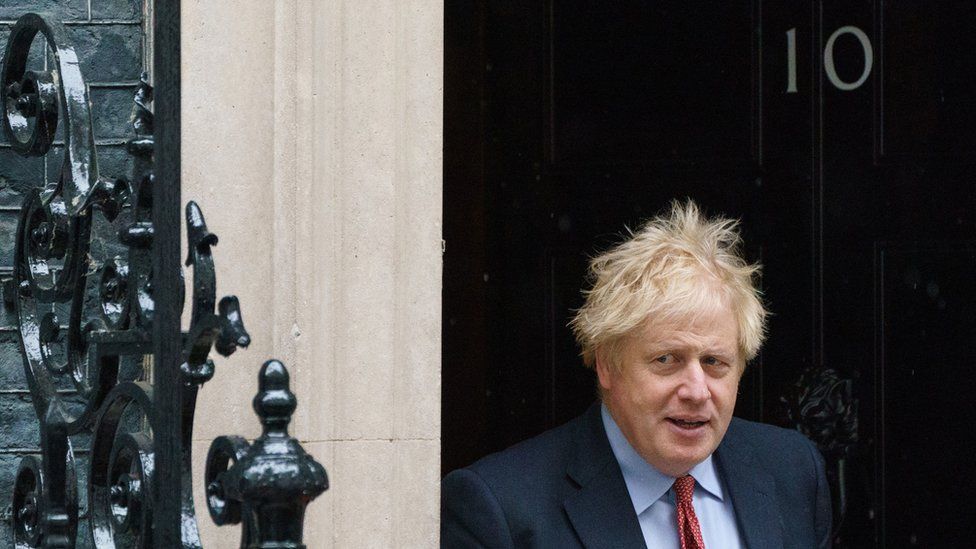 The prime minister is among those who received fines for lockdown breaches

Ms Gray's report is expected to be critical of those overseeing a culture in No 10 in which lockdown breaches could occur.

An interim version, published in January, did not name individuals but did criticise "failures of leadership and judgement", and said some events should not have "been allowed to take place".

The Met inquiry began in January after Ms Gray's inquiry passed on a trove of evidence, including 300 photos, to the force.

The BBC understands it is unlikely all the images will be released in the report, although it is possible some will be published to illustrate the nature of the gatherings.

The prime minister faces a further inquiry by the Commons' Privileges Committee about whether he deliberately misled MPs when he previously told them no Covid rules had been broken in Downing Street.

Under government guidelines, ministers who knowingly mislead Parliament are expected to resign.