Rosemary Cindy Rosan declaring her candidacy for the next general elections of the Virgin Islands was not the only revelation at the International Women's Day Dinner themed 'Break the Bias' at Lambert Beach Resort last evening, March 8, 2022.
"I am black, I am a woman and I am a lesbian", were the words of Guest Speaker and USVI Senator Janelle K. Sarauw told the roomful of women.

Senator Sarauw told the 140plus women and few men present that when she first ran for the senate she was dissected in several ways, with her personal life being placed on the forefront.

"Things were said about me that I didn't even know about myself and people had the craziest stories and they repeated it with conviction."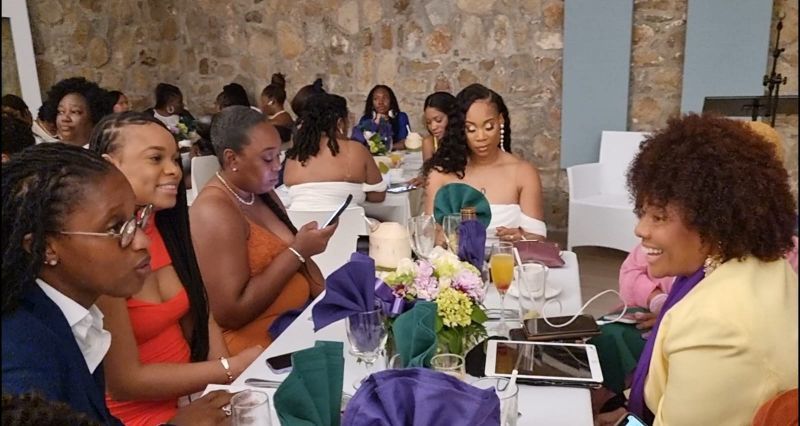 USVI Senator Janelle K. Sarauw told the roomful of women she was proud to reveal she is a lesbian because 'closet is for clothes'.
'Closet is for clothes'- Senator Sarauw

She related that WhatsApp became her enemy to the point that she was angry and hurt to the extent of becoming slightly paranoid. "…. I knew that I was different. I knew that I had many different identities… the concept of intersectionality, I am black, I am a woman and I am a lesbian and I am out and I am proud, because I believe the closet is for clothes and shoes, I have no reason to be hiding."

Senator Sarauw said she knew that those identities would cause fear.

Her sexuality, she said, became that floor mat for many following a publication in the Virgin Islands Daily News which, according to her, was an interview on education during which she did mention being a lesbian.

"The following day the headline said Senator Sarauw acknowledged she is gay and then the content of the article had nothing to do with the headline and there were so many malicious headlines that the media did a number on me."

The crowd heard from the senator that she had to allow some things to die within her to birth the woman she was becoming.

"And the reason why so many women don't become the women they want is because they are too attached to who they have been, and to get there you have to lose some friends, some family and some company," Sarauw stated.

Before 2001, anal sex and oral sex for both heterosexuals and male homosexuals were criminal offences, referred to as "buggery" under the British Virgin Islands Criminal Code.

Lesbian activity has never been illegal.