The Sugar Boys FC took advantage of an idle weekend for One Love FC to pull ahead in the race for the National League title, courtesy of a 4-0 defeat of Positive FC on Sunday. February 26, 2023.
The game, played in front of a large contingent of home fans on the Virgin Gorda Recreation Ground, proved the perfect opportunity for the defending champions to keep their foot to the pedal and send out a message to the chasing pack.

"It was an important win for us," commented one of the goal scorers, Derol Redhead. "We are looking to stay on top and extend the points gap as much as we can. All the guys understand the importance of maintaining our discipline and battling for victories. Sunday was comfortable for us, but with the likes of One Love, our nearest rivals, still to play we need to keep our focus"

After Redhead had opened the scoring in the 24th minute, further goals came from Oswort Holder in the 39th, Alejandro Sanchez in the 68th and Rashad Boyce in time added on at the end of the game.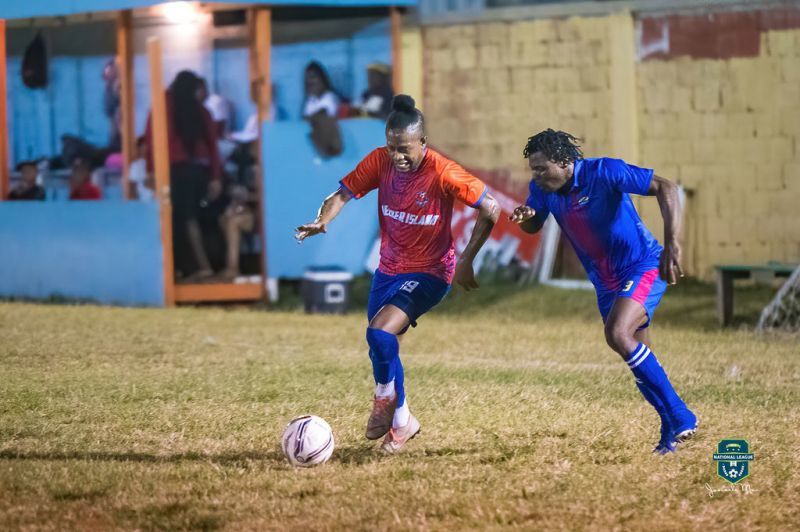 Oswort Holder (left) was one of the goal scorers for Sugar Boys against Positive FC.
Panthers tame Lion Heart
Also on Sunday, at the same venue, Panthers FC secured all three points in a hard fought 3-2 win against Lion Heart FC.
"We gave away to penalties but held up strong, despite being shorthanded," noted Wayne Phillips. "We won the game because the players we did have played well and stuck together to come away with the win."
Jhon Samuel put the Panthers ahead in the 4th minute, before Bishan Edwards equalised from the spot in the 22nd minute. Prevell Asson scored in the 46th to restore the Panthers advantage, but Edwards again equalised from the spot in the 53rd minute. The winner though came from Ezra Alleyne in the 84th minute.
The loss was a first defeat in 10 games for Lion Heart.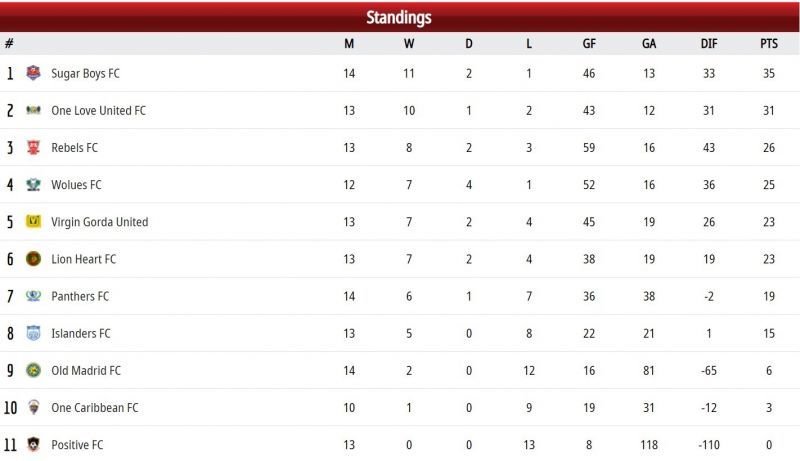 Sugar Boys have a 4-point lead in the BVI Football Association (BVIFA) National Football League.
Wolues destroy Old Madrid 6-1
In the other games played, and on the pitch at East End/Long Look, Wolues FC beat Old Madrid 6-1 with Philip Nelson netting a brace, Marcus Robinson a hat trick and Tai Thomas also on the score sheet.
"It was a comfortable game" stated Nelson. "We wanted to keep the ball moving as much as possible, which we did, but were a little slack at times. We had a lot of time without games in December and January so it's nice to get a little momentum the last few weeks. Overall, we are happy with 6 goals and most importantly 3 points on the board."
The Islanders also recorded back-to-back wins for the first time this season, in beating VG United 1-0, as the only goal of the game came from Shamar Lawden in the 17th minute.