When Charlotte Ballard was shopping for something sparkly for her work Christmas party she went second hand as she knew she wouldn't wear it again.
She is one of many people choosing pre-loved party outfits this Christmas and New Year, according to fashion experts.

It is the first festive season since Covid rules were lifted, but the cost-of-living crisis is limiting spending.

Second-hand clothing apps Vinted and Depop say 18-35s are spending more. And Oxfam says demand for party wear is up.

The charity said sales of going out clothes in its shops and online was "significantly higher" this year than in 2019, before Covid put paid to party plans.

The charity's retail director Lorna Fallon said: "[This is] suggesting that people are making more conscious decisions to choose second-hand, pre-loved and vintage clothes."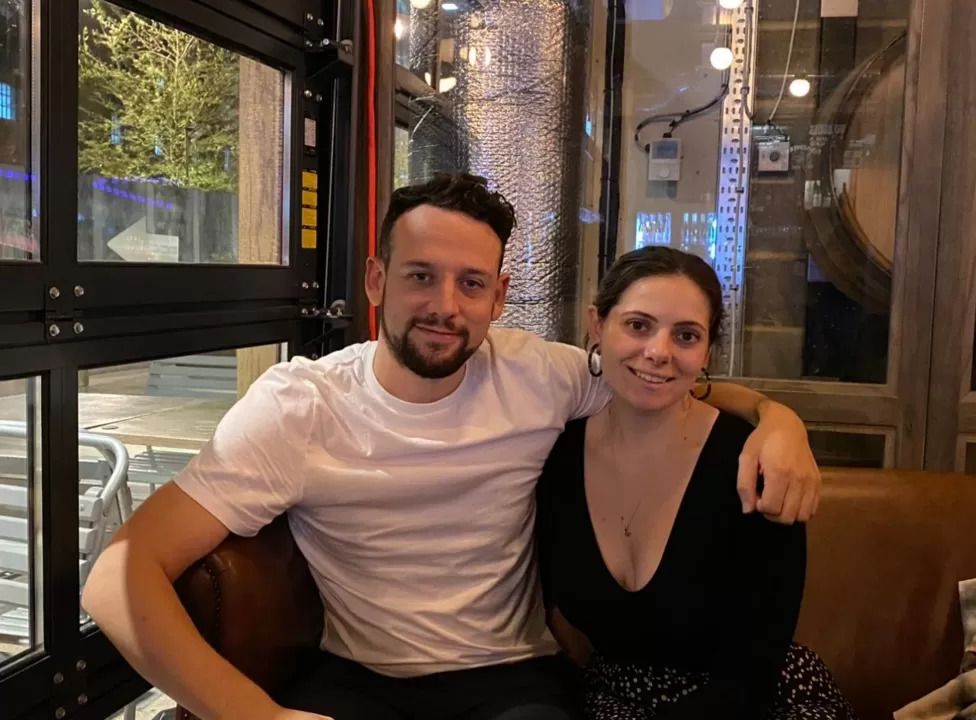 Charlotte Ballard wore second-hand clothes this year for party season
According to an Oxfam survey, more than a third of shoppers have slashed their Christmas budgets this year, with 66% saying this was down to the cost of living crisis. Inflation - the rate at which prices rise - is at a 40-year high and wages are not keeping up.
Ms Ballard, 26, from London told the BBC she started shopping second hand this summer.
"I don't like feeding into the fast fashion industry," she said. "With the cost-of-living crisis, I have been motivated to shop for more second-hand clothes."
"I've bought a sparkly top and some trousers for my work Christmas party on Vinted, I probably won't wear it much afterwards because it's sparkly, so it is more sustainable for me to buy it second hand."
Social shopping app Depop said it had seen a rise in people shopping second-hand. A survey it conducted found 44% of 18-to-35 year olds in the UK were buying more clothing now than they did last year.
Some 53% said that in the face of the cost-of-living crisis, they had been turning to second-hand shopping as a way of saving money. Those who bought second hand estimated they were saving up to 25% per item, which adds up to £2.8bn a year across all purchases, Depop said.
How to make the most of second-hand sparkle

*  Keep sparkle to accessories - Depop advise if you want to buy something sparkly make it a bag or headband which could get more wear than an outfit

*  Wear again and again - TikTok trend forecaster Hannah Miller warns against getting caught up in micro-trends, if you can't see it staying in your wardrobe for 5-10 years give it a miss

*  Say goodbye to second-hand stigma - eBay pre-loved ambassador Tasha Ghouri advises letting go of stigma and searching for unique pieces

*  Don't be afraid to haggle -Natacha Blanchard from Vinted encourages making offers on items to keep your costs low

*  Donate when you're done - Oxfam say that 1.7 million sequins are binned after party season so if you can't see yourself wearing that sparkly number again pass it on

Ms Fallon said Oxfam's research found the thrill of new clothes typically faded after four wears.

"Often excitement is replaced by guilt if we've overspent," she said. "Fashion lovers can shop for second hand this season, free from the pressure of having overspent."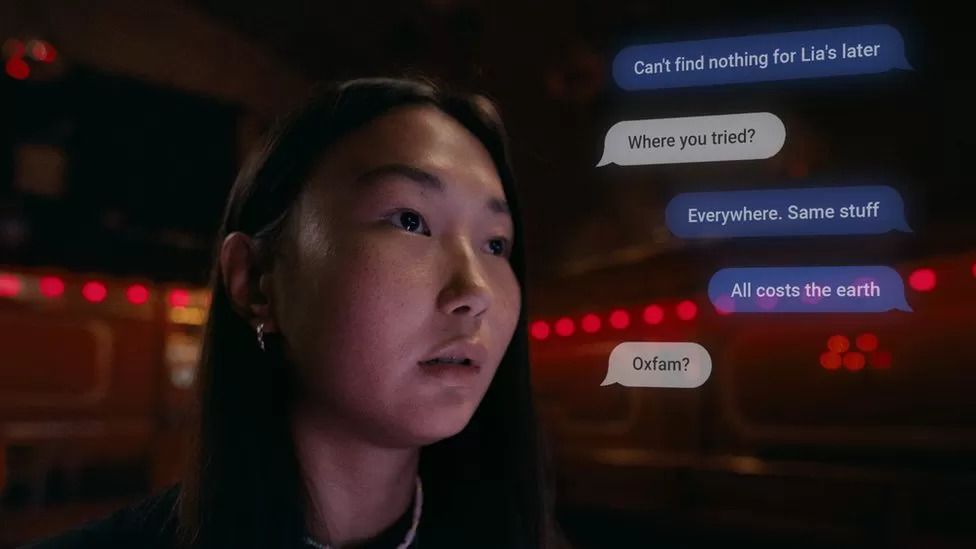 A television advert for Oxfam highlights the benefits of buying second hand

Although shopping second hand seems to be in fashion, TikTok influencer Hannah Miller knows first-hand there can be stigma attached.

"In the 2000s and even in the 2010s, people would ask me where my outfits were from and when I said they were thrifted the mood would change from admiration to judgement," she said.

"I had comments like 'that's so dirty I would never buy second hand', people are so much more open minded now.

"Last year, I bought my viral Prada ballet pumps on Vinted for £40 and a pair of Tom Ford Gucci boots for £45."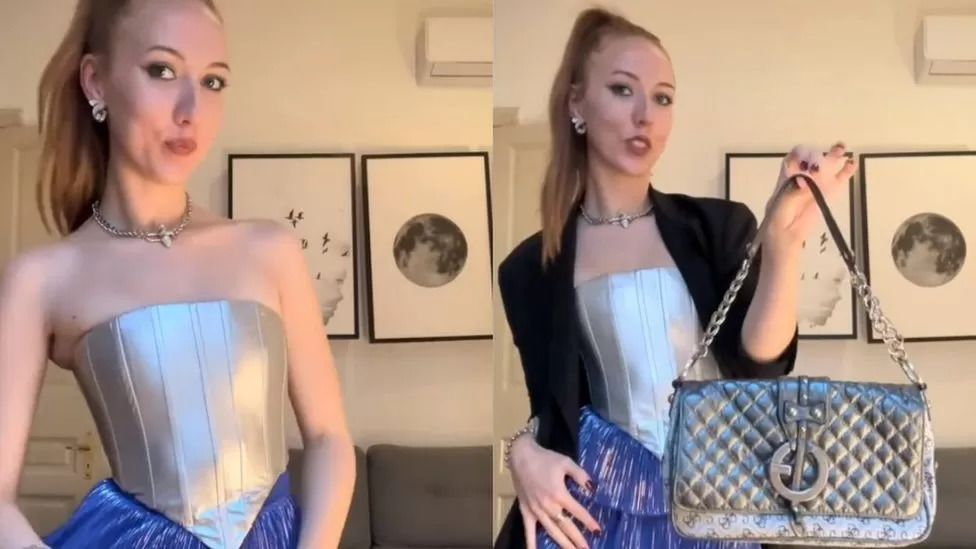 TikTok influencer Hannah Miller's favourite trend is second-hand shoppping.

"Besides the obvious sequins, big statement bows and fuchsia pink trending this season, the biggest trend and my favourite, is shopping second-hand," said Ms Miller who makes fashion trend forecasts on TikTok.

"It's great to buy into trends if you think they will fit your personal style and will become a staple in your capsule wardrobe for the next 5-10 years."

Pre-loved shopping had a moment this summer when reality television show Love Island partnered with eBay to style its contestants in second-hand outfits. Research from eBay UK showed that one item of second-hand clothing was sold every second in 2022 on its site.

Now eBay's pre-loved ambassador, Tasha Ghouri, has developed a party section on the site.

"Shopping pre-loved is not embarrassing, if anything it's amazing," she said. "You're doing something better for the planet."

The cost of living crisis is not the only thing driving the second-hand trend, many consumers are shopping more sustainably to do their bit for the environment.

The fashion industry is responsible for 8-10% of global emissions, according to the UN - more than the aviation and shipping combined.

The European Environment Agency estimates that less than 1% of all clothing worldwide is recycled.

In 2019, Oxfam estimated that 1.7 million sequin items were binned after the Christmas party season.

"A lot of sequins go to waste this time of year, and Christmas is all about the sparkle," Tasha said.

"I wanted to really push the message to buy second hand because it's also better for the environment."

Many shoppers will always favour splashing out on a new outfit from a High Street fashion store.

Sales at clothing stores rose by 2.1% in November, according to official retail sales figures from the Office for National Statistics (ONS).

Tinita Fowler, 25, from London bought her party outfit from H&M.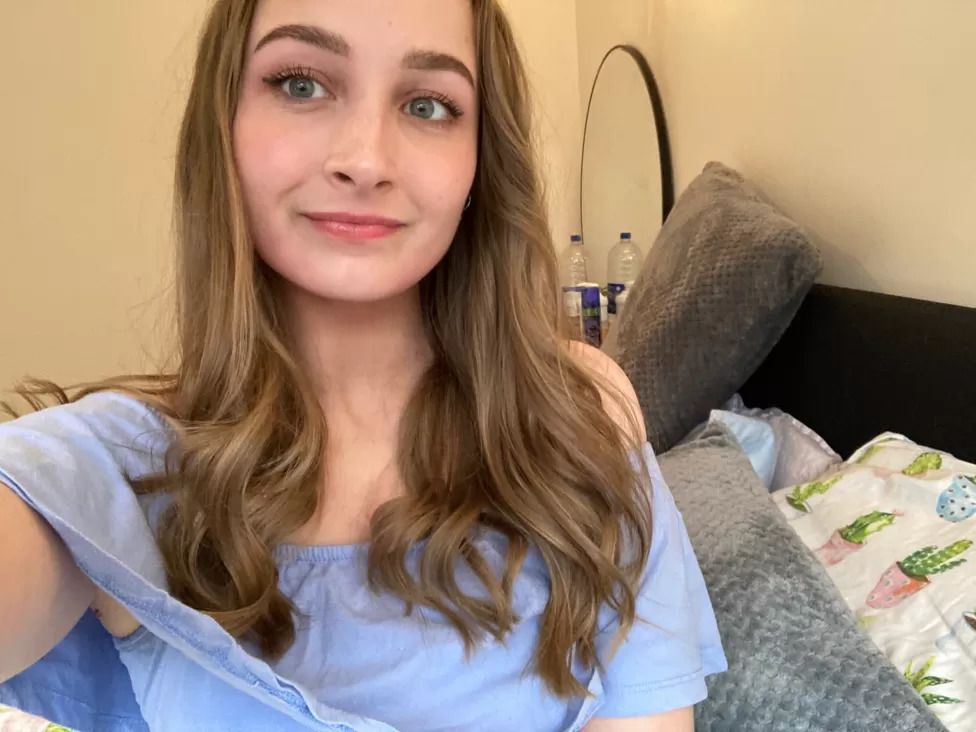 Tinita is looking to rent her party outfits in the new year

"I left it too last minute and I've changed sizes recently so wanted to go and actually try the clothes on."

Tinita does want to look more at sustainable fashion in the new year.

"I've just downloaded Vinted, but I'm not sure how useful it would be for occasion wear," she said.

"I do have a few weddings to go to next year that I will probably look into renting an outfit for rather than buying new."