A lone bid, from SOL St Lucia Ltd (BVI) to supply No. 2 diesel fuel to generate electricity at Henry Wilfred Smith Power Station in Pockwood Pond, has been received by the BVI Electricity Corporation (BVIEC).
Tenders were invited after the contract of supplier Delta Petroleum (Caribbean Limited) was terminated in early May 2022 by BVIEC.

BVIEC in a press release on June 7, 2022, said it was on May 27, 2022, that it received one bid for the supply of various petroleum products which was opened virtually on June 2, 2022.

Present at the opening was the Board of Directors, senior management, the media and the bidder SOL St. Lucia Ltd (BVI).

The following are bid amounts submitted by SOL for the corresponding periods: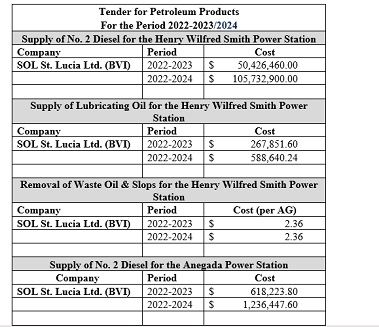 BVIEC also reassured the public that all efforts are being made to procure the necessary No. 2 diesel fuel for the continued production of electricity in the intervening period prior to the awarding of a contract.