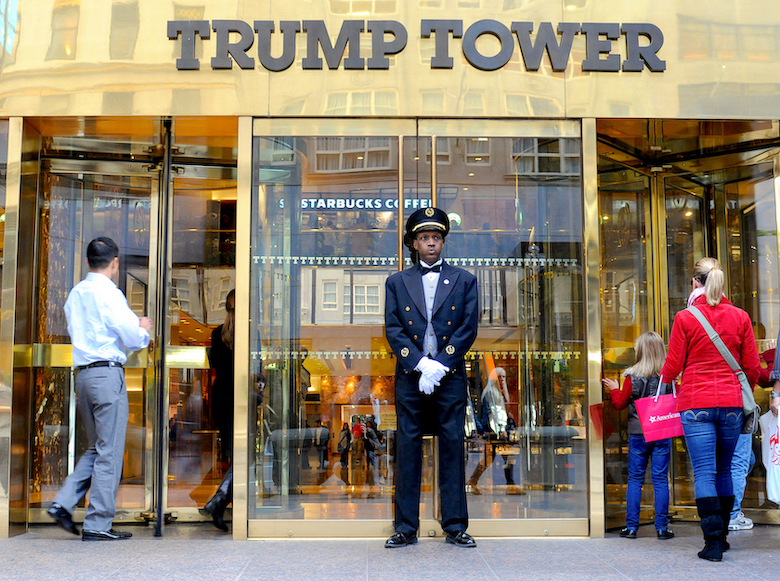 Trump Tower Coverup Linked to Russian Chemical Weapons Program
A company newly sanctioned by the U.S. over Alexei Navalny's poisoning attack is tied to the money-laundering network that Natalia Veselnitskaya tried to cover up at the infamous 2016 Trump Tower meeting, according to financial records obtained by The Daily Beast.
Now we know why Vladimir Putin was so desperate to play down the international corruption probes that began when Sergei Magnitsky uncovered a $230 million fraud on the Russian people. For the first time, that dark-money network can be linked to the murderous chemical-weapons program run by Russia's notorious intelligence services.

After exposing the massive theft of state money, Magnitsky ended up dead in a Russian prison cell. Legislation in his name has been enacted all over the world by governments seeking to clamp down on corruption, including the U.S.'s Magnitsky Act. Despite the interventions of Veselnitskaya—a Russian lawyer who was sent to the U.S. to persuade the Trump campaign to overturn the law—investigations tracing that stolen money continue to expose an international web of bank accounts linked to alleged wrongdoing.

This month, the Biden administration said it was sanctioning a German chemicals company called Riol-Chemie because of its "activities in support of Russia's weapons of mass destruction programs."

It was part of the administration's response to the attempted murder of Putin nemesis Navalny. The anti-corruption campaigner narrowly survived a chemical-weapon attack after a plane carrying him on a long flight home to Moscow was diverted and he was able to receive emergency medical care—first in a Siberian hospital, and then in Germany, where he was airlifted for further treatment.

After waking up from a weeks-long coma, Navalny outwitted a member of the assassination team by impersonating a senior FSB official and tricking his would-be killer into explaining over the phone how the kill squad had rubbed the Novichok nerve agent into the seams of Navalny's underpants.

President Trump shrugged off the attack, but the Biden team announced sanctions against seven senior Russian officials and 14 other entities involved in chemical and biological weapons production on March 2.

One of the entities singled out by the U.S. government as a cog in Russia's weapons of mass destruction program was Riol-Chemie. Investigative files compiled by the authorities in Lithuania—and reviewed by The Daily Beast—show that Riol-Chemie received hundreds of thousands of dollars from a British Virgin Islands-registered company accused of laundering some of the stolen money that was uncovered by Magnitsky.

According to sources close to a separate investigation by French authorities, financial records show that two New Zealand-registered companies, which also received funds from the $230 million fraud, wired over $1 million to Riol-Chemie.

Riol-Chemie did not respond to a request for comment from The Daily Beast.

The United States' formal designation of Riol-Chemie as a sanctioned entity does not give any detail about its role in Russia's weapons program, but purchase orders and invoices seen by The Daily Beast show that the company received components from a now-defunct American manufacturer called Aeroflex. Records show that Aeroflex, which was then based in New York, took orders for radiation-hardened semiconductors and regulators in 2007. These components are often used to build missiles and satellites.

The orders were to be sent to Riol-Chemie in northern Germany, but records show that the tightly controlled radiation chips were paid for by yet another entity accused of laundering the stolen Russian money. According to the paperwork, the invoice went to Tolbrist Alliance Inc., a shell company listed in the Offshore Leaks Database by the International Consortium of Investigative Journalists as being registered to a post-office box in the British Virgin Islands.

According to bank records reviewed by The Daily Beast, Lithuanian authorities discovered that Tolbrist Alliance Inc. had received around $50 million from companies linked to the fraud uncovered by Magnitsky.

Financial records show that Tolbrist spent at least $1.5 million at Aeroflex.

Aeroflex, which is no longer trading, was busted by the State Department for hundreds of International Traffic in Arms Regulations (ITAR) violations "largely consisting of unauthorized exports." There is no indication that the company broke the law by delivering the rad-chips to Riol-Chemie—the transactions occurred years before the U.S. government announced that the German company was a secret part of Putin's illicit arms-smuggling operation.

The repeated links between companies accused of laundering the $230 million and Riol-Chemie may point to a wider, calculated scheme with far-reaching political implications. Money stolen from the Russian people—while the authorities turned a blind eye—was apparently channeled into a black-market weapons program. Whoever directed the dispersal of the stolen funds also played a top-secret role in Russian national security.