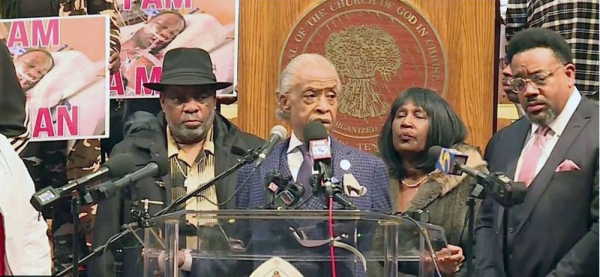 Tyre Nichols family demand justice on eve of funeral
The family of a motorist who died after being beaten by police in Memphis, Tennessee, have demanded accountability on the eve of his funeral.
At a church in the city, Tyre Nichols' stepfather and brother vowed to keep fighting for justice. Five former officers have been charged with murder.

"What happened to Tyre is a disgrace to this country," said civil rights leader Al Sharpton.

Police personnel files for the officers show a litany of complaints.

US Vice-President Kamala Harris is due to attend the funeral on Wednesday, a day after she phoned Nichols' grief-stricken mother.

Speaking on Tuesday evening in the church where civil rights legend Martin Luther King Jr delivered his final speech and where Wednesday's service will take place, Nichols' stepfather, Rodney Wells, asked the public to "keep fighting for justice for my son".

Sharpton thanked the family and local activists, and called Nichols' death a national disgrace.

"People from all around the world watched the videotape of man unarmed, unprovoked being beat to death by officers of the law," he said. "That could have been any one of us," he added.

Nichols' brother, Jamal Dupree, also spoke, telling mourners: "My little brother didn't deserve none of this at all."

Five former Memphis officers — Tadarrius Bean, Demetrius Haley, Desmond Mills Jr, Emmitt Martin III and Justin Smith — have been charged with second-degree murder and other counts in Nichols' death. All five are black, as was Nichols.

Personnel files show a number of disciplinary issues involving some of the officers, according to a local affiliate of the BBC's US partner CBS News.

Haley was accused of excessive force and dislocating a woman's shoulder during an arrest in February 2021, and he received a written reprimand.

Mills was also accused of excessive force during a March 2019 traffic stop that resulted in a crash, but that complaint was not upheld.

Martin was suspended without pay for three days after he was accused of not properly searching two suspects when a handgun turned up on the floor of a squad car in March 2019.

Smith was suspended without pay for two days for failure to maintain proper control after a vehicle wreck that left himself and another person injured in January 2021.

No prior incidents were found in Bean's file.