For the second year in a row, young Virgin Islands track sensation Adaejah T. Hodge was named Athlete of the year at the annual Powerade All-Metro Track and Field Banquet in midtown Atlanta. The banquet was held on June 8, 2022.
History created

Hodge, who was the darling of the 2022 CARIFTA Games in Jamaica where she captured three gold medals, also made history as the only athlete in the 57-year history of the banquet to be named to the All-Metro team in four events - the 100m, 200m, 400m and the long jump.

The Alexander High School sophomore, who was the 6A state champion in all four events - is one of the best athletes in Georgia history. She is ranked on the state's top 10 all-time list in each event and was ranked in the top 10 nationally in all four events this season as well.

For being recognised as the most outstanding girls athlete, Hodge received a $1,500 scholarship.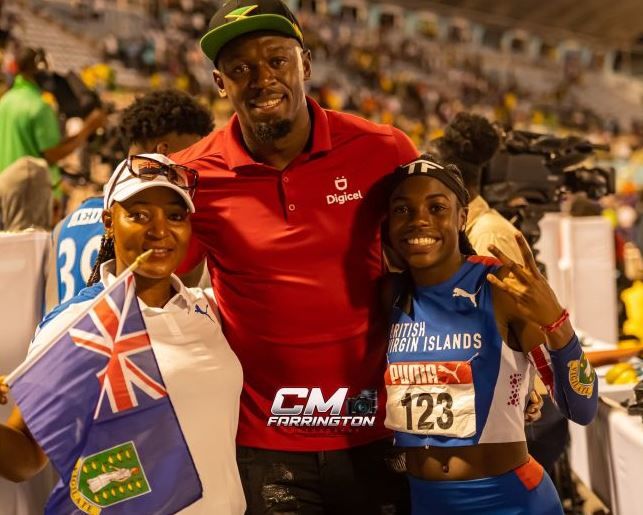 Adaejah T. Hodge, seen here with VI coach Ericca Frederick and the legendary Usain St Leo Bolt, was the darling of the 49th CARIFTA Games in Jamaica in April 2022, when she captured three gold medals.
'Challenges keep me going'- Hodge

"Challenges keep me going," said Hodge who called the 200m her favorite event. "There's always something more to strive for and that gives me drive."

Hodge also expressed her delight on her Facebook page.

"Woww, I'm so thankful to be the winner of this prestigious not once but two years in a row. Thank you @atlantatrackclub. Thank you to my family and friends. Thank you to my coaches. Thank you to my teammates. Thank you for the votes. I love you guys."

Hodge also said this athletics season was "truly amazing" and brought patience, leadership and determination.

Hodge's recognition in Atlanta follows her recognition in Jamaica where she was presented with the Austin Sealy Award for being the most outstanding athlete at the 49th CARIFTA Games.

The VI athlete had captured gold in the 100m, 200m and Long Jump, competing in the Girls U17 category.