Minister for Health and Social Development Honourable Marlon A. Penn (R8) says in order for persons who really need help to benefit from social assistance, community outreaches must be done by Social Development Department.
According to the Minister, in the past Social Development Department has received close to $400,000 to support persons who fall on the lower end of the socio-economic spectrum; however, the Government of National Unity has allocated some $2.4M for the programme this year.

He said it is now up to Social Development Department to do verifications and to ensure those who are economically challenged can be assisted.

"One of the things I have said to them is you need to do more outreach. Not everyone who needs support might listen to the radio, might have access to the internet, might see all these promotions. We need to go out into the communities. We need to go see how people are living in the communities. How can we reach out to those persons that we know are struggling," Hon Penn said on Talking Points on ZBVI 780 AM on January 16, 2023.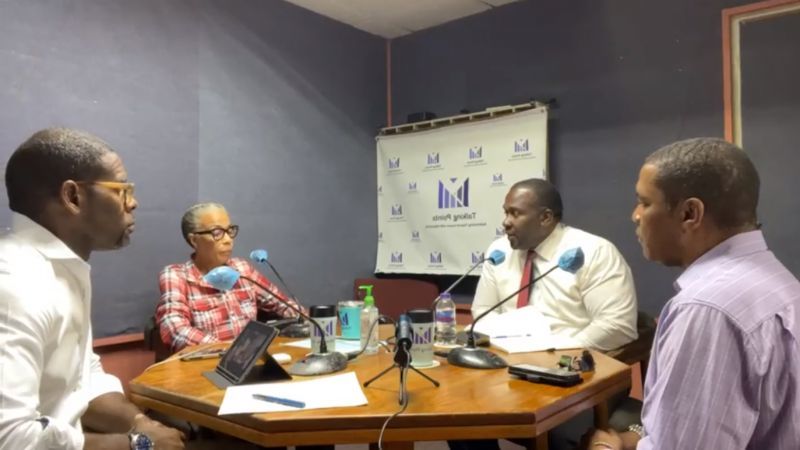 Minister for Health and Social Development Honourable Marlon A. Penn (R8), 2nd from right, on Talking Points with Violet Thomas-Gaul (2nd from left), Damion C. Grange (left) and Elvin Grant (right) on January 16, 2023.
Hon Penn supported stripping HoA of social assistance $$
Meanwhile, Hon Penn said he supported the stripping of the House of Assembly (HoA) of the ability to provide financial assistance via Elected Representatives. Many have criticised the move as a plan by the United Kingdom to render legislators powerless and cause constituents to lose faith in them.
"I supported the move. I think it is a move that had to happen, I think persons need to be able to be clear on what the process is for them to get support and assistance, it needs to be clear, it needs to be transparent and we need to make sure it is not cumbersome, it's easy for them to go to Social Development and say look I am falling behind, I have some financial difficulties, I am falling behind on my rent, I need some financial assistance, I am experiencing some medical issues …"