Relaxing poolside sitting areas, featuring luxurious outdoor living spaces, conversation pits, outdoor dining rooms, outdoor lounge furniture & modern gardens.
Sunshine and cocktails, good friends and great times, relaxing poolside sitting areas are places in which to let responsibilities drift away and work on nothing but awesome memories. This captivating collection of 51 poolside sitting areas will have you daydreaming about luxurious outdoor living spaces, the cool splash of serene swimming pools and sunset gatherings in cosy outdoor conversation pits.

We'll also gather inspiration for welcoming outdoor dining rooms, modern fireplaces, stylish chaise lounges and outdoor sofas, built-in benches, exterior lighting, waterfalls and fountains, large sun terrace layouts and decking ideas. All of this in the fine company of magnificent modern architecture, beautiful planting arrangements, courtyards and vertical gardens.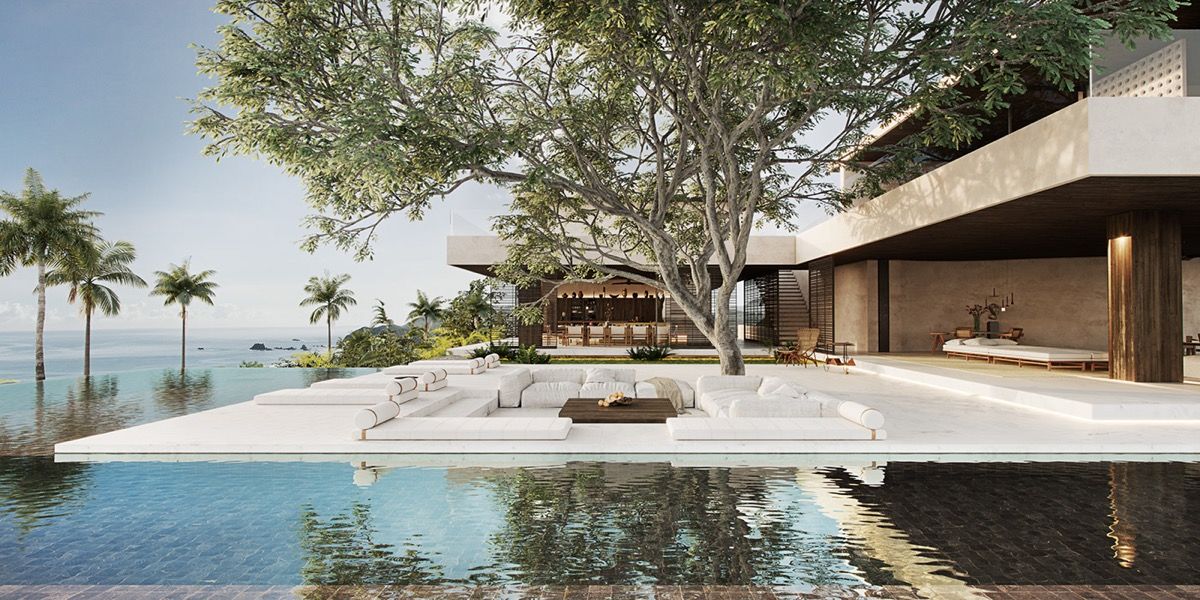 A cosy conversation pit beds down beneath the outstretched boughs of a majestic evergreen at this stunning Indonesian luxury villa. Chic modern sun loungers meld with the crisp white concrete terrace.
Black and white striped bolster cushions and plump blush pink accent pillows have been used to draw attention to a small sitting area at the edge of a narrow, stepped pool area here. Prominent accents give the tight spot elevated status. Assorted terracotta plant pots create a relaxed vibe.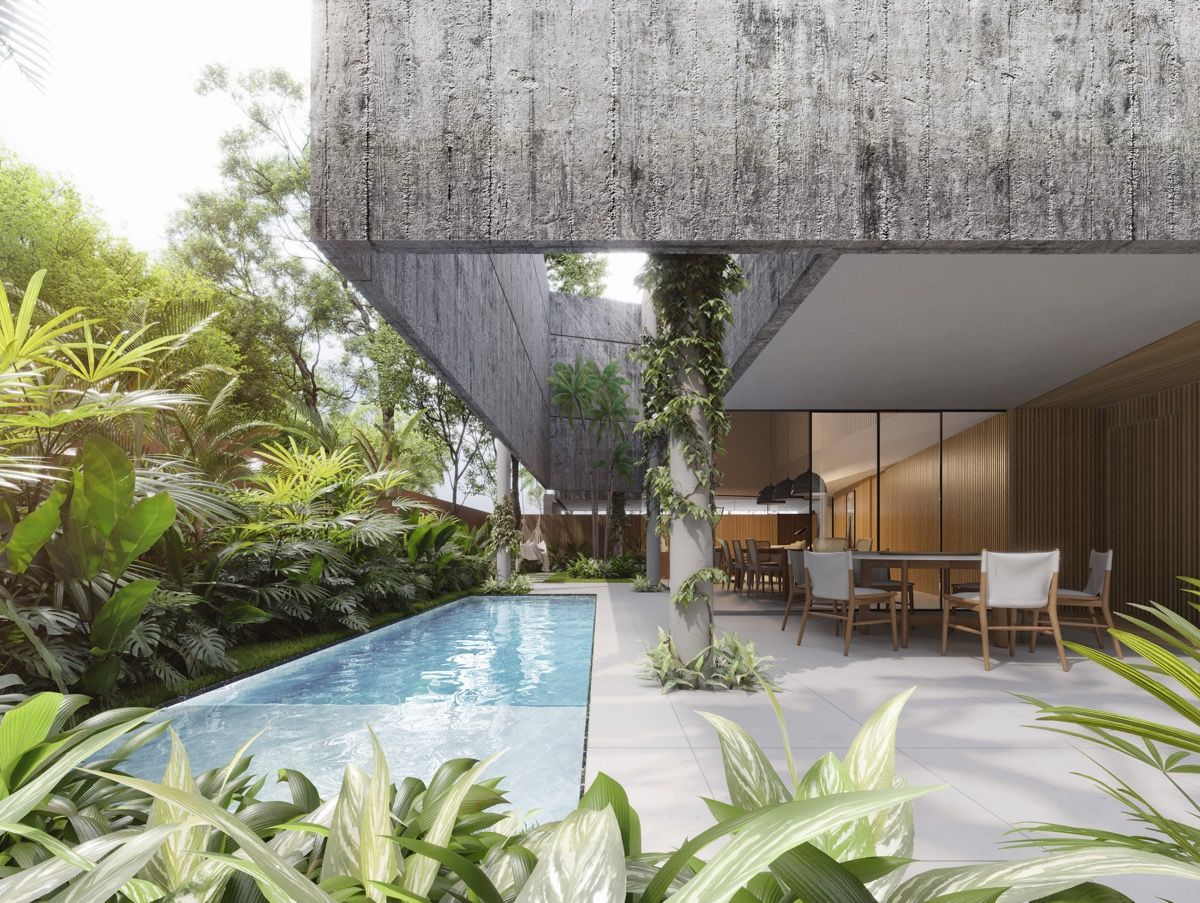 A plethora of tropical plants offset this cold brutalist house exterior. Mature shrubs loll poolside, whilst vines envelop concrete columns around an outdoor dining area.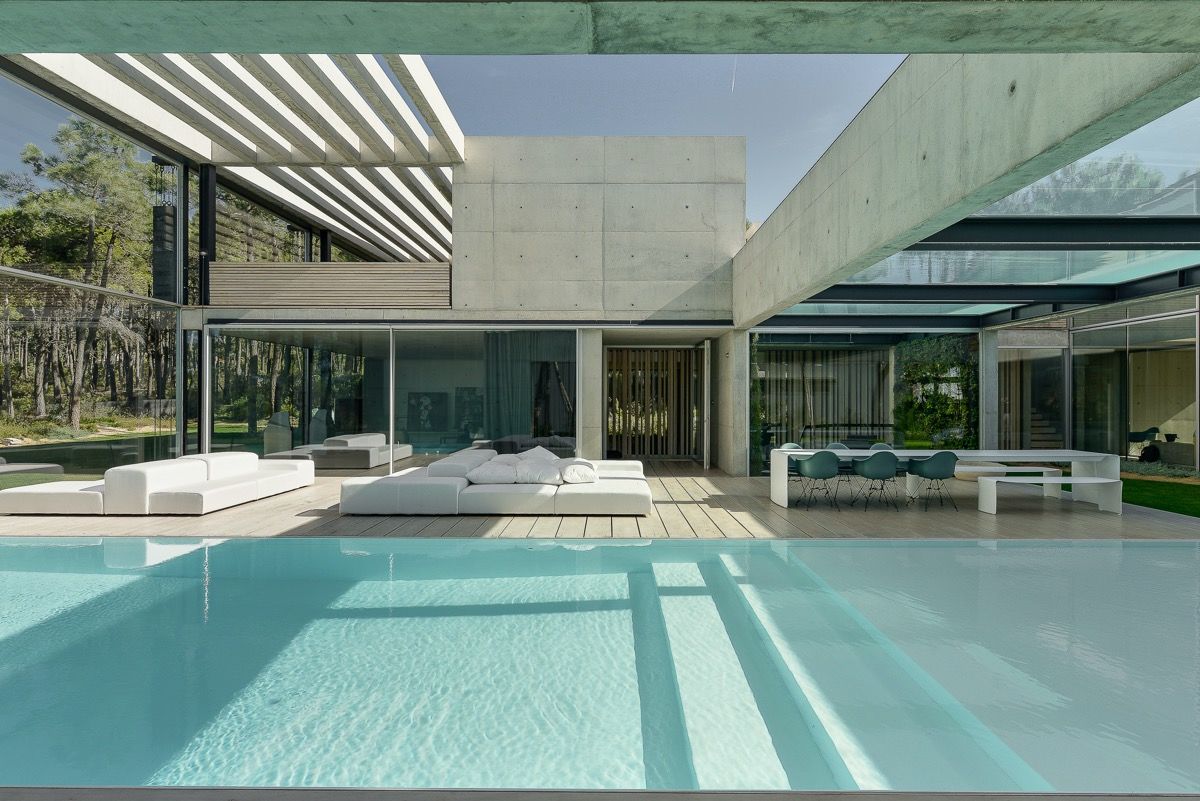 Take it all in. Pure white sectional sofas are arranged into multidirectional seating areas to take in views of the pale blue pool and tree covered landscape.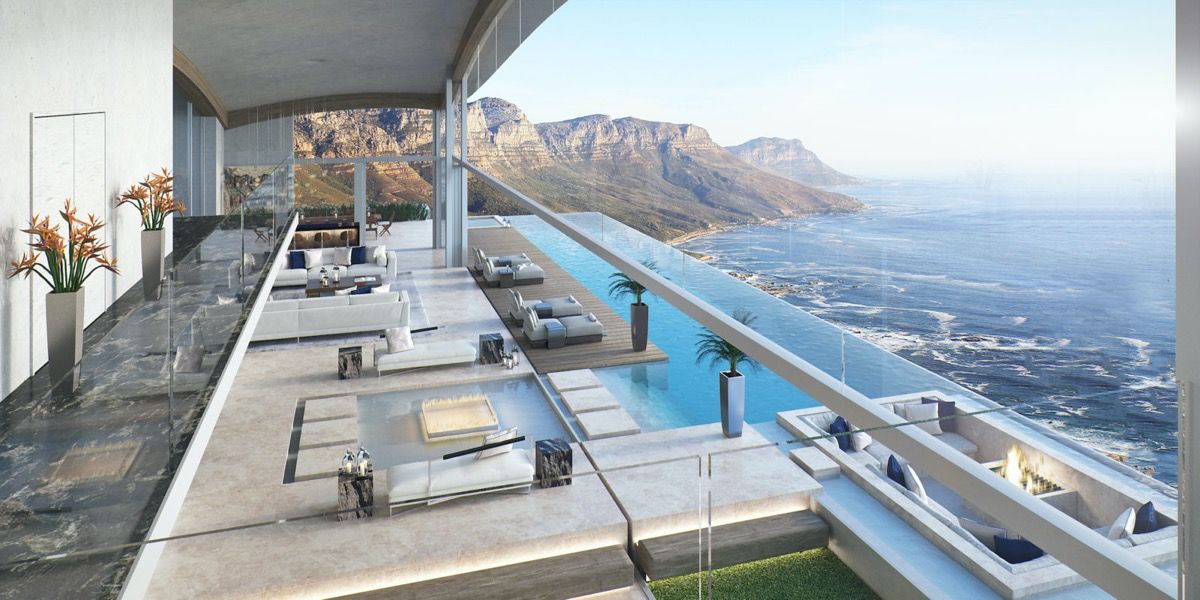 Infinity pool, infinite panorama. A rocky coastline and blue waves roll away from an enormous sun terrace with a luxuriously furnished outdoor living room, sunbathing deck, a pool fire pit, and a sunken conversation pit. Stepping stones create playful pathways.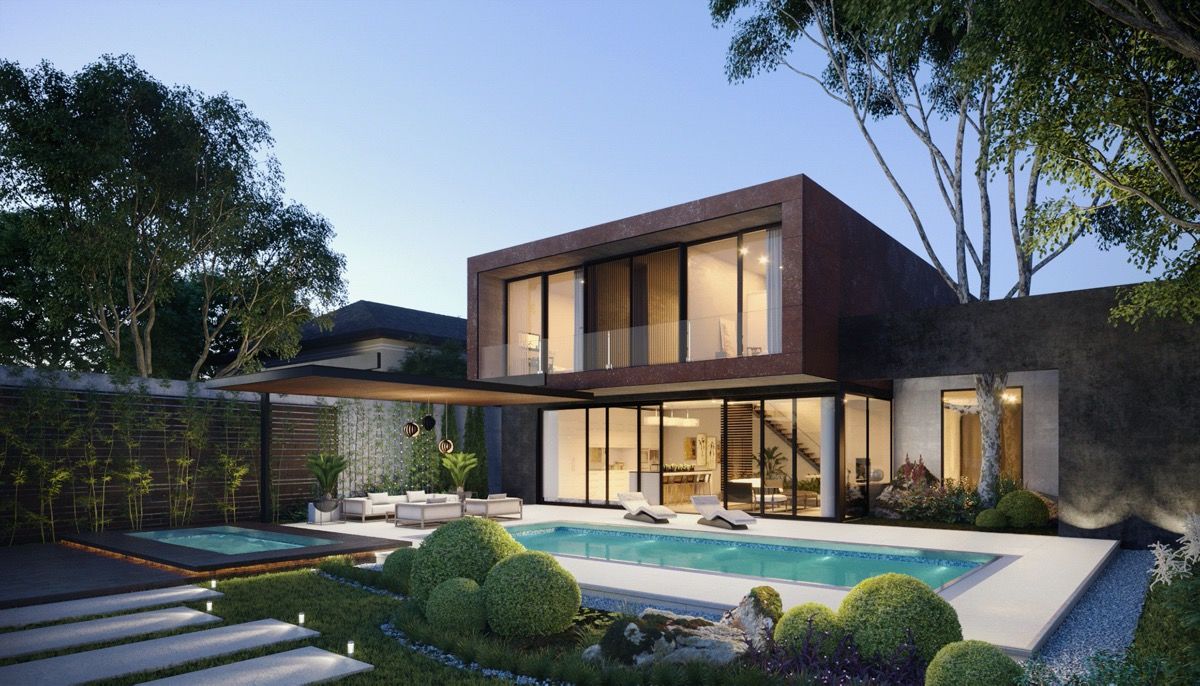 Graceful bamboo and topiaried American Boxwood shape a serene setting around this sleek sundeck. A canopy shades the outdoor lounge in daylight hours, and provides a framework for decorative pendant lights by night. Lawn lights add twinkle to the perimeter.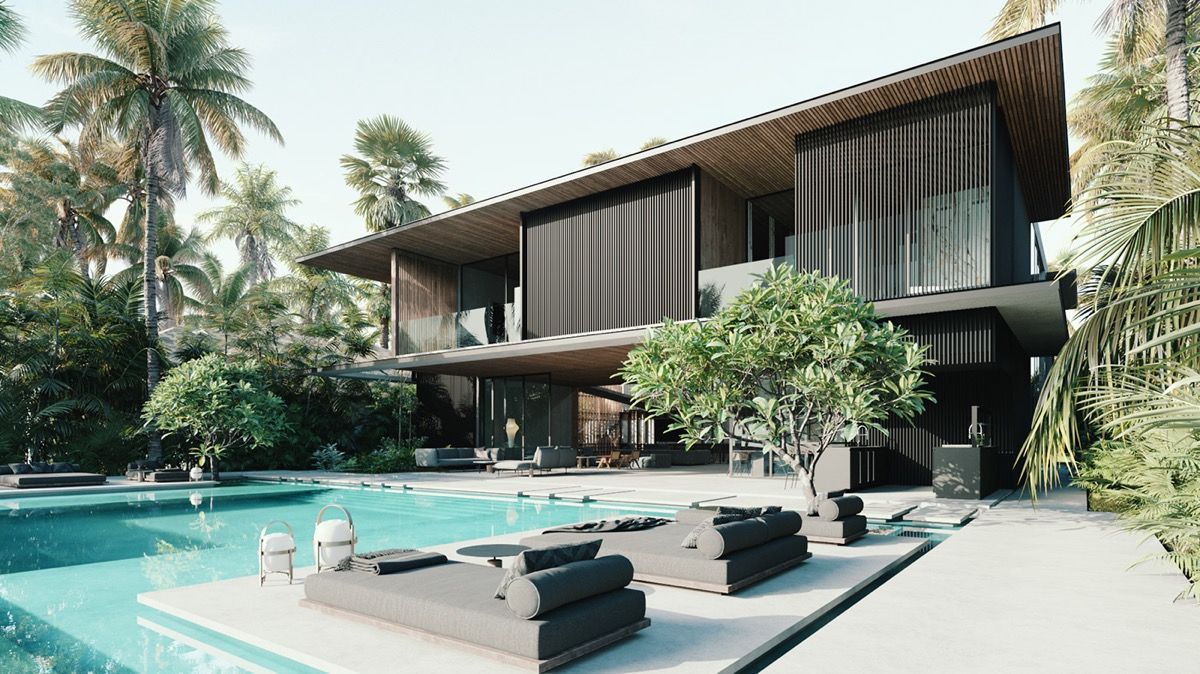 Stay on theme. Charcoal grey daybeds complement the dark slatted exterior of this strong contemporary home exterior. Their floor hugging design compliments the architecture's linearity.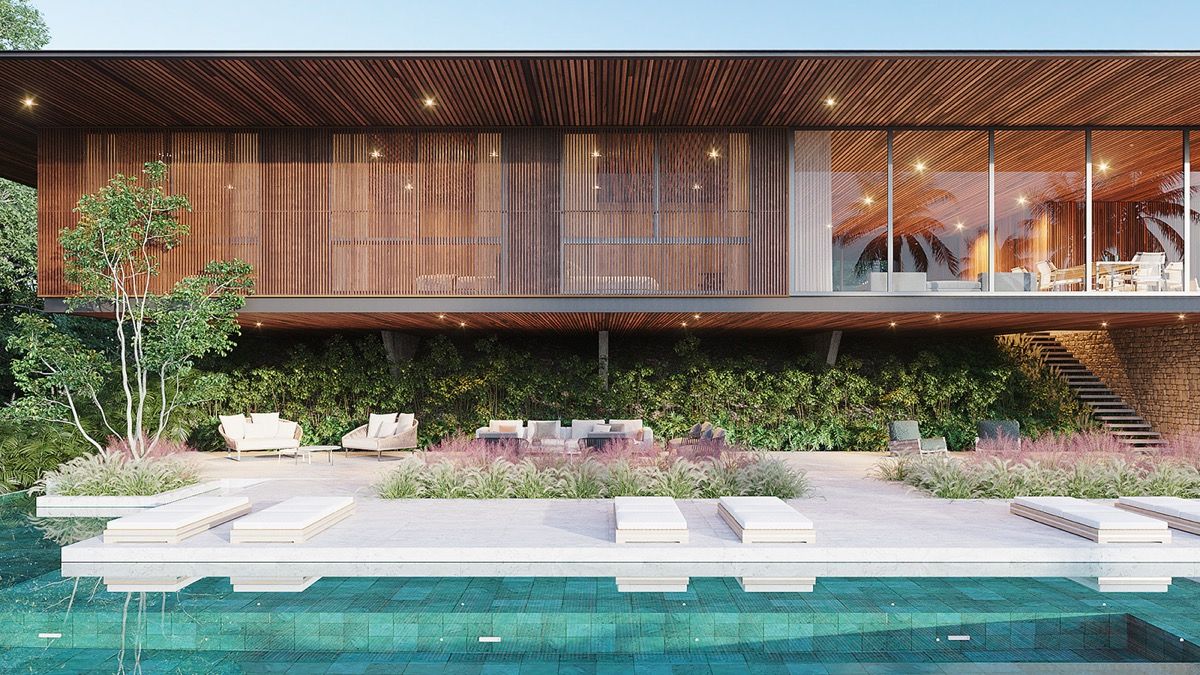 These minimalist sun loungers lay low to let the eye wash straight over them, leaving a backdrop of colourful grasses and a vertical garden wall to take the stage.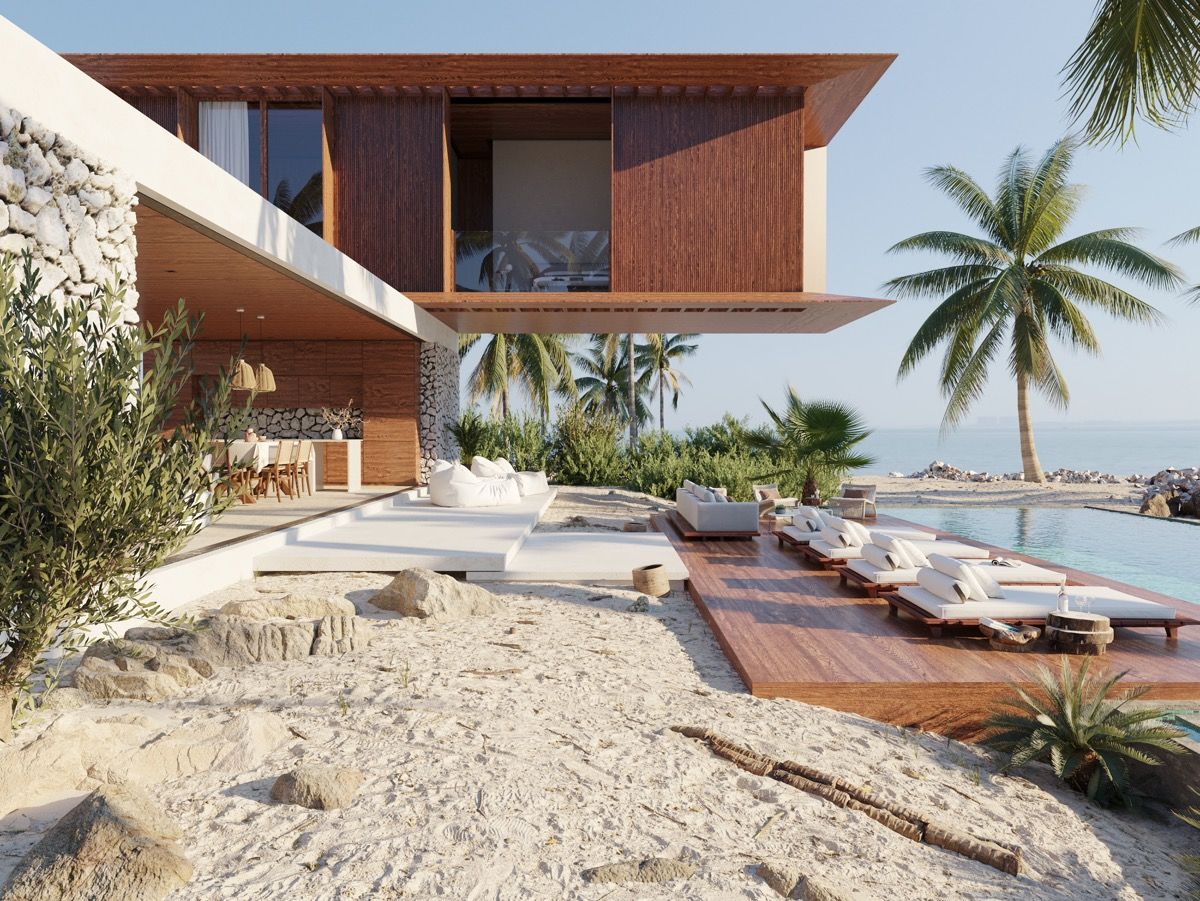 A sandy beach rushes up around the wood and white concrete deck arrangement of this coastal home design. Tiered terraces give each outdoor living area an unobscured view of the water.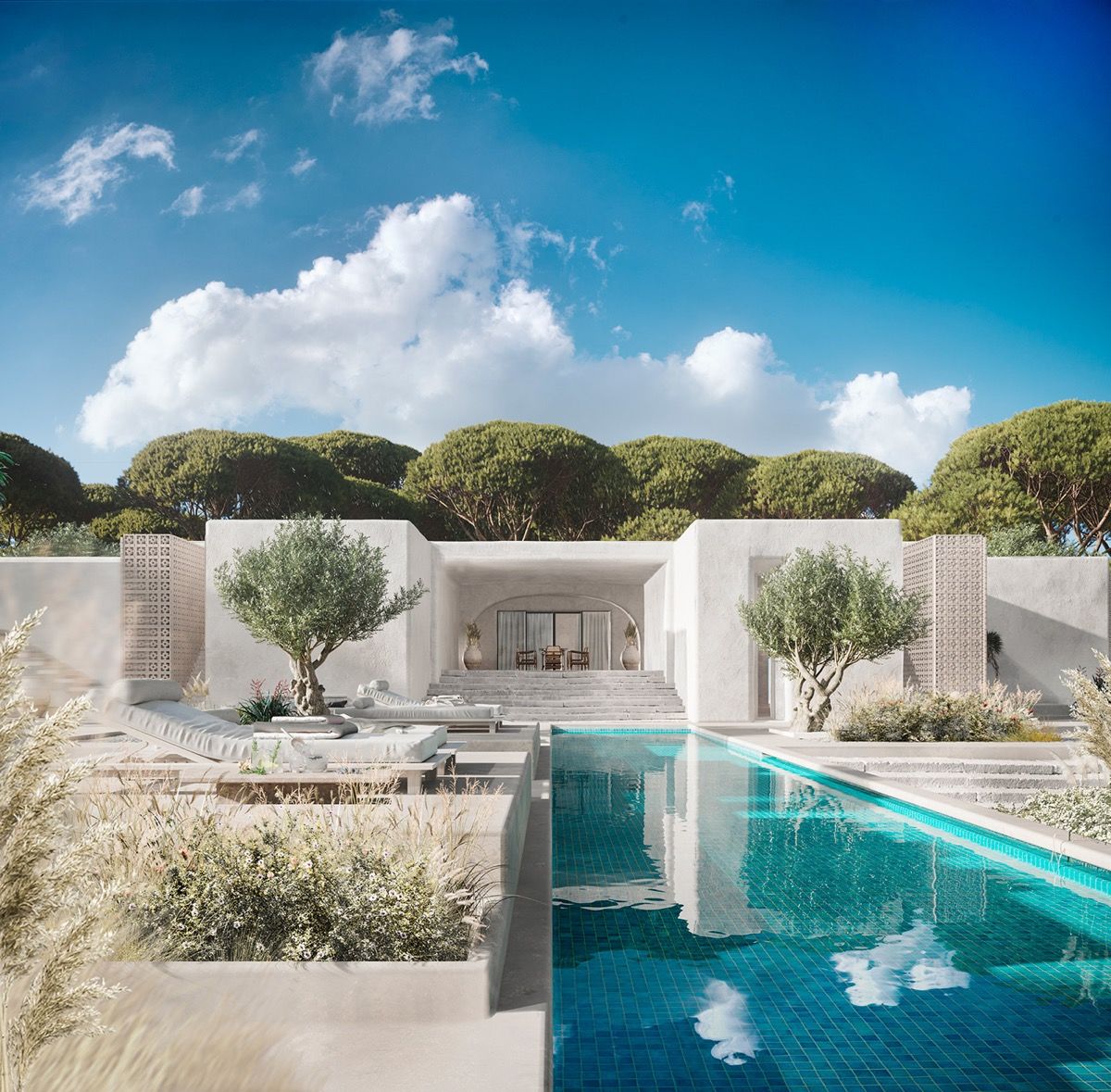 Domed treetops and arched architecture frame a small dining area at the top of this poolside setting. Sun Loungers pull in between olive trees and integrated planters.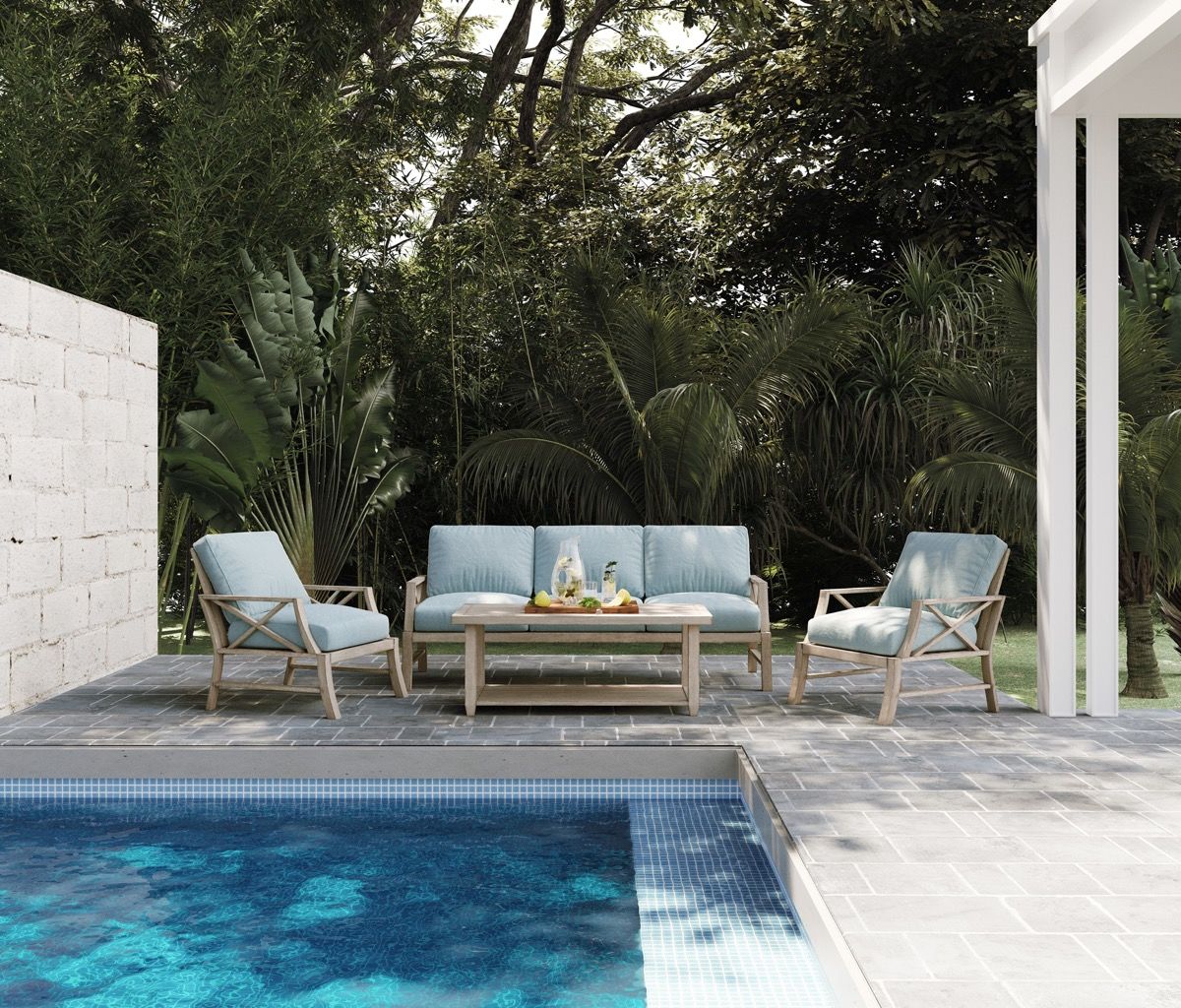 Try a little colour. Breezy blue upholstery adds a fresh hue to this modern outdoor lounge set.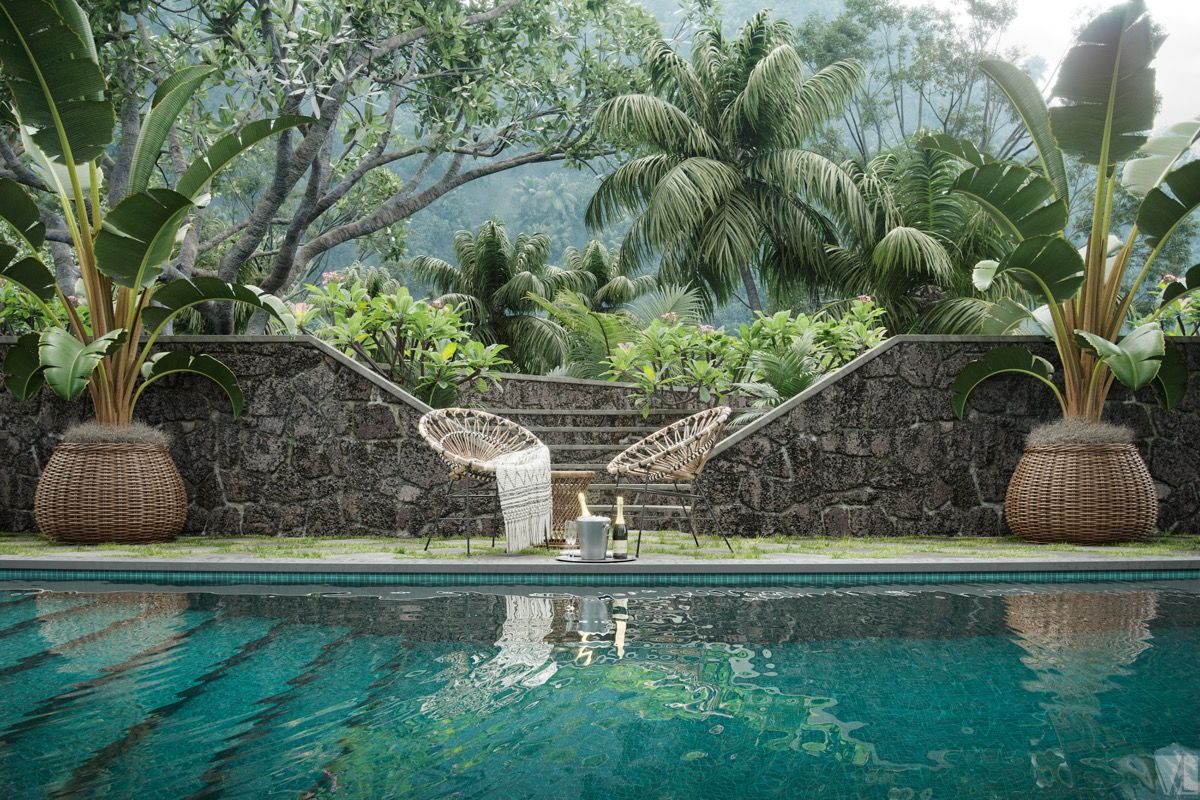 Build a bohemian aesthetic with rattan planters, woven accent chairs and boho blankets.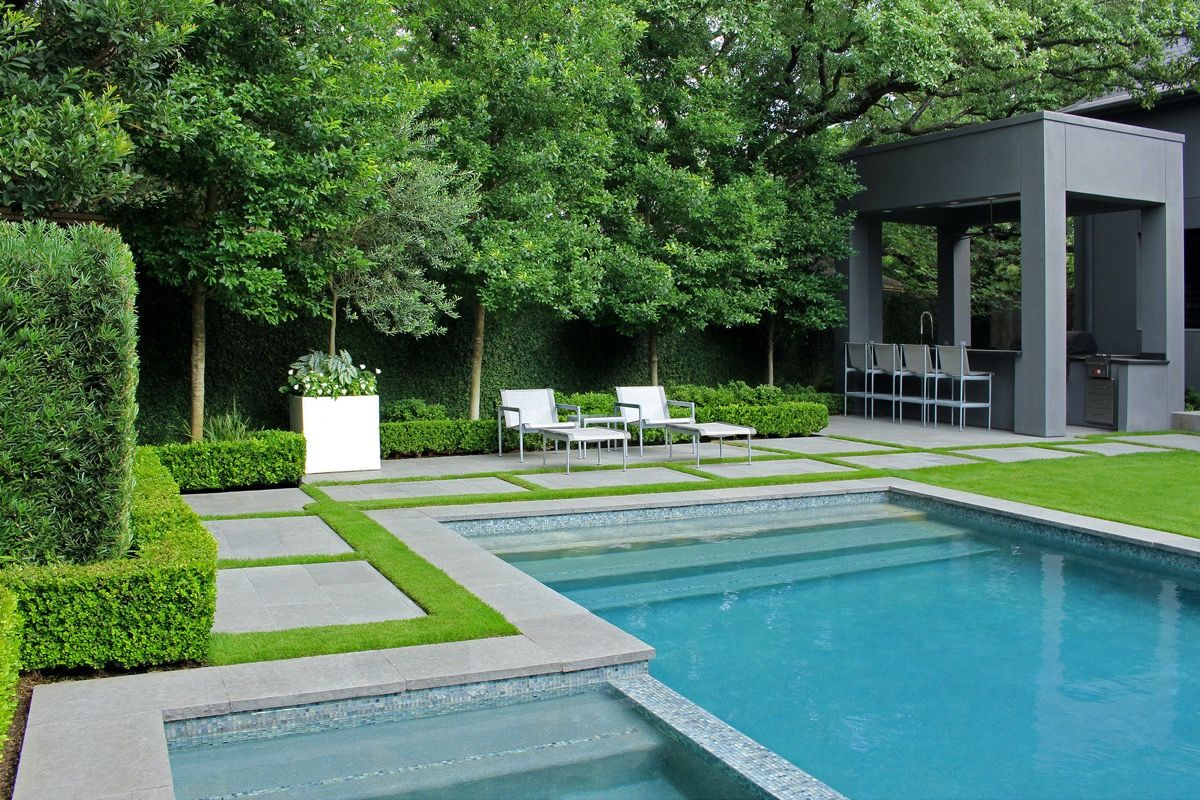 Perfectly pristine, trimmed and topiaried Boxwood borders, manicured lawns, straight marching tree lines and linear planters create a controlled sense of calm. The outdoor kitchen, however, might get a little messy at mealtimes.

Keep it clear. An outdoor dining table area nibbles at the edge of tree shade, upon a wide open white terrace. White wireframe chairs fade from sight poolside.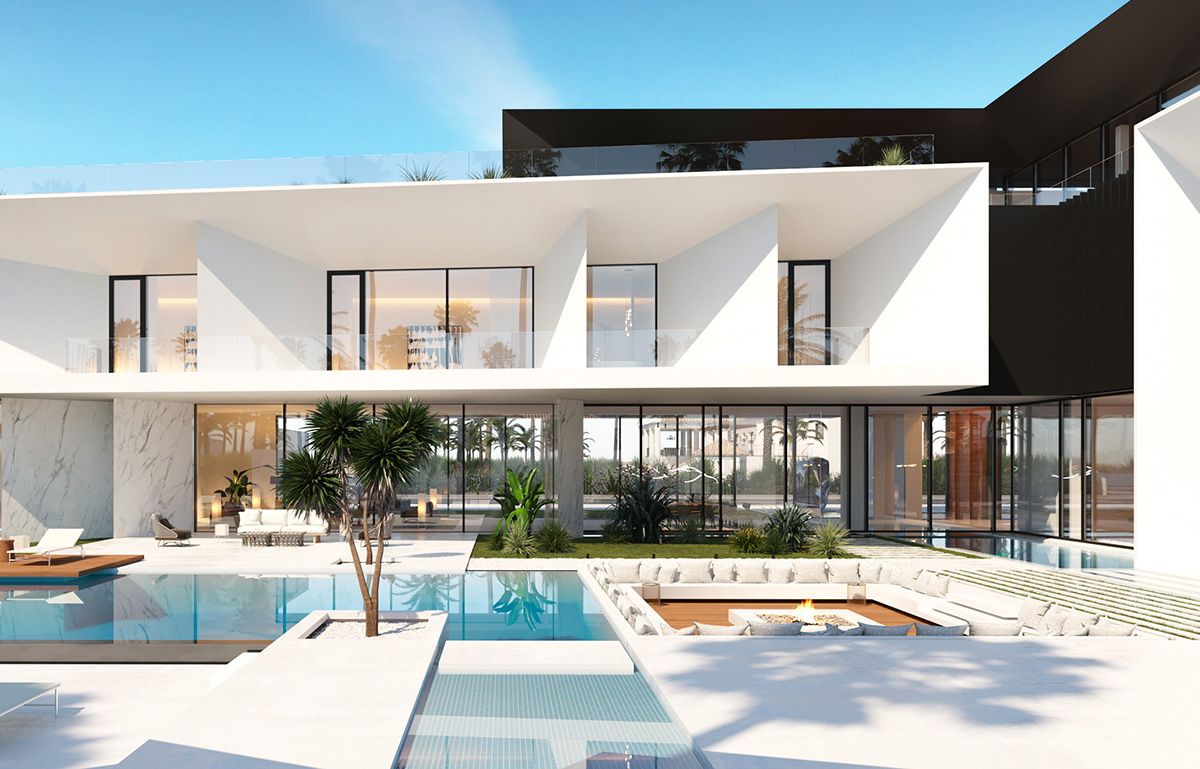 Create zoning with contrasting materials. Oak decking defines an outdoor conversation pit from a white concrete sundeck. A square fireplace flames at its core to carry conversations long into the night.

This spectacular keyhole conversation pit is sunken into the pool itself, bringing the chat to those taking a cool dip too.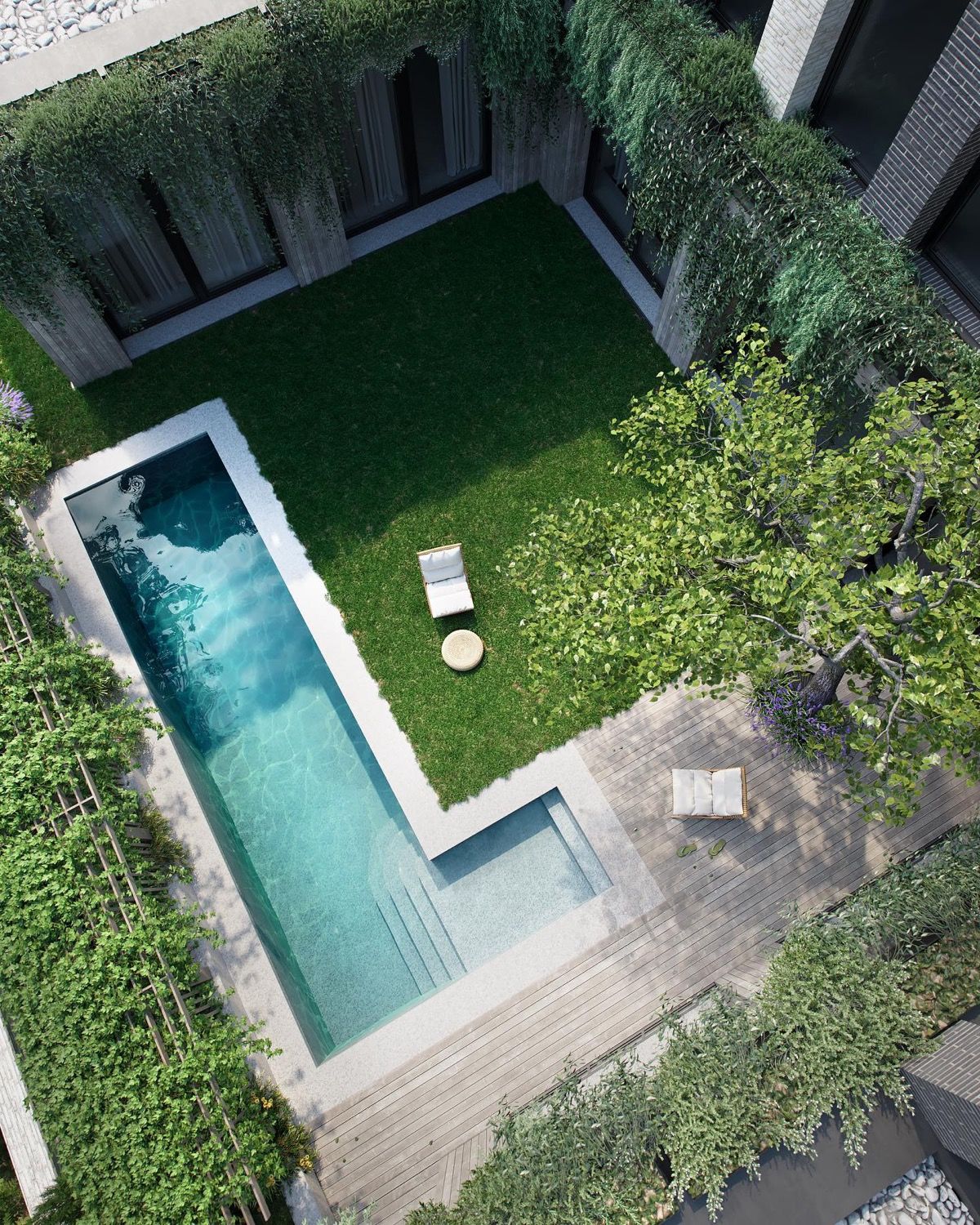 An L-shaped pool design draws a cool and calming boundary around two sides of a contained courtyard design with choices of wood decked and grassed sitting areas.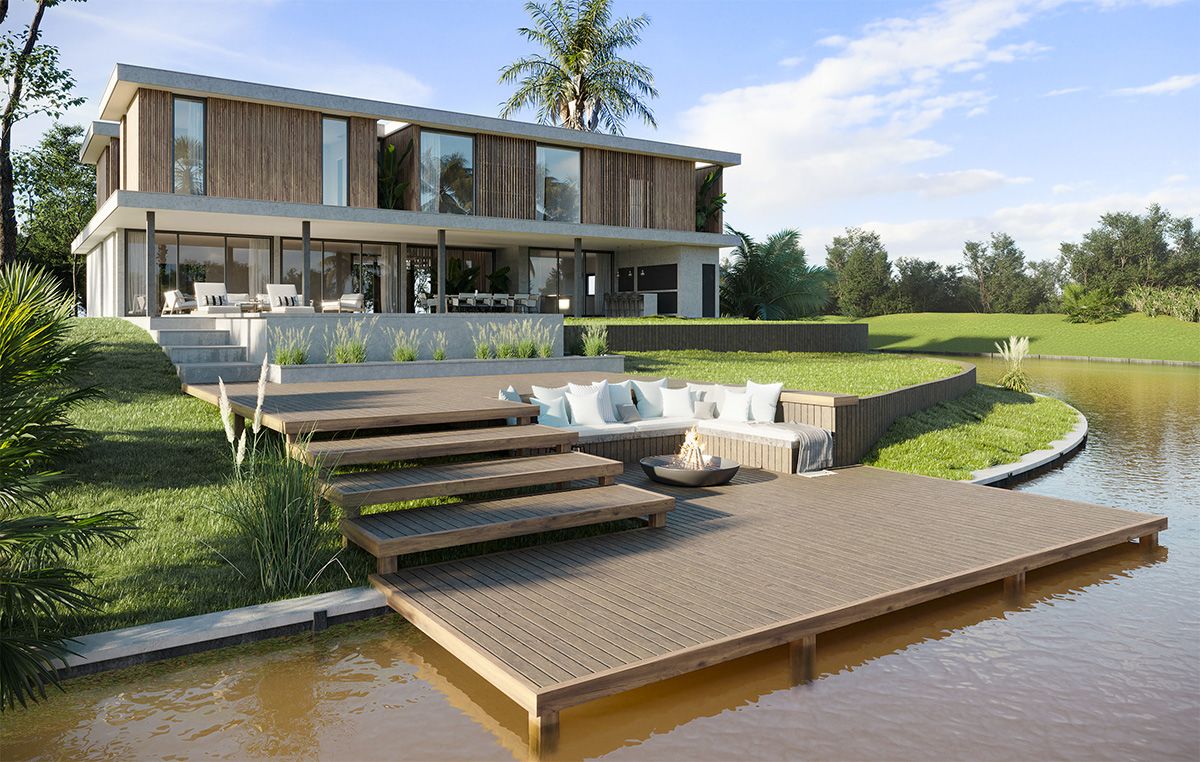 Built-in benches tuck into the tightest of spaces, like this waterside L-shaped bench seat that's been designed to hug around a small fire pit.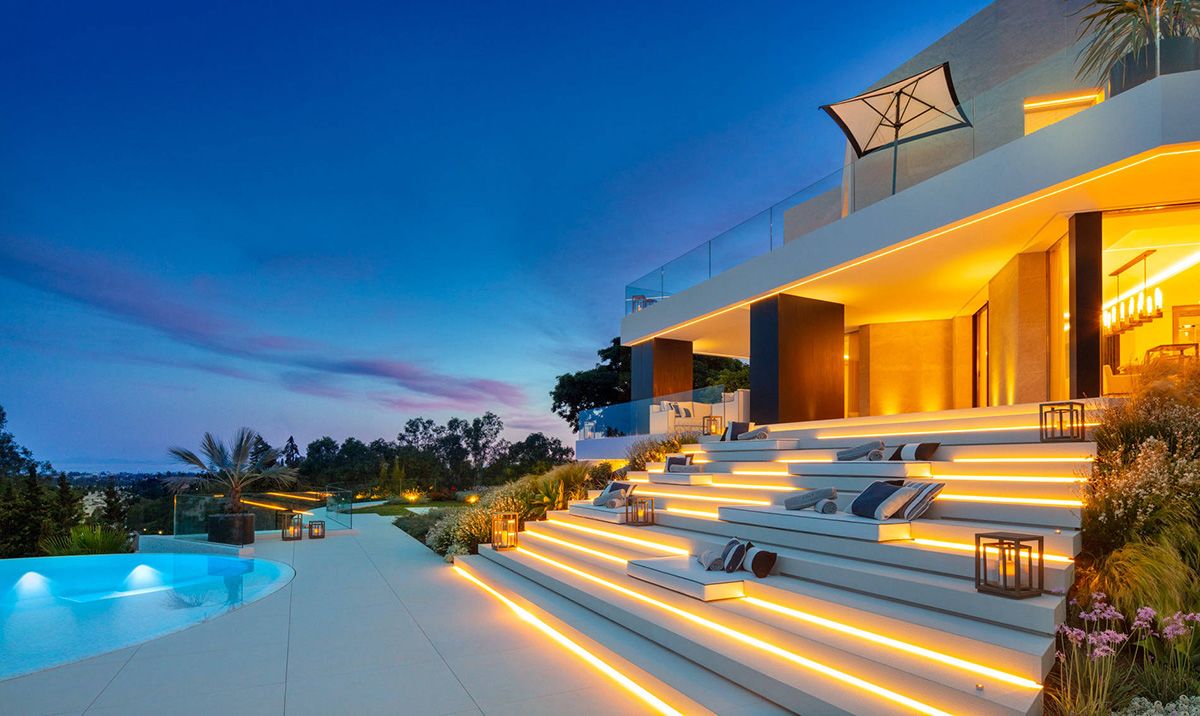 Light it up. The grand outdoor staircase of this Spanish villa comes alive under long ribbons of warm, golden LED light. The illumination instantly sets a party scene around a cascade of seating cushions that cut precisely into the treads.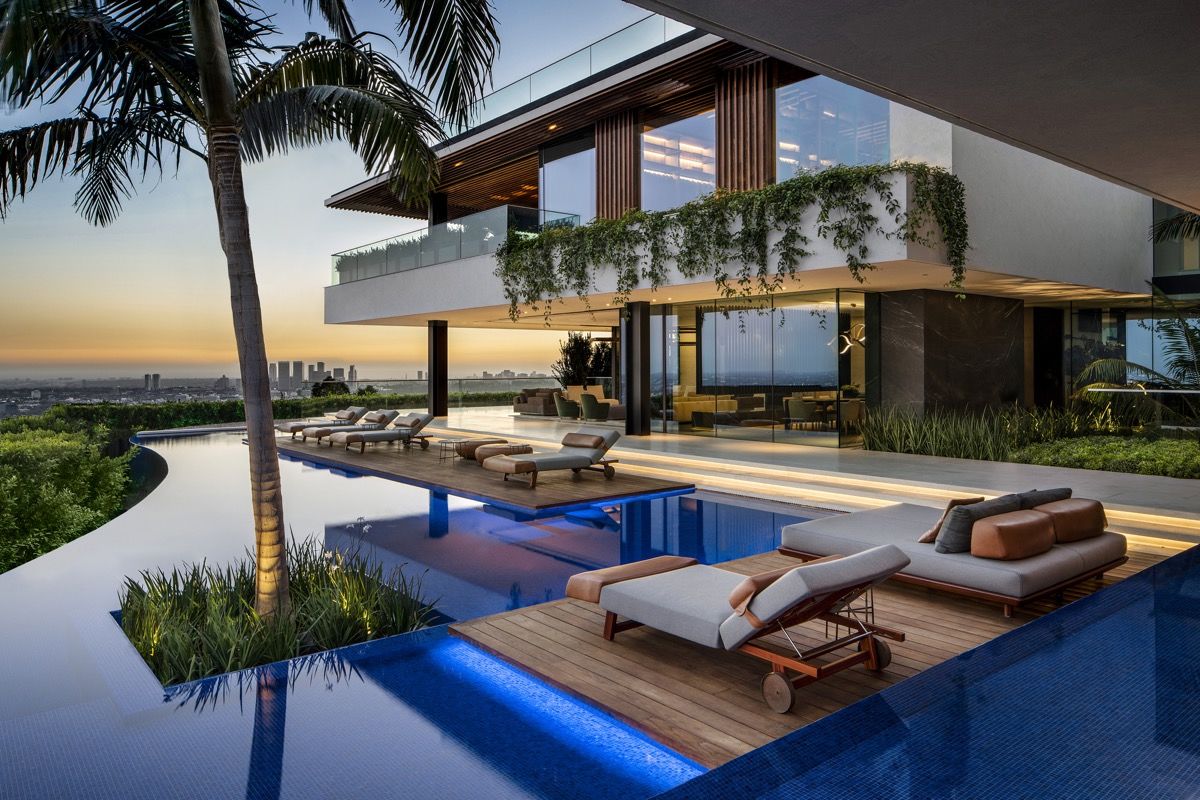 Redirect the view with split decks. These stylish outdoor chaise lounge chairs are positioned to enjoy two different panoramas.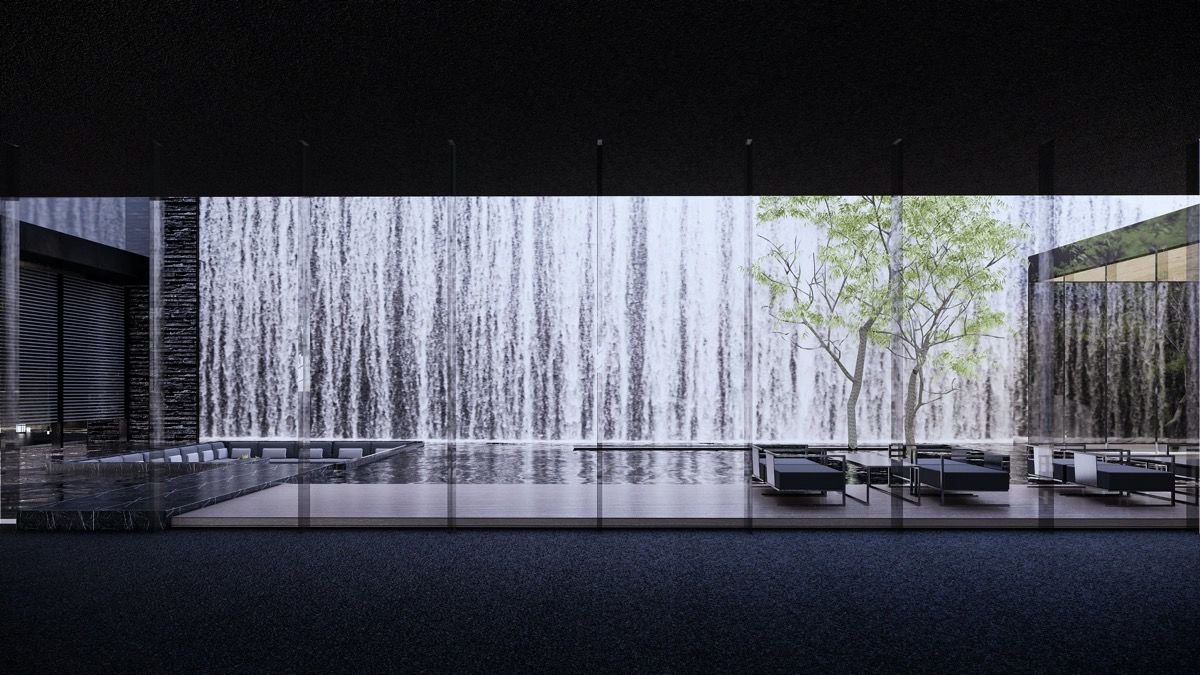 Generate a relaxing soundtrack for your outdoor sitting area with your very own thundering waterfall.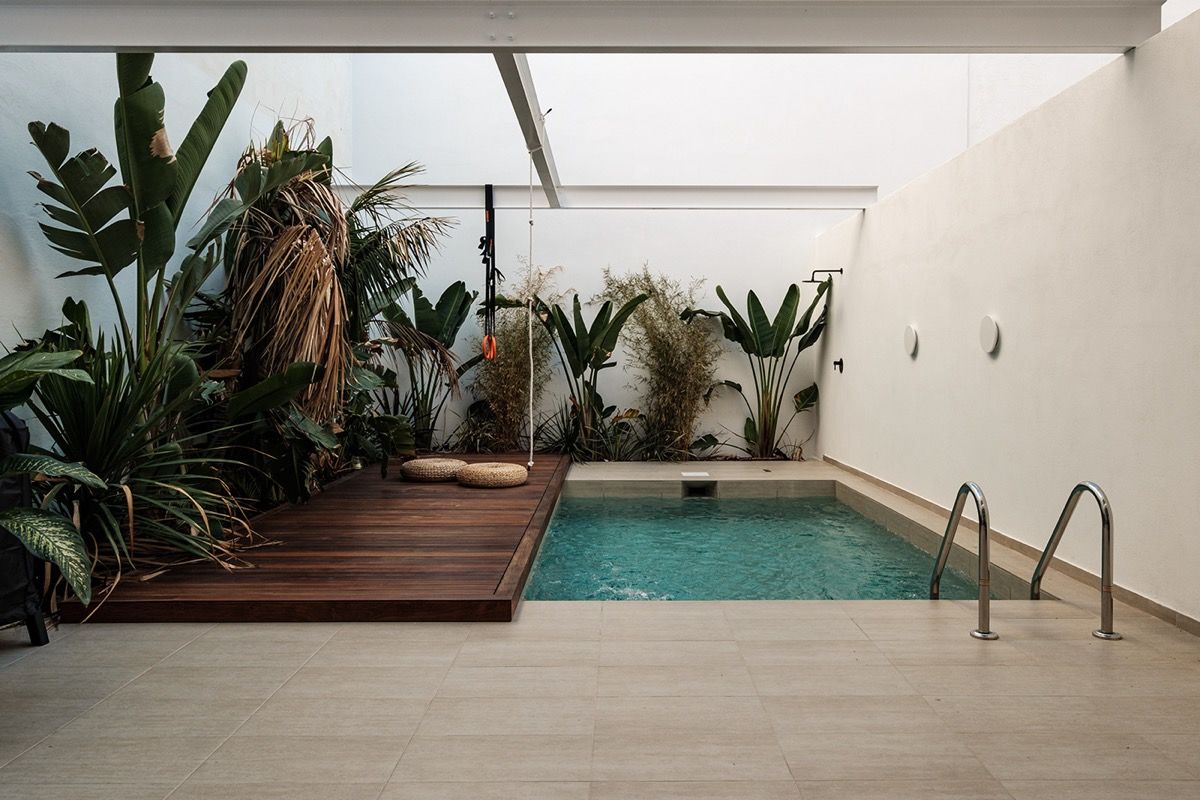 Conjure a laid-back vibe by a mini pool with rattan floor poufs.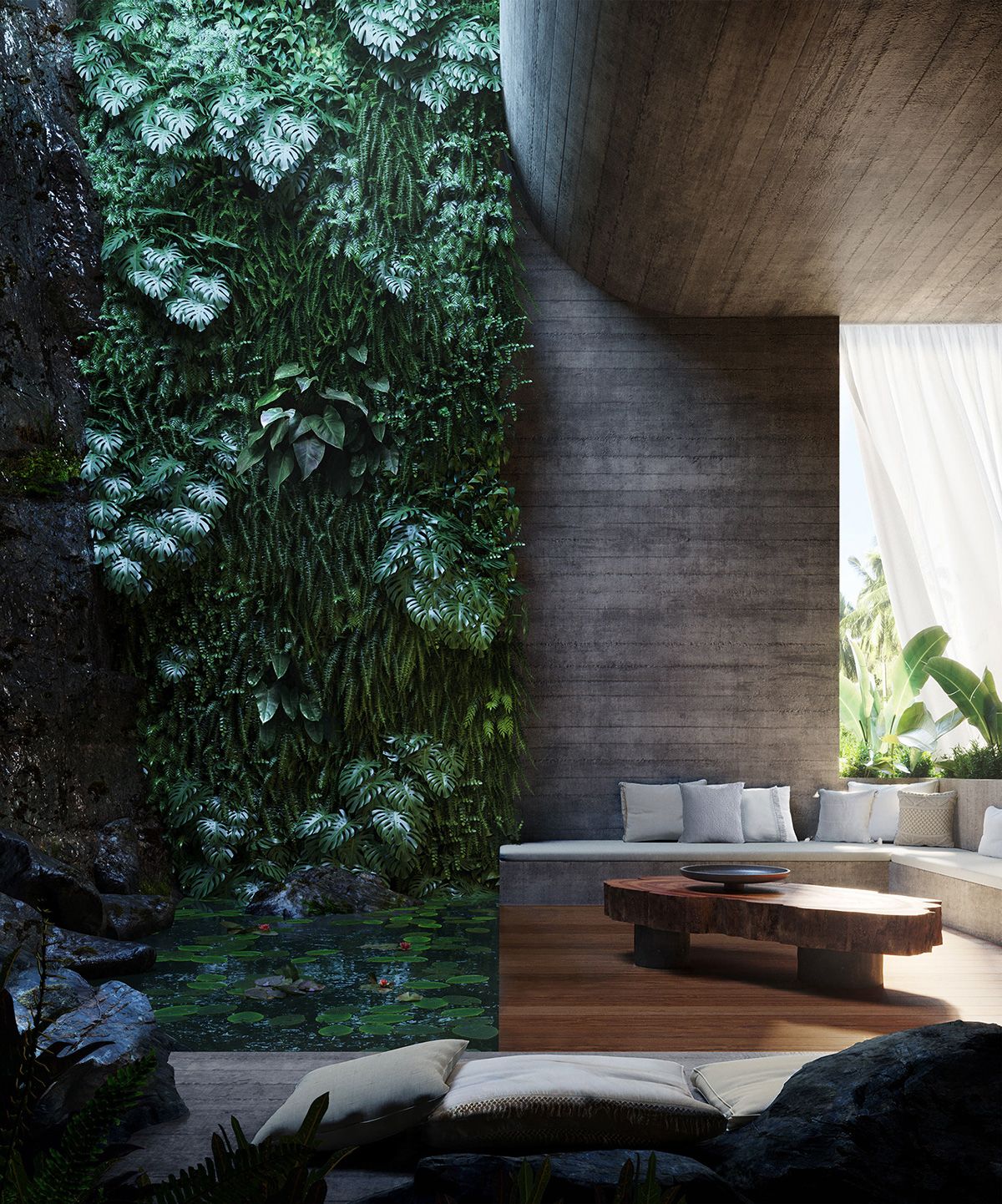 When space is tight, make poolside magic with a vertical garden over a pond of lily pads. A live edge coffee table and natural seating upholstery will complement the drape of natural textures.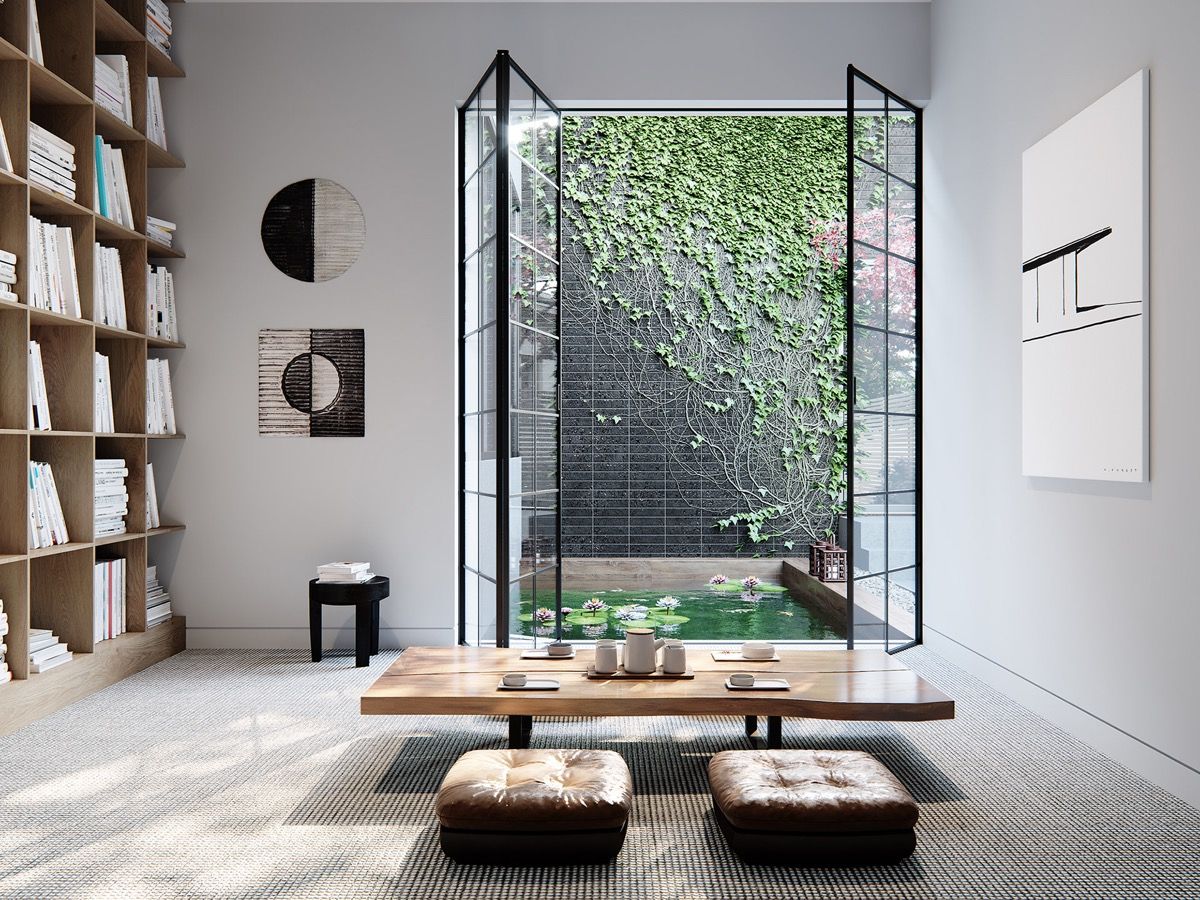 A Japanese Chabudai table and Zabuton cushions puts eye level low to delight in lilypad blooms. Connect indoor tea rooms with outdoor courtyards via steel cased bifold doors that are framed to replicate traditional Shōji doors.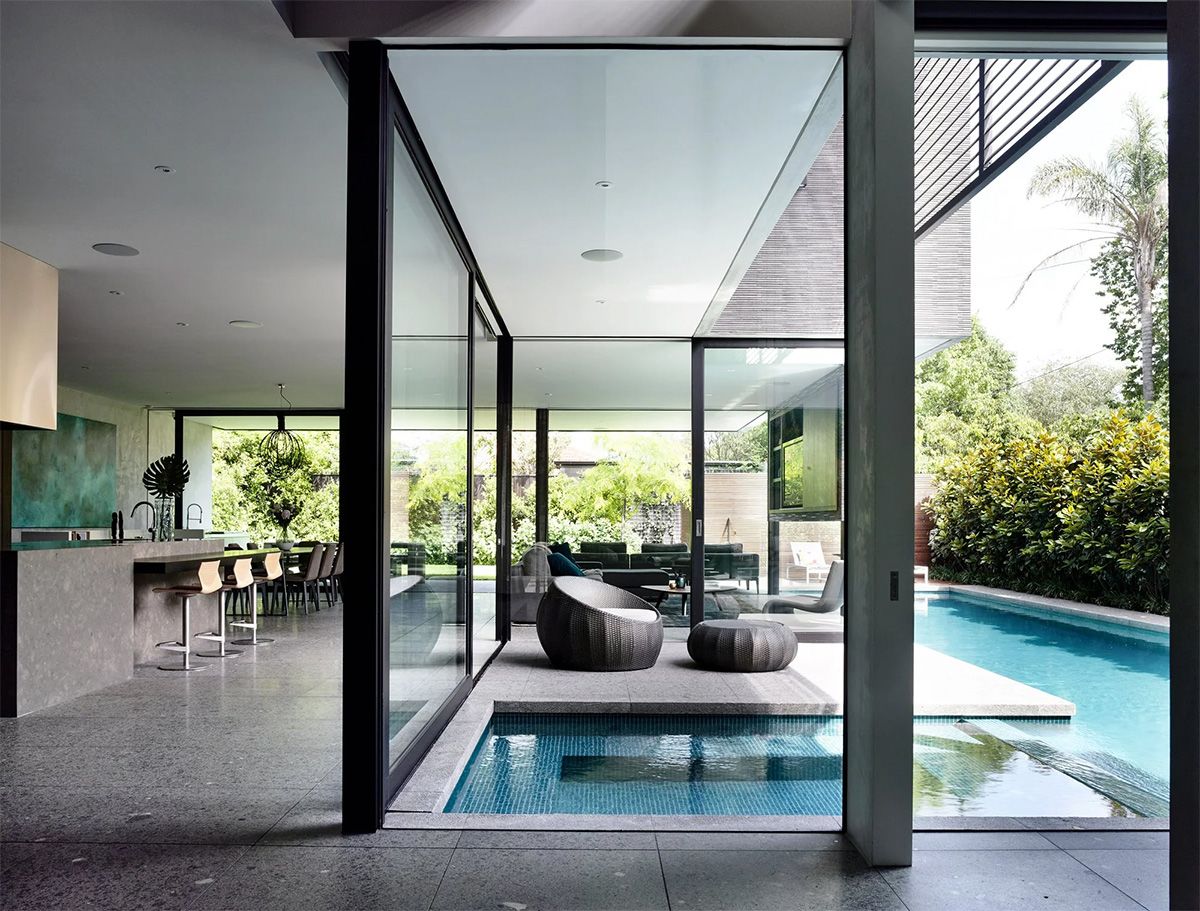 An outdoor chair with ottoman set makes a solitary moment for poolside relaxation here, until retractable doors open up the neighbouring living room.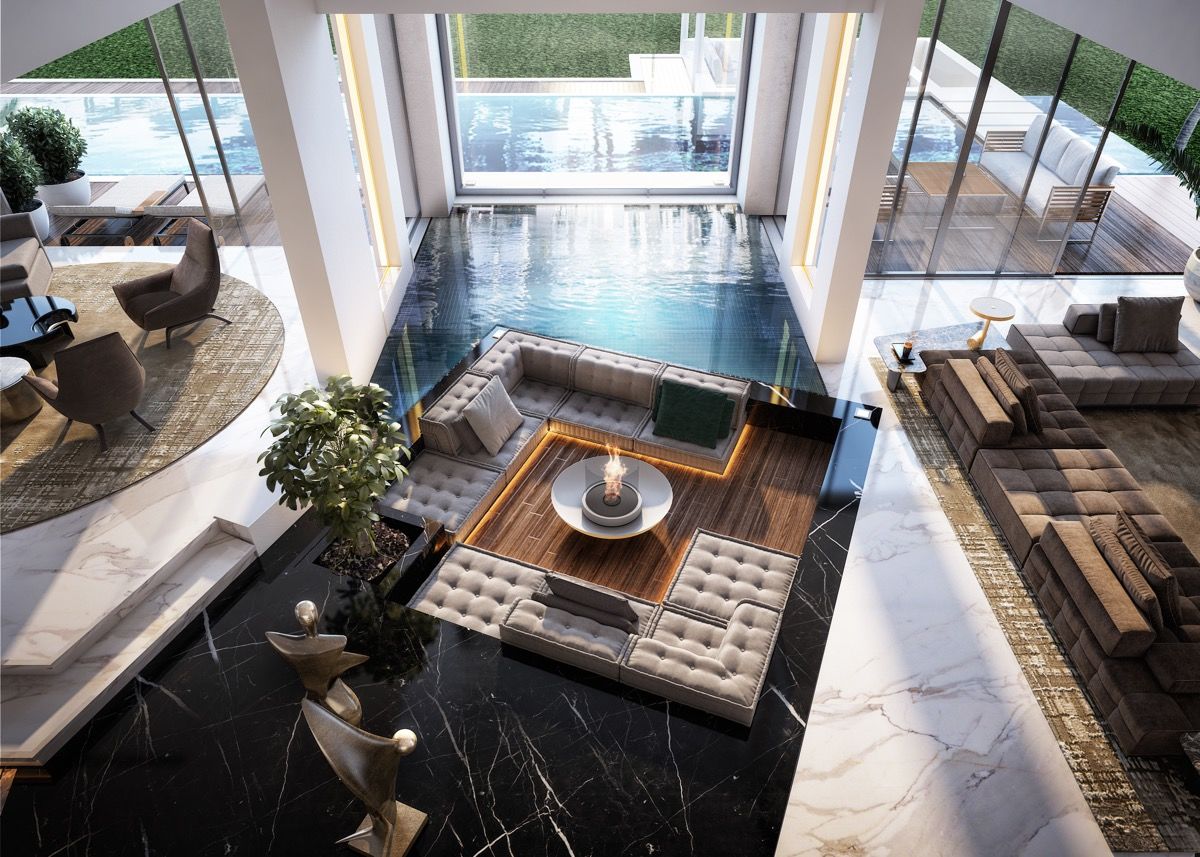 Sleek and sophisticated, this luxe black marble floor cuts a conversation pit into the swimming pool at a bold angle. Tufted sofas, a modern fireplace and perimeter lights create a warm and welcoming setting.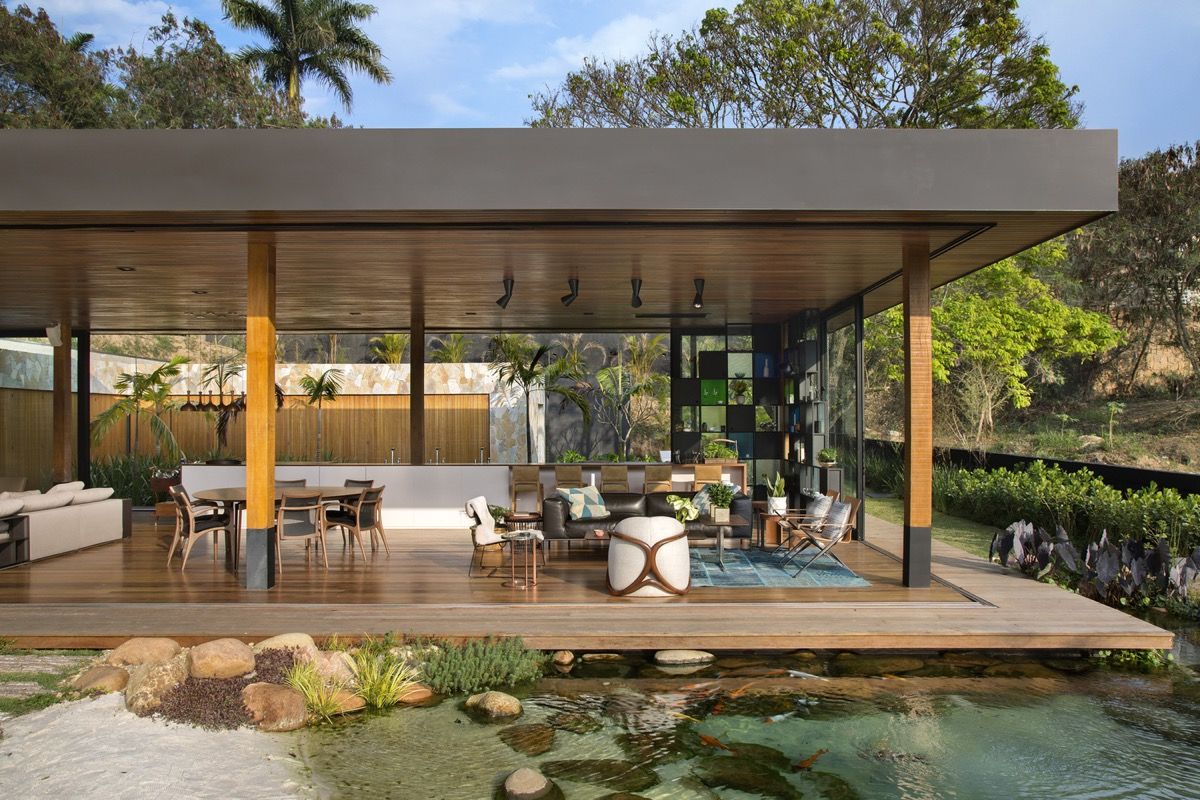 Decorative shelving builds an indoor feel around a multifaceted outdoor living room.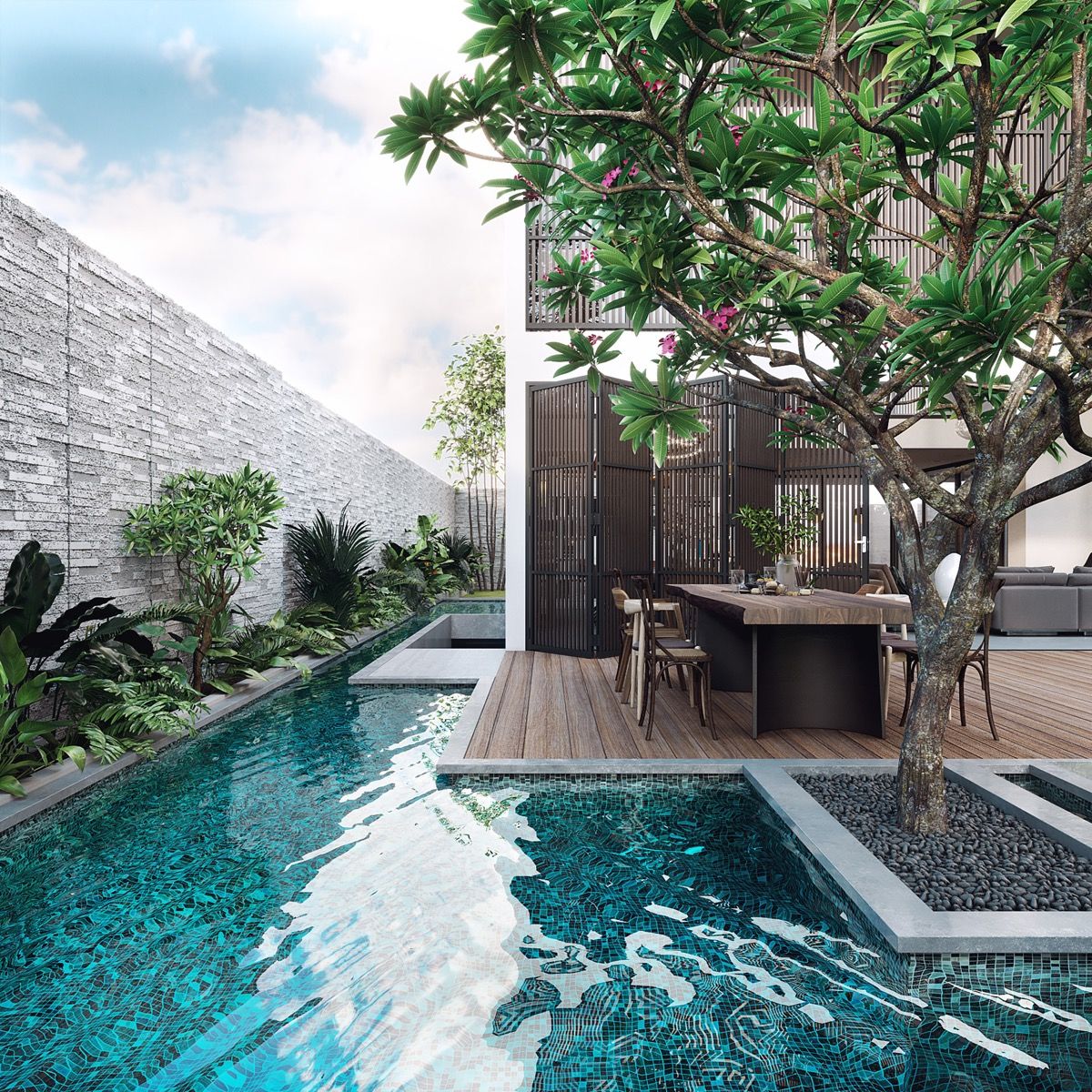 An eclectic collection of wooden dining chairs adds character to an outdoor dining area with a beautiful live edge dining table.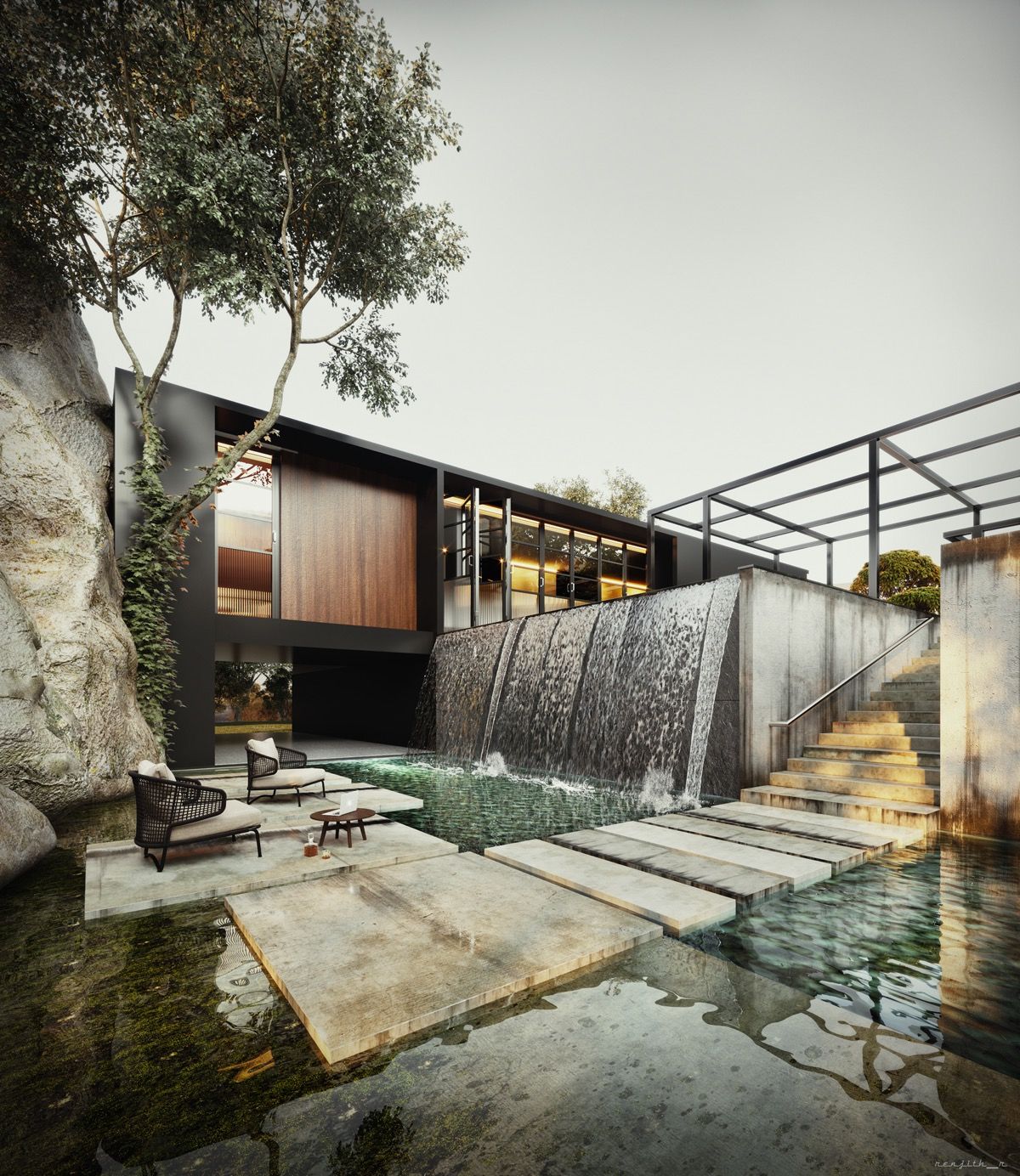 Build your own island of tranquility with "floating" patios.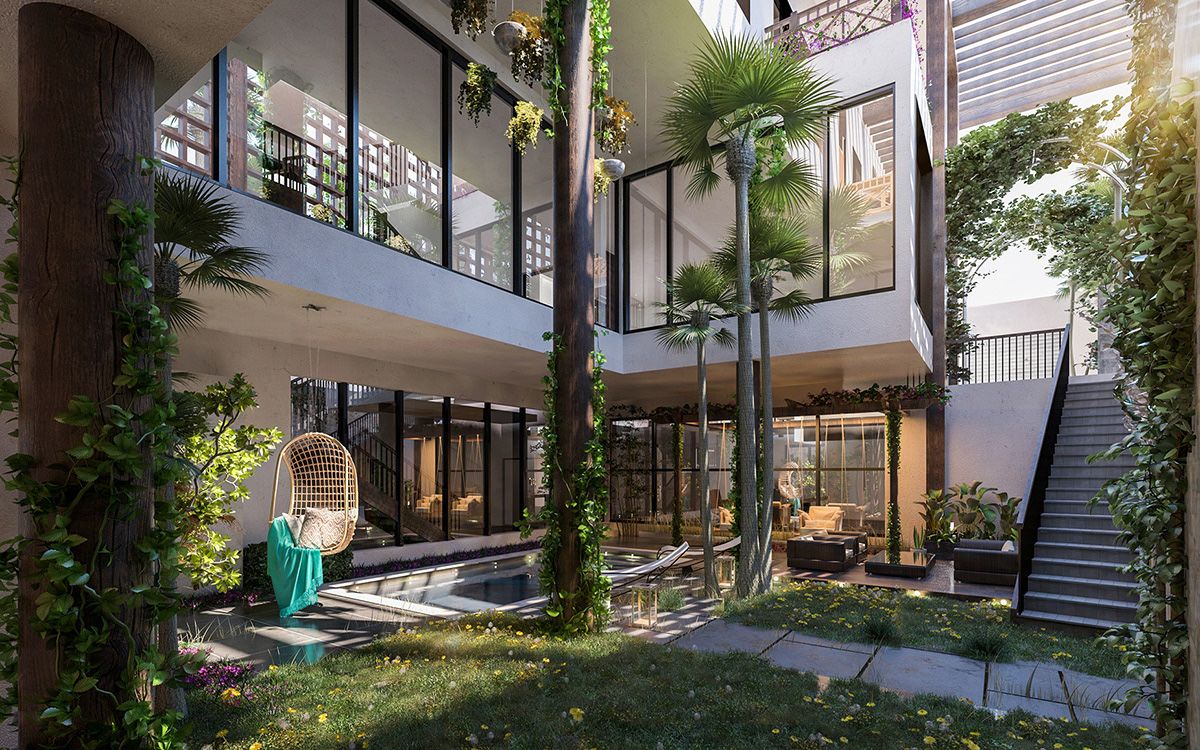 Swing like tree boughs in the breeze with a soothing garden hanging chair.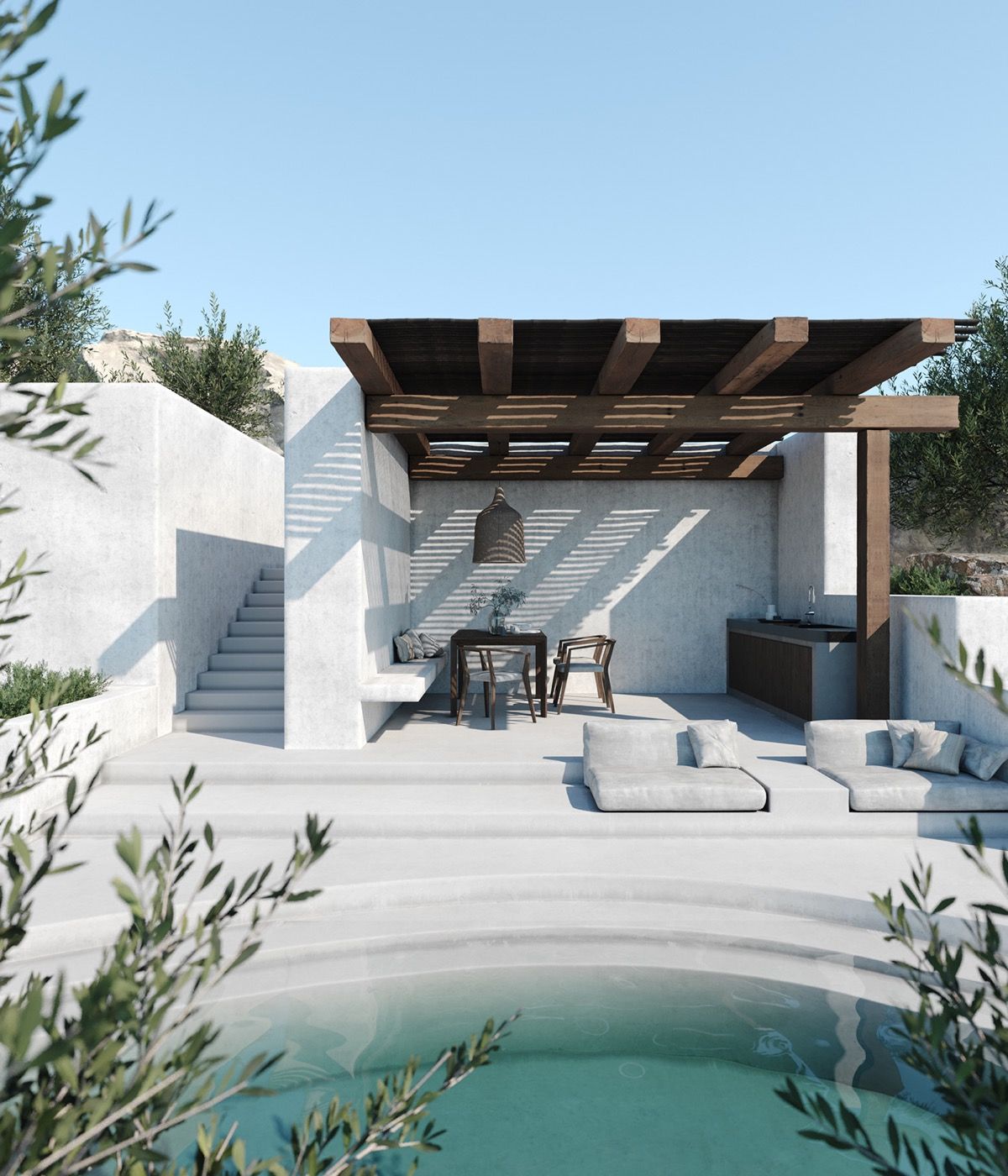 Hot climates demand pauses of blissful shade. Shady refuge can be found under pergolas and cabanas. This outdoor kitchen diner setup leaves a couple of lounge hotspots outside for a bit of sun worshipping too.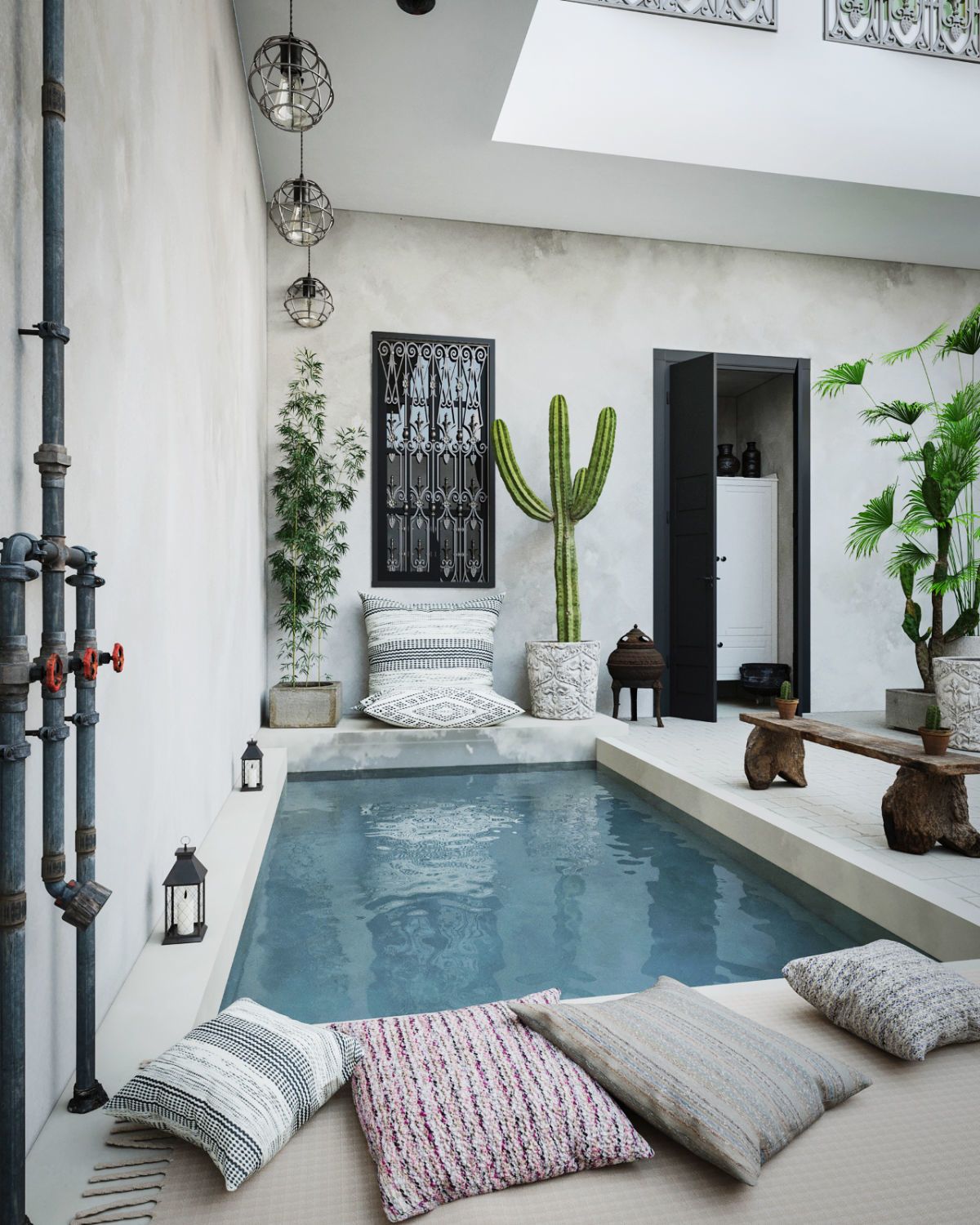 Roll out the romance. An assortment of patterned throw pillows and soft rugs fashion an intimate arrangement for poolside lounging. Lanterns burn a romantic glow by night.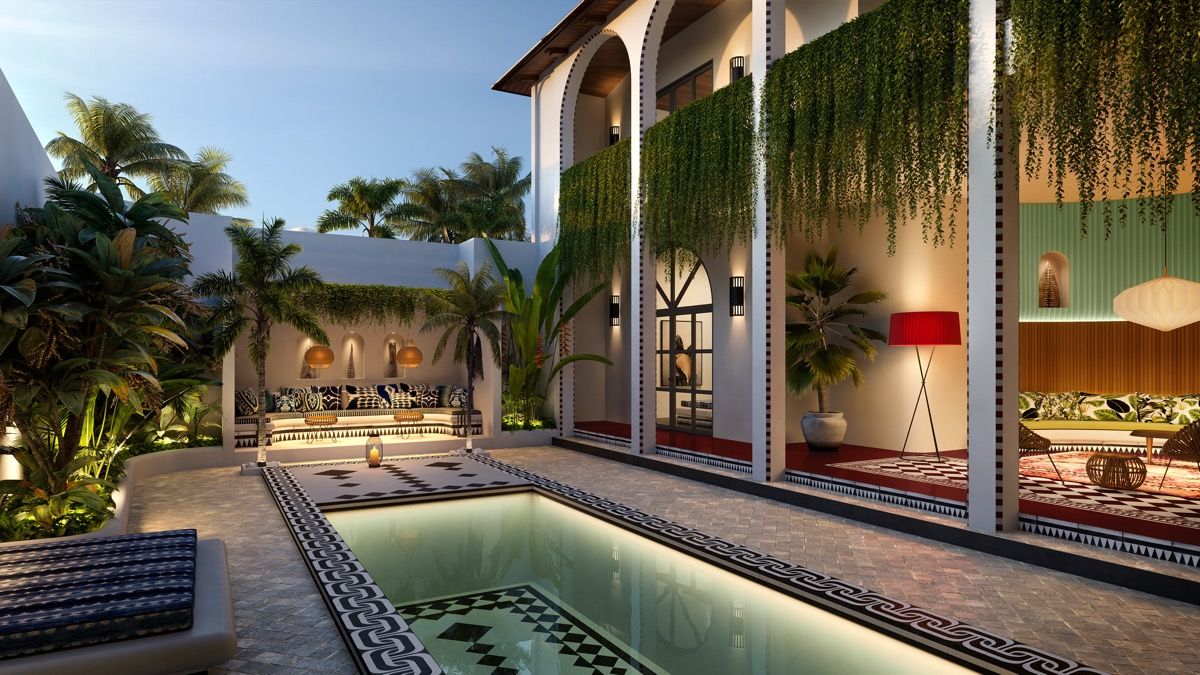 Patterned tiles build a moroccan design around this stunning swimming pool and home exterior.

Cute and casual. A sitting deck bridges a small swimming pool toward a naturalistic tropical stone planter and mini waterfall feature here. A second deck completes the other side.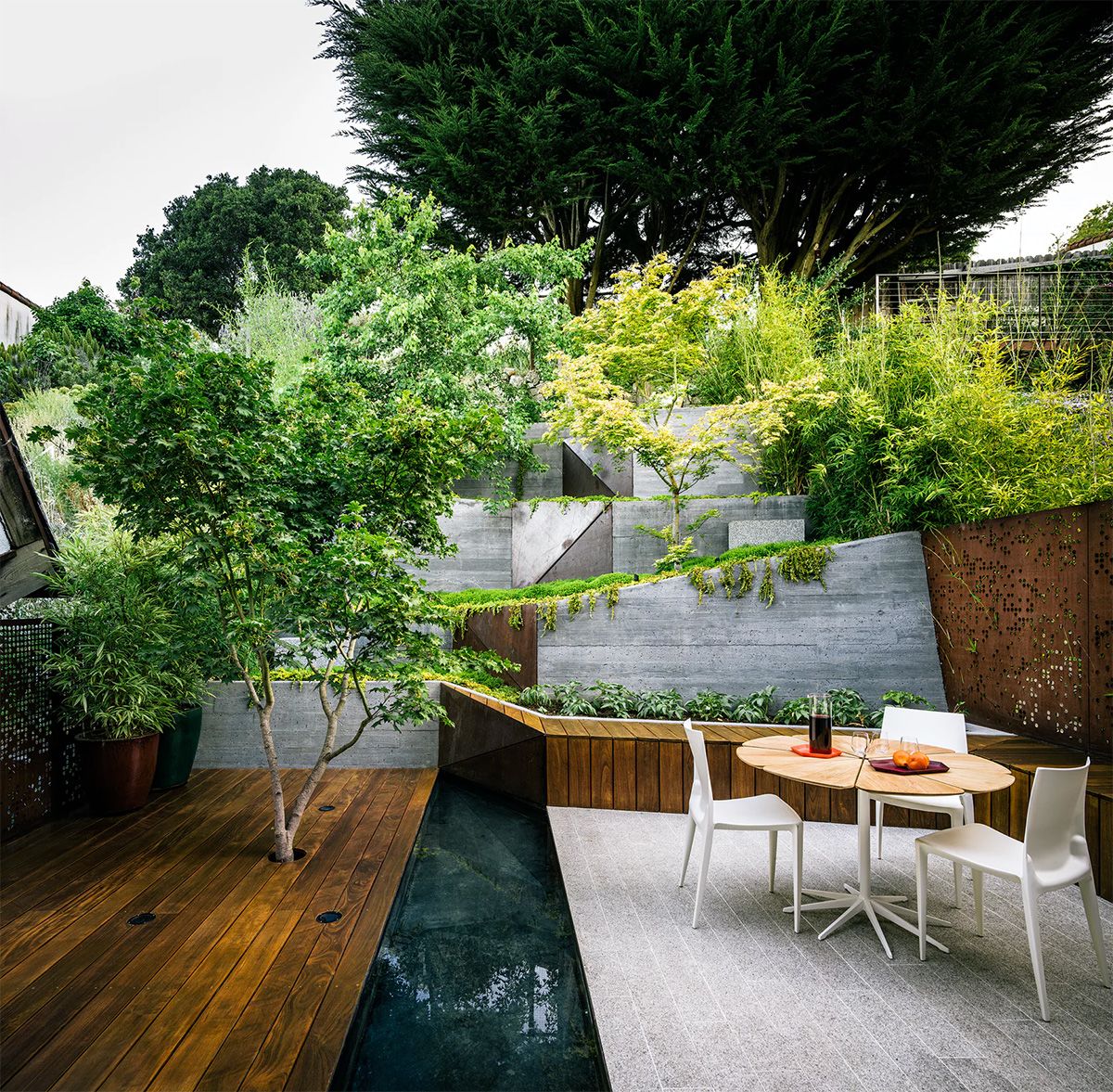 A cut above the rest. Tiered geometric planters carve modernity high into a hillside behind this pool edged patio with a unique outdoor dining table and chairs set.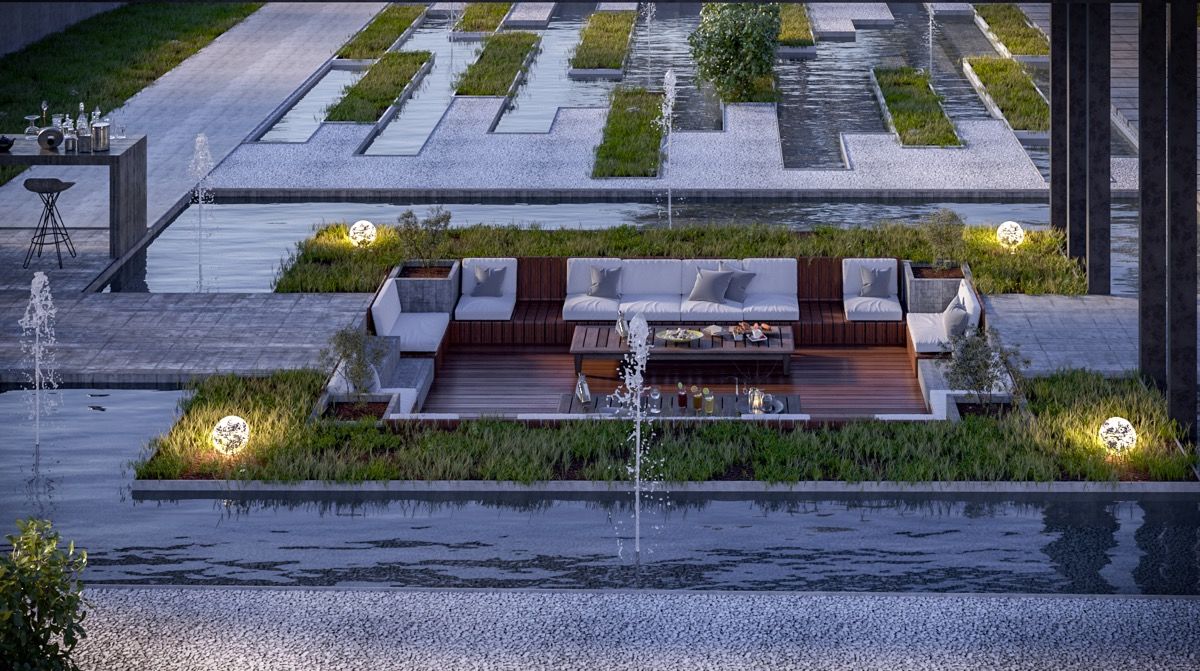 Elegant fountains create a satisfying splash around a sunken conversation pit, and in between jetties of planters that protrude into the pool.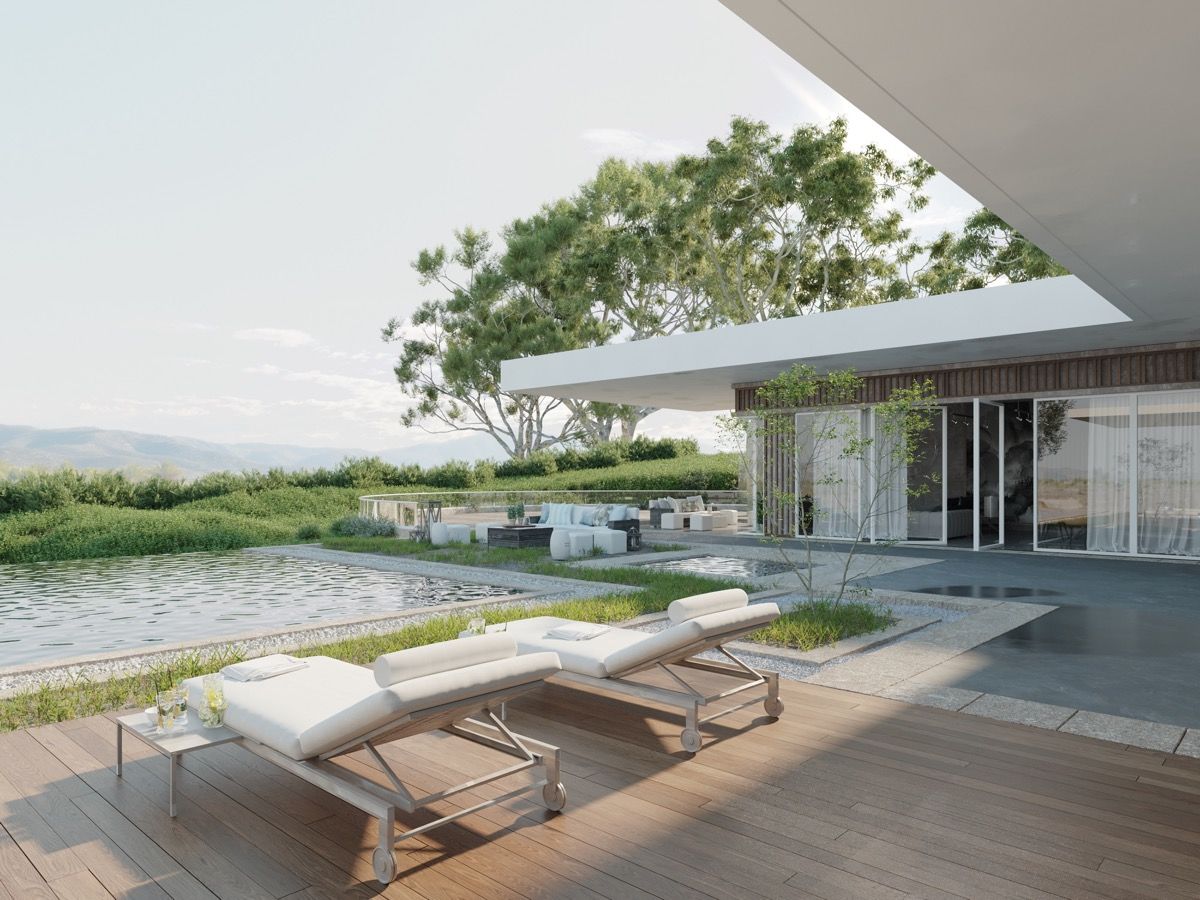 Count your countryside blessings with a swimming pool design that laps right up against the edge of the rolling hillside.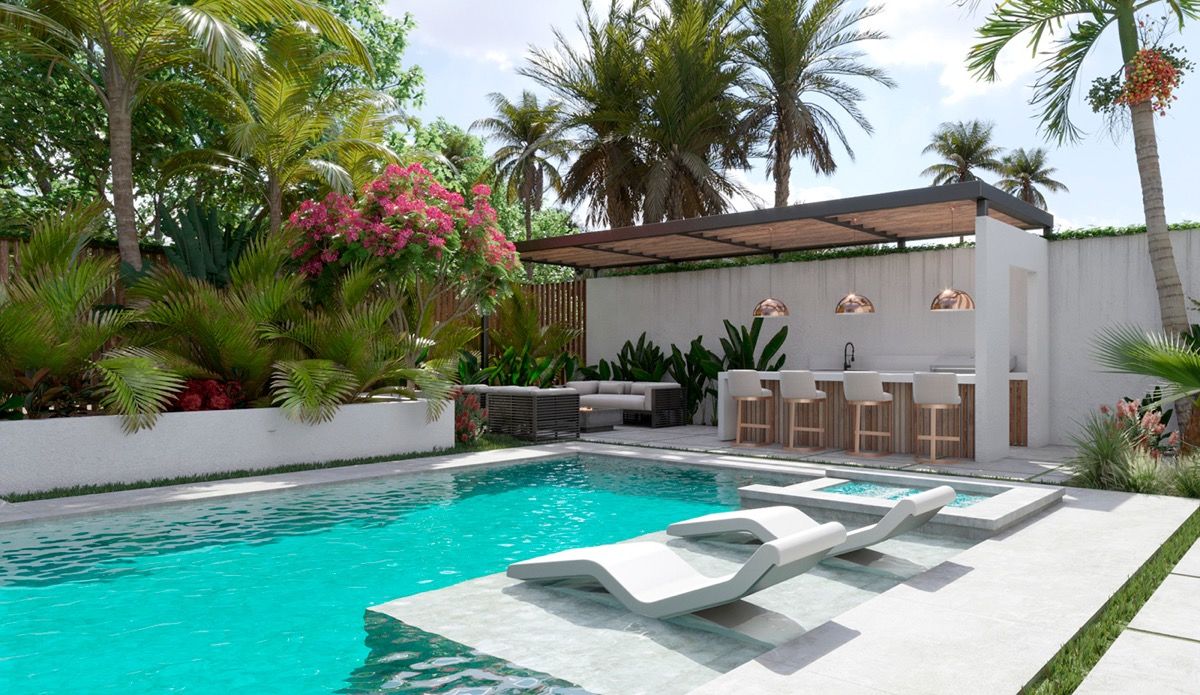 Why leave home when you can bring the bar to your backyard?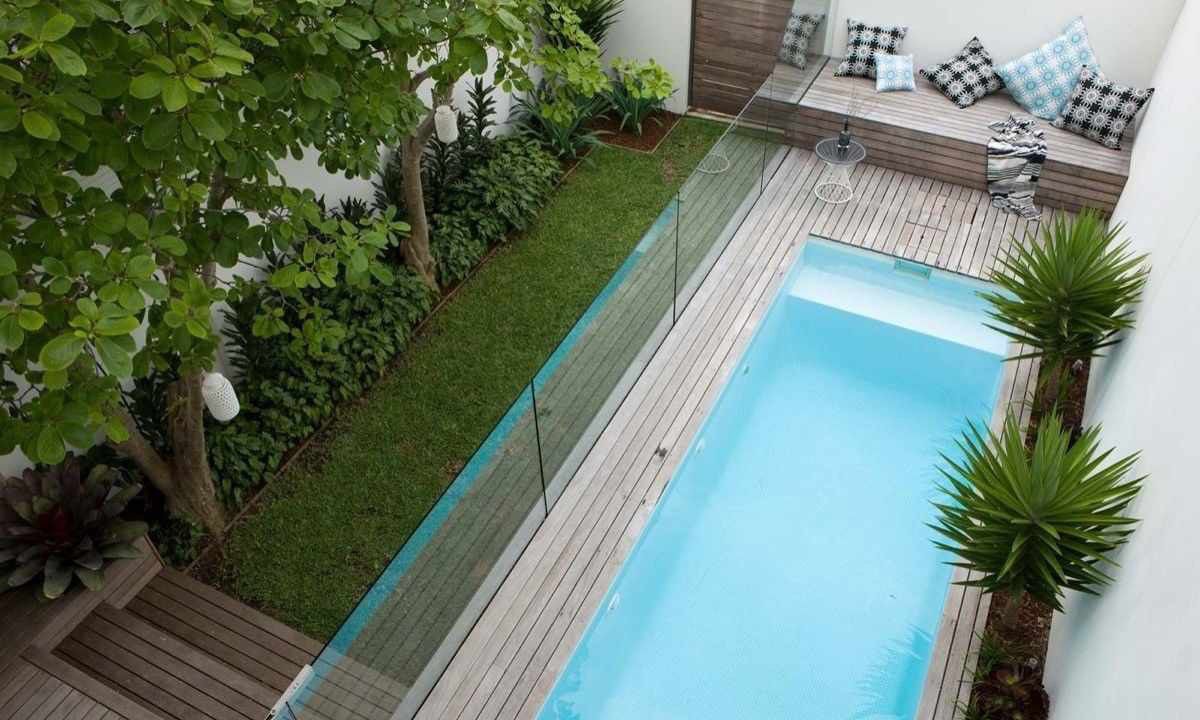 Even narrow yards can be made into an oasis of relaxing poolside pleasure with a lap pool, built-in benches and a small side table for drinks.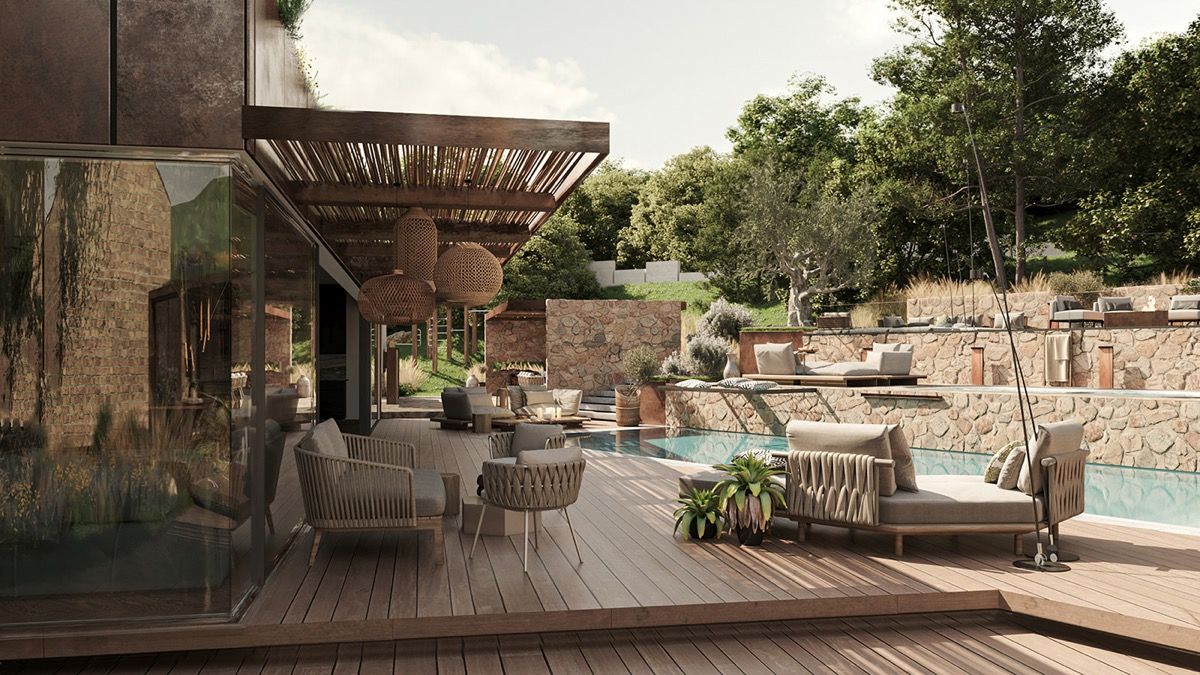 Comfortable modern outdoor chairs and sofas arrange multiple seating options around this sunny stone built poolside. Wicker pendants layer a textural arrangement under a shady canopy.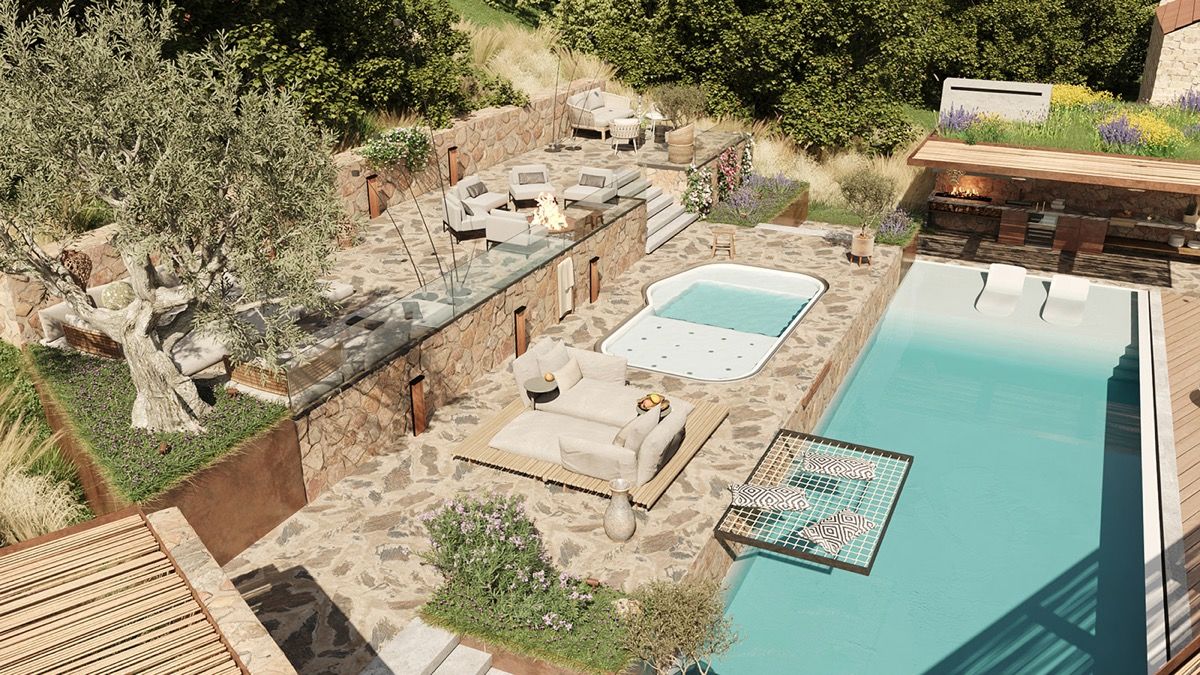 At the other side of the same pool, a hammock deck is cantilevered over the water, and two more sun loungers recline in the shallows.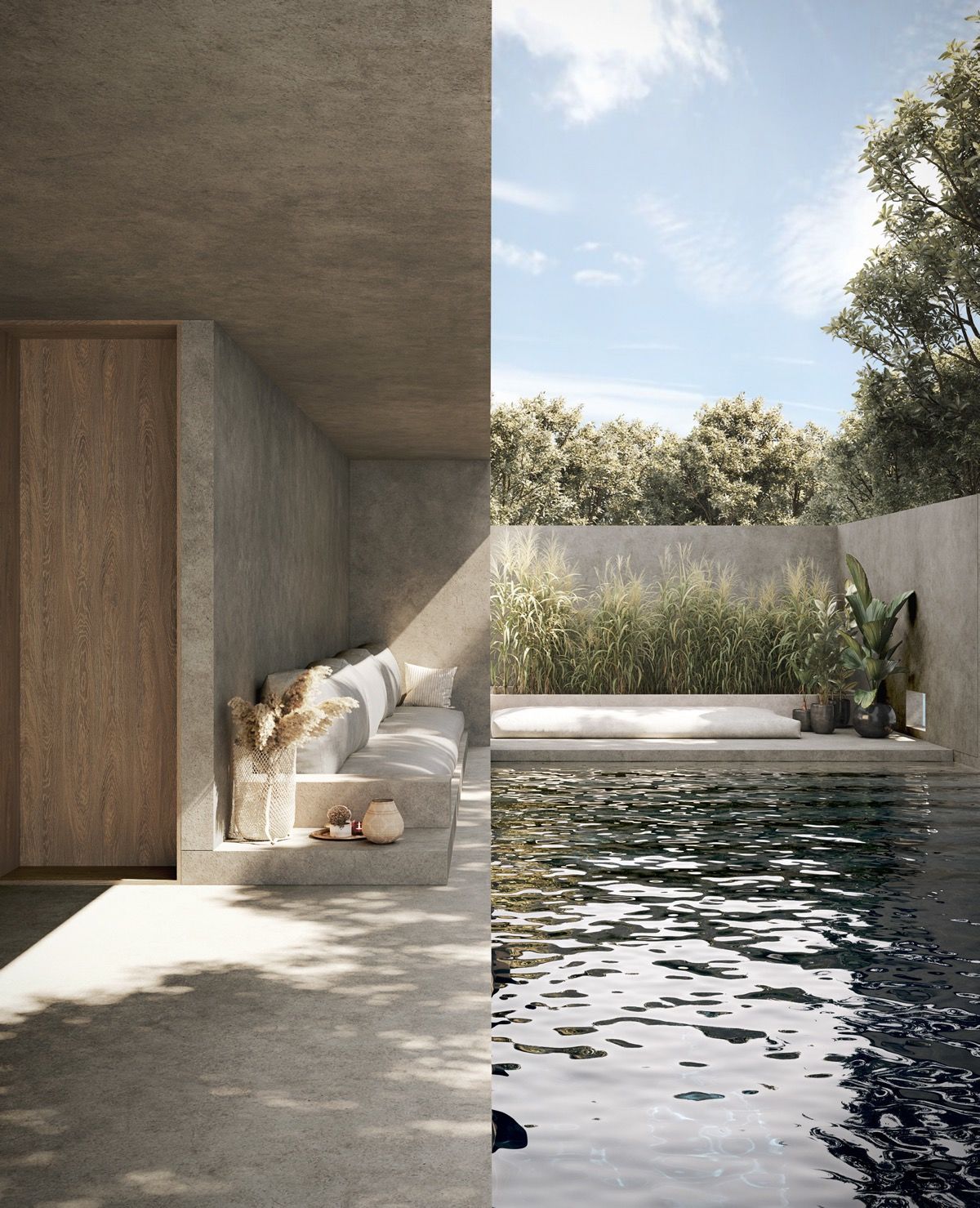 Compact and canopied, this shallow concrete cabana builds a tempting spot for a daytime snooze.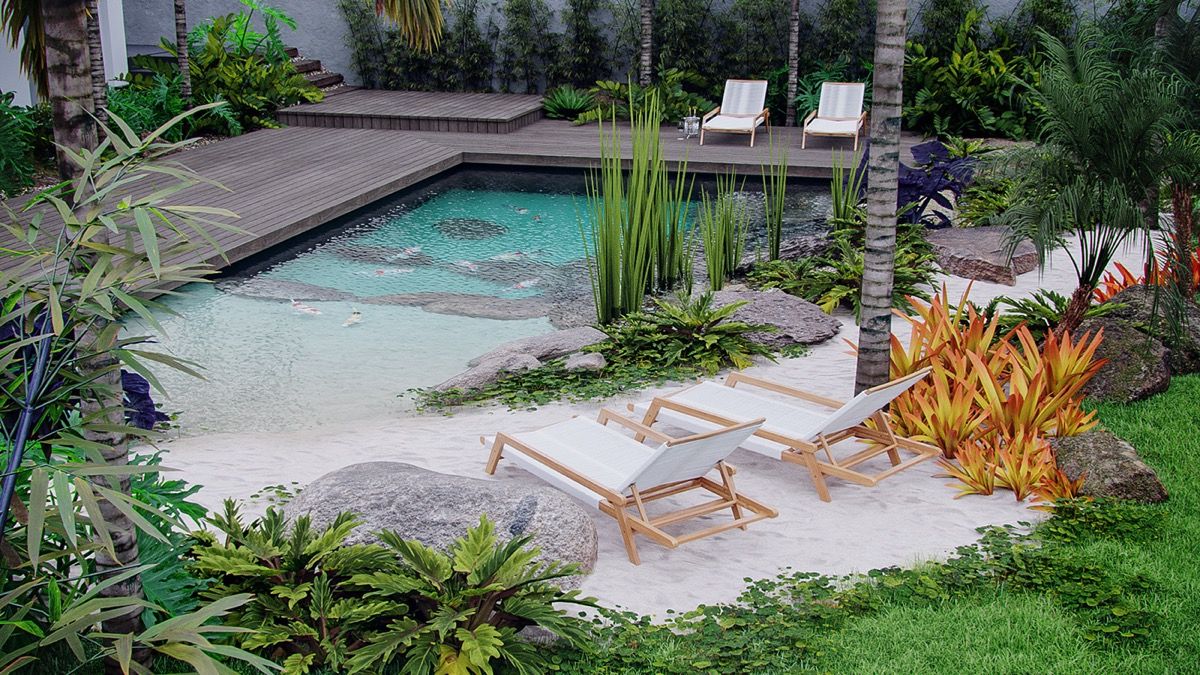 Go to the beach without ever leaving the backyard, with a sandy slope leading down to fish filled waters.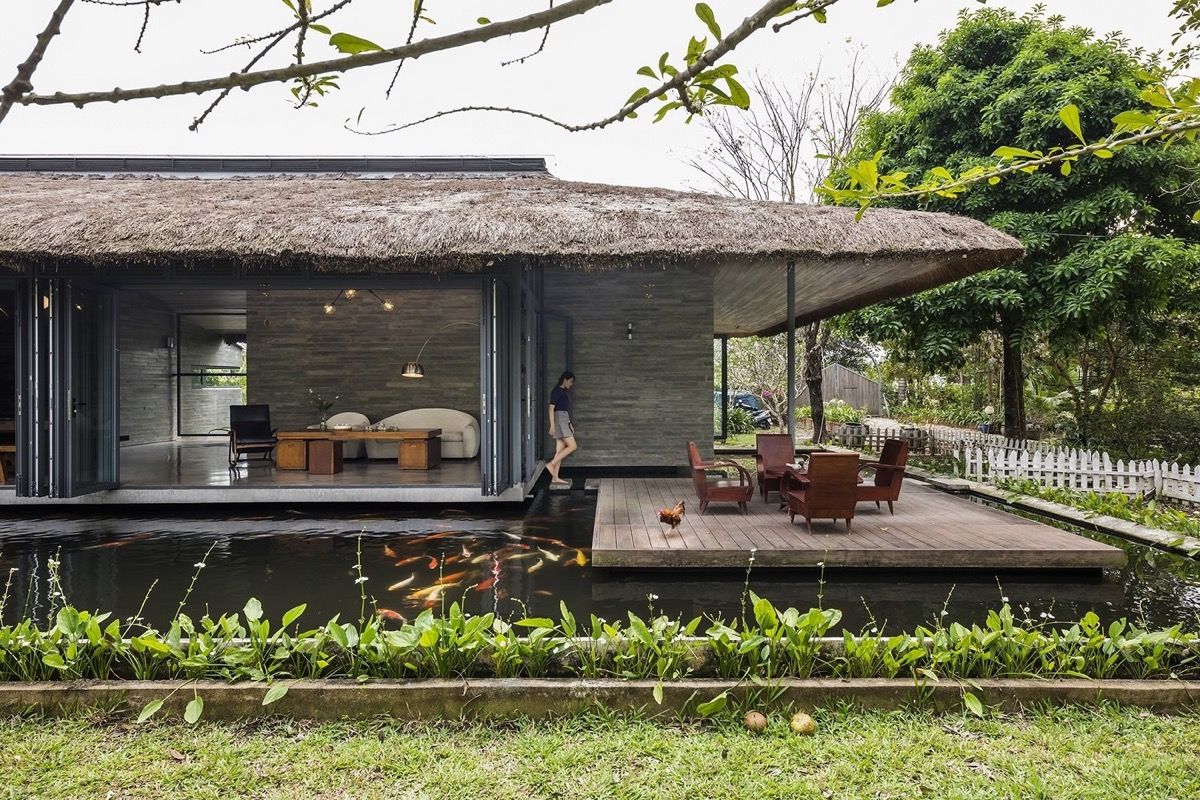 This koi fish pond ripples around an island dining deck, accessed by stepping stones. Fully retractable doors make the living room of the main house into an open poolside lounge.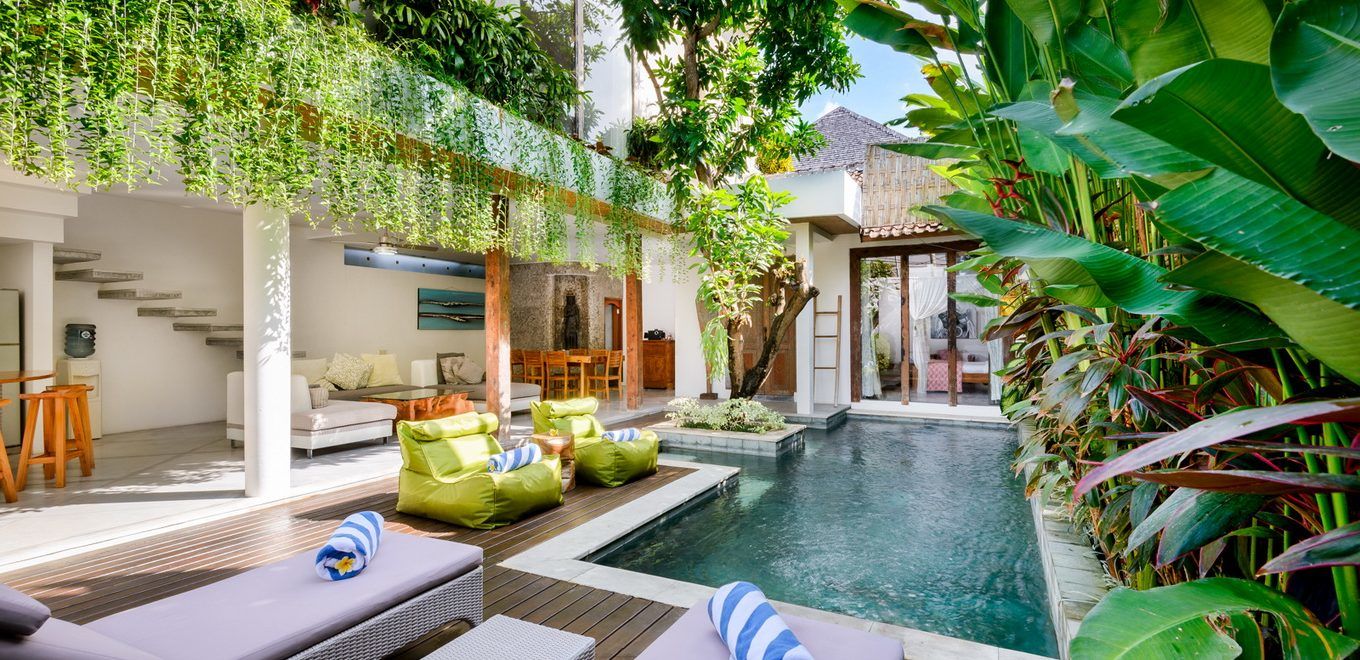 Indoor-outdoor arrangements keep all amenities close to hand, like the kitchen, diner, lounge and pool deck combination of this gorgeous plant covered Balinese villa. See more lush lush Balinese villas here.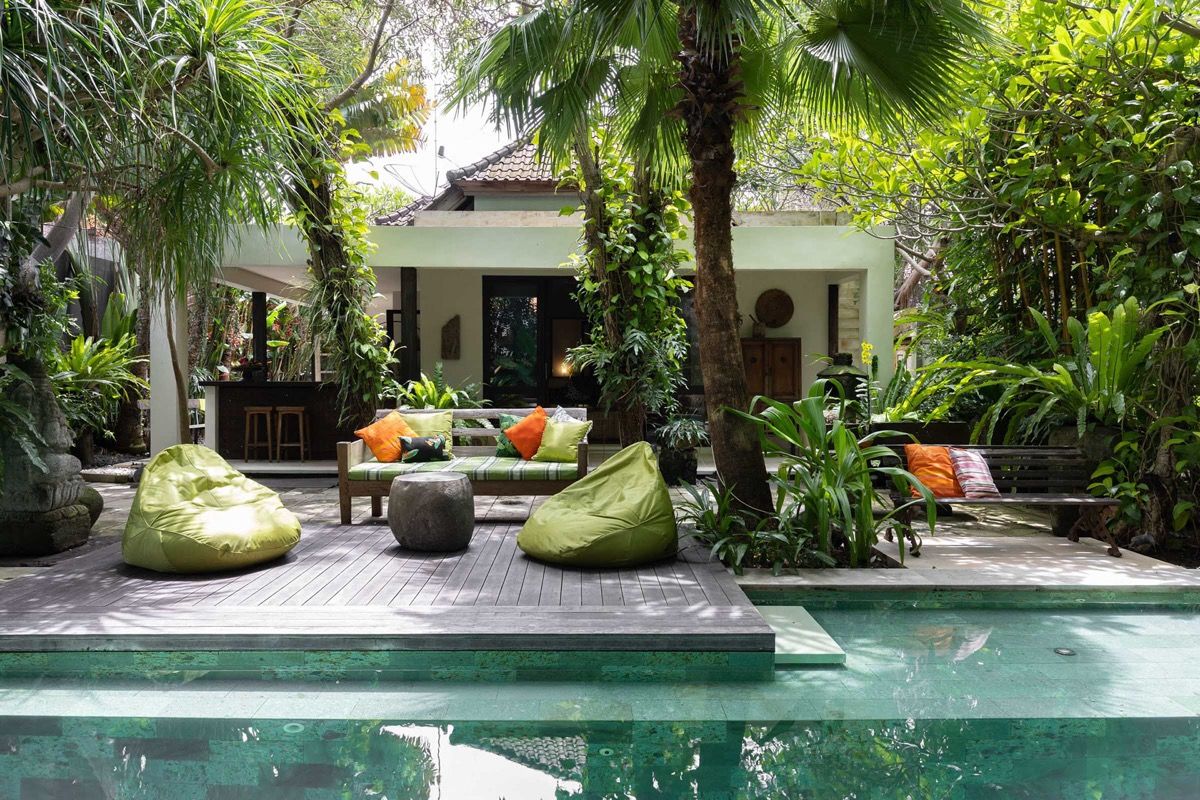 Green chairs, cushions and outdoor beanbags complement Mother Nature's favourite colour. Pops of bright orange add a warm and tropical contrast.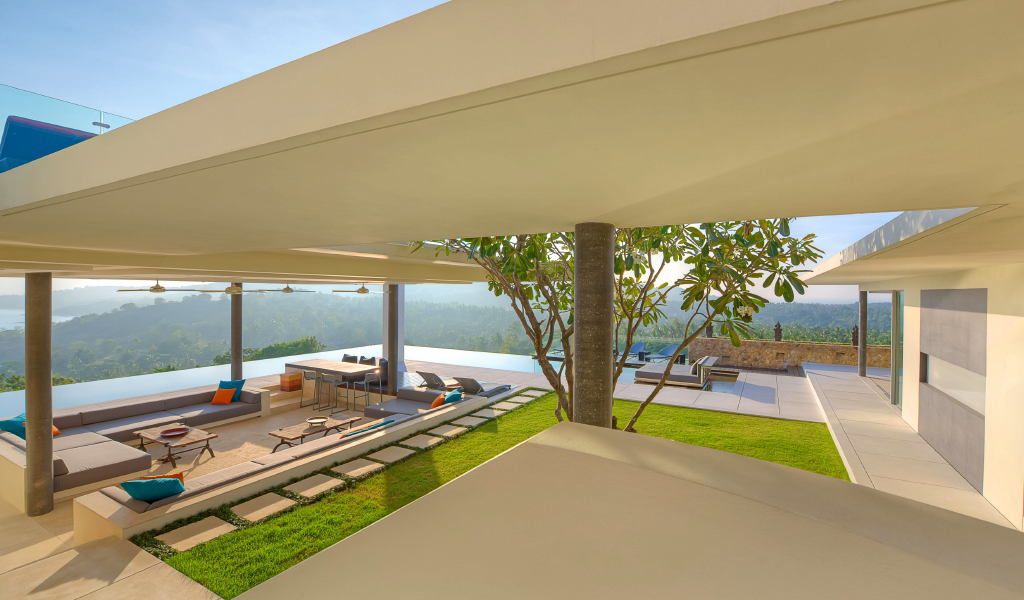 Aqua blue and orange outdoor cushions colour the concrete sofas of this elegant Thailand villa.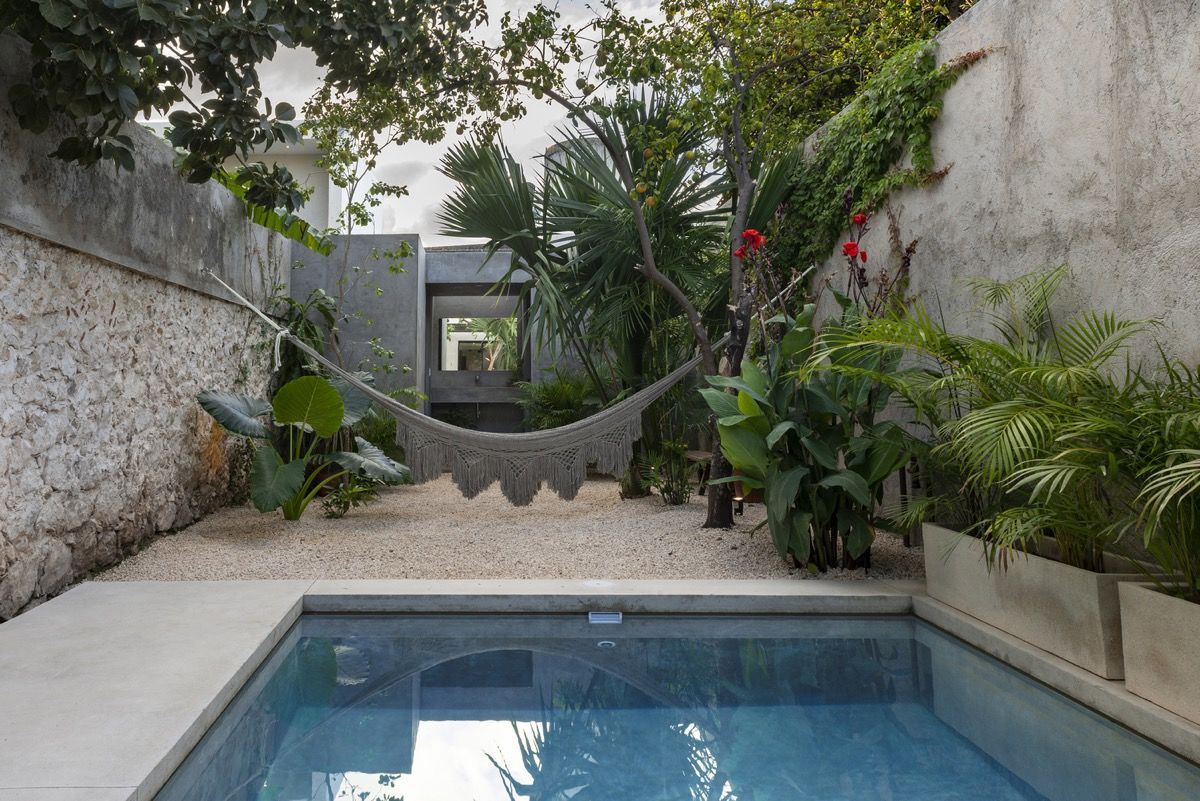 While away the hours in an easy garden hammock, which can be quickly unhooked to make space for other activities at any time. Be sure to surround with an abundance of tropical plants for a secluded jungle atmosphere.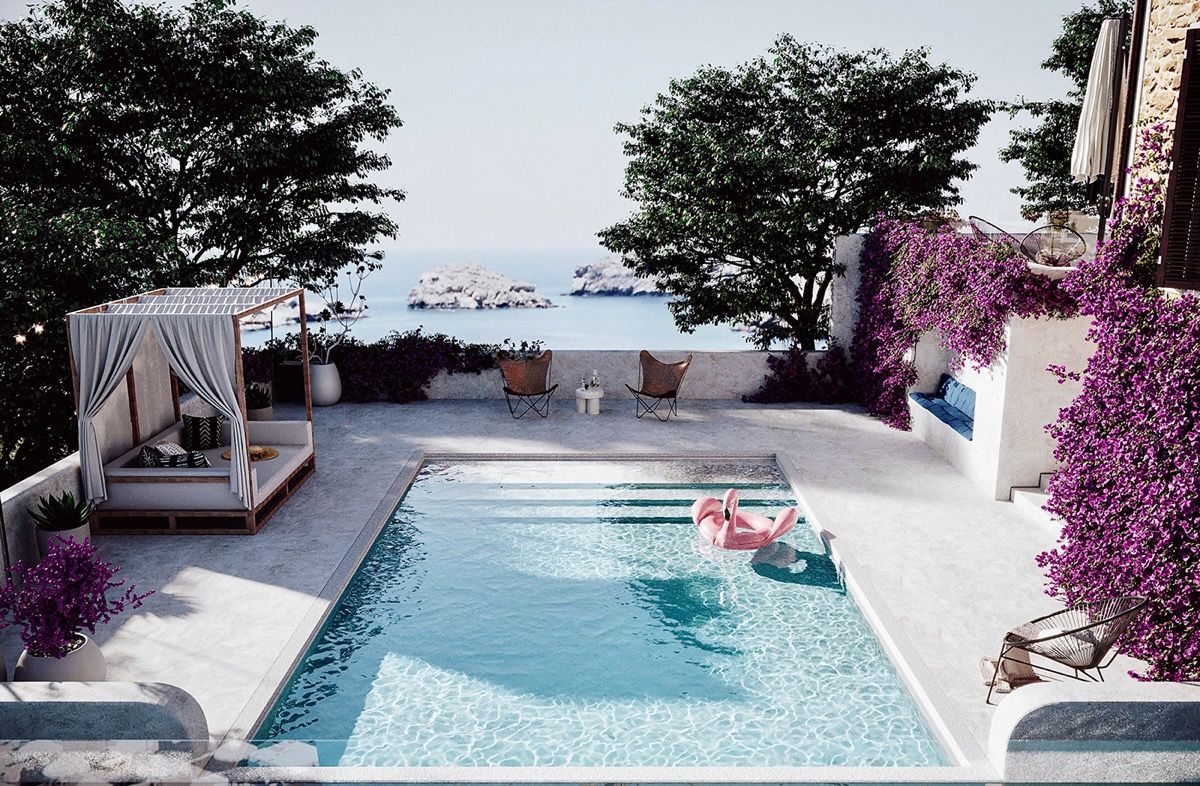 The cabana and concrete built-in bench are cool, but it's the explosion of purple climbers and potted plants that really brings this one to life.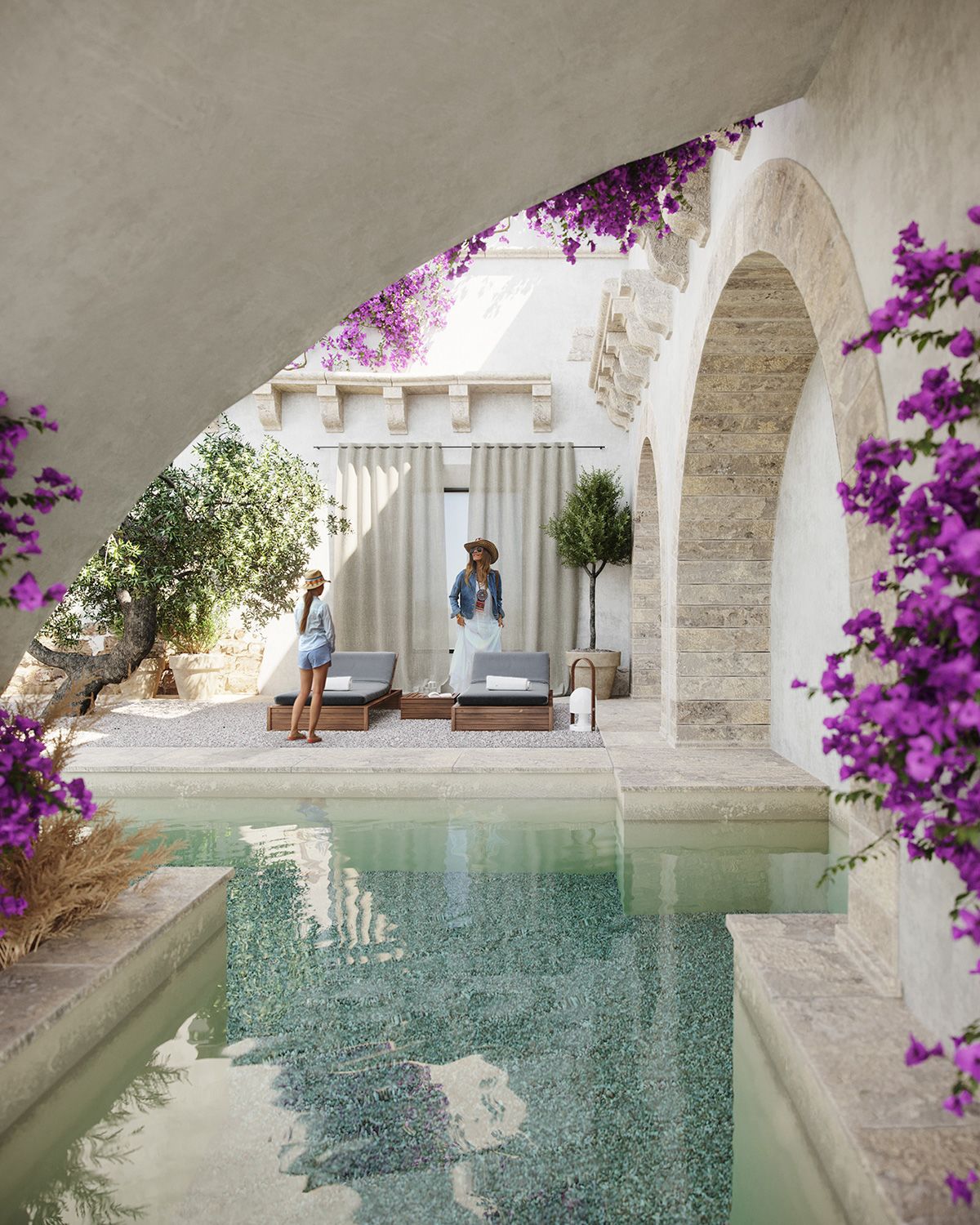 This time purple climbers play second fiddle to a set of grand architectural arches and decorative stone corbels. Olive trees grow from the pebbled patio.