There was an immense feeling of strength and pride on Friday evening February 26th as Mr. & Mrs. Audley and Delma Maduro alongside son Chad Maduro reopened the doors of the Allamanda Estate Villa amongst a host of family, friends and well-wishers.
The Maduro family purchased the estate some 25 years ago after taking a drive on Mother's Day and fell in love with the property. The estate has served residents and visitors as the ideal event location for weddings, retreats and private parties and at one point was Government House for some 5 years. Prince Charles was also a guest at the estate.

After being destroyed by the Hurricanes of 2017, the Maduro's took their time in rebuilding this uniquely designed edifice that encompasses true Virgin Islands beauty with the most breathtaking views of Beef Islands, Tortola. The main property of the old Allamanda footprint consists of 5 bedrooms with an infinity pool on the Southside that tasteful echoes share sophistication, not forgetting a roof top look out lounge with panoramic views. The Hummingbird Suit has 2-bedrooms. Additionally, the property has a downstairs full efficiency unit, perfect for a live in chef. The property is available for rent as one entire unit or two separate units.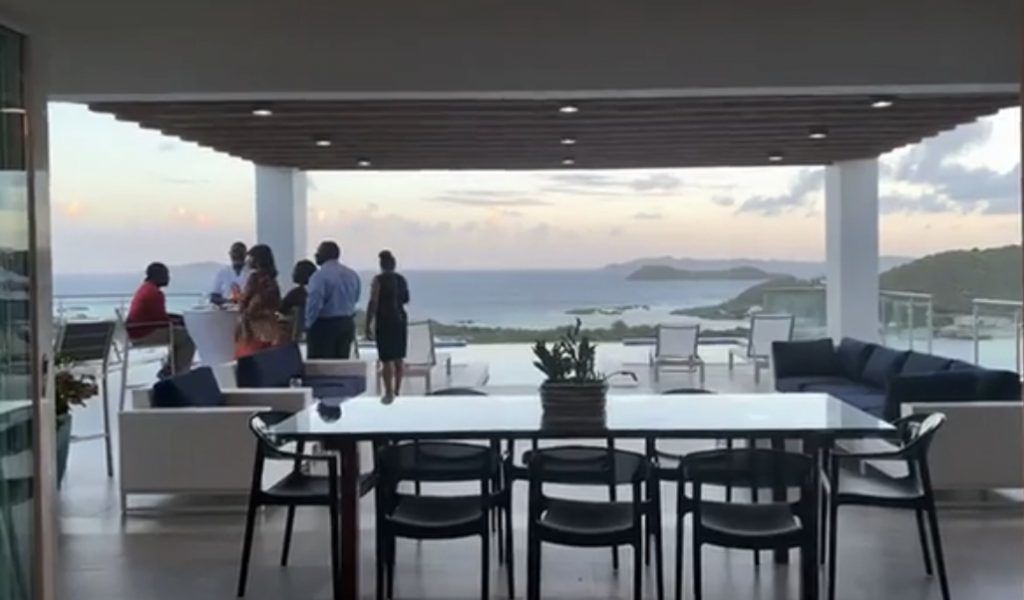 The opening ceremony for the event took place on the patio of the "Happy Place" of the villa, a surprise element added by the highly lauded architect and contractor Mr. Kelvin Liburd of KDL Designs. Present at the momentous occasion was Governor John Rankin, Deputy Governor Mr, David Archer Jr, Deputy Premier & 7th District Representative Dr. Hon. Natalio Wheatley, Leader of the Opposition and 8th District Representative and Hon. Marlon A Penn and Director of the BVI Tourist Board Mr. Clive McCoy.

In his remarks, Hon. Marlon Penn said "Today reminds me of the phoenix rising from the ashes. Allamanda represents the epitome of that story. It represents a great addition to our tourism product and is a great example of what Virgin Islanders can do when we put our minds to it."

Amidst the many congratulatory remarks and well wishes, it was the words of the quiet yet proud businessman Mr. Audley Maduro echoed by his son that spoke to the true spirit of this Virgin Islands family, "Sometimes you have to loose, to gain."

At a time when the BVI seeks to revitalize and reestablish its tourism product after the sever impacts to the industry as a result of the global pandemic COVID-19; this magnificently rebuilt villa sets itself apart as the ideal tourism offering to both locals and visitors. Director of the BVI Tourist Board Mr. Clive McCoy vowed to offer full support and do everything possible to keep the villa booked.