At the conclusion of the inaugural Caribbean Games, the Virgin Islands athletic delegation secured a 16th place finish on the medal tables, coming home with a silver and a bronze medal.
The Games held between June 27 and July 3 for under-23 Caribbean athletes was hosted in Pointe a Pitre, Guadeloupe.

Djimon Gumbs won a silver medal in the men's shot put with a throw of 17.99m, while the men's 4x100m team comprising Vadley Sylvester Jr, Mikkel Bassue, Ke'Andre Campbell and Malik John won the bronze with a time of 42.24.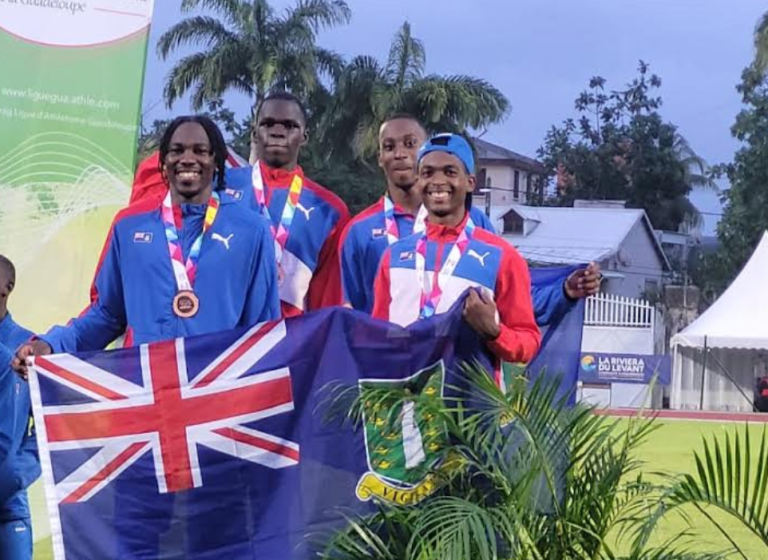 Local bronze medallists in the men's 4×100 metre event, Vadley Sylvester Jr, Mikkel Bassue, Ke'Andre Campbell and Malik John.

Some 29 countries from the Caribbean participated in the games. The BVI took part in two of the seven sports — 3X3 basketball (women) and track & field.

President of the BVI Olympic Committee (BVIOC) Ephraim Penn congratulated the medalists and all the other athletes and coaches for their efforts and participation at the Caribbean Games.

"We are pleased to have provided the majority of the athletes on the team an opportunity to compete in their first major Games. These Games are the next level up from the CARIFTA and the Youth Games and provide a useful yardstick for the standard of competition the athletes can expect to face as they continue to chart their progression in their chosen sport," Penn said.


BVI's female ballers

It was a historic occasion for the Virgin Islands' women's basketball team competing for the first time in a 3×3 tournament and also at a major Game. The basketball team played three games against the Dominican Republic, Puerto Rico and Guadeloupe.

The basketball team — made up of Shauliqua Fahie, Jolene Bowens, Keithrece Smith, Kiara Woodley — lost 12-15 to the Dominican Republic, 4-21 to Puerto Rico and 12-16 to Guadeloupe.

"Although the 3×3 team was defeated at the Caribbean Games, they were very competitive and played extremely well considering it was the first such tournament for the women. The exposure was at a very high level which now prepares the team for the Commonwealth Games," said Ralston Henry, Chef de Mission, Guadeloupe 2022.

Track and field entered athletes in the 100m (male and female), 400m (men), long jump (women), triple jump (women), shot put (men), javelin (women), 110 hurdles (men) and 4x100m (men).

Meanwhile, Diamante Gumbs finished sixth in the men's shot put, Vadley Sylvester Jr competed in the men's 400m but failed to finish due to injury while Malik John finished 13th overall. Mikkle Bassue and Ke'Andre Campbell finished 8th and eleventh in the men's 100m.

Malik Romney finished fourth in the 100m hurdles, Beyonce DeFreitas finished 11th in the women's 100m while Arianna Hayde finished 6th in the Long Jump. She also competed in the Javelin and triple jump. Xiomara Malone finished fifth in the women's Long Jump.