The feature clash of the August Tuesday Races today, August 2, 2022, at Ellis Thomas Downs in Sea Cows Bay will be a Virgin Islands versus US Virgin Islands affair.
Debut horse out of St Thomas Come on Venezuela, said to be a threat in the feature race, will come up against Courage and Honour of Top Priority Racing Stables; One Way to Fame of Mission House Racing Stables; and Gigantic (debut) owned and trained by Dion Stevens.

Come on Venezuela is owned by Laquan Charleswell and has at least three races under his belt in Puerto Rico.

The feature race, The Rodney 'Mileage' Simmonds Memorial Race, will be contested over a 1-mile distance for a top purse of $9000 sponsored by Boys Service Station.

Post time for the feature race is 5:00pm.


PuttingOnaShow!

Race 3 is also being billed a 'co-feature race', with PuttingOnaShow of St Thomas in the mix for the purse of $6000 and contested over 7 furlongs.

The clash of debut horses will include Astro Ride and Long on Luck.


Other races

Race 1 will be 7 furlongs and feature debutants Shine Sam, Dissertation and Ohana Blessed, with Nadie's Image the other horse.

Race 2 will be over the same distance and will include all three horses on debut- Broken Tail, Fasinating Beauty and Clave De Do.

Race 4 will see Keep The Commish and Romantic Henry battling it out over 7 furlongs in their debut race.


'The races are on'- Lesmore Smith

President of the VI Horse Owners Association Mr Lesmore Smith told Virgin Islands News Online this morning, August 2, 2022, "Preparation is in high gear. Everything is going according to plan, so yes, the races are on. It's going to happen! The vendors are setting up and we are getting there."

Mr Smith also said there will be giveaways and surprises for patrons.

He added that Rotary Club of Tortola will be doing its 2nd place drawing of $5000 for its 2022 Raffle and that Rotary will be selling tickets at the venue prior to the drawing, "so somebody could go home with $5000 cash or whatever the disbursement will be."

Admission to Ellis Thomas Downs is $15 adults and $10 for children 12 years and under.

Entertainment will be provided by VIBE.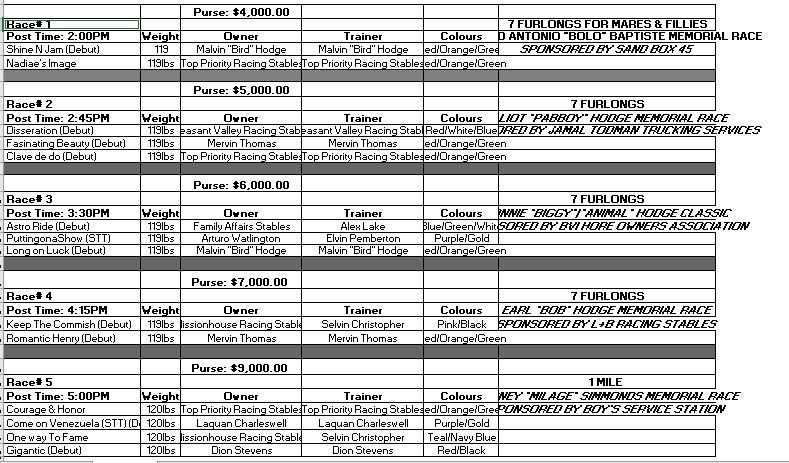 The race card for the 2022 August Tuesday Races at Ellis Thomas Downs in Sea Cows Bay.