Although the Government of the Virgin Islands has not made vaccination against COVID-19 mandatory and has said it does not intend to, some businesses have made it mandatory for their staff.
FirstBank has not only made vaccination mandatory for staff, it is requiring that all staff take booster shots, according to reports reaching Virgin Islands News Online today, February 8, 2022.

Our newsroom was informed by sources within FirstBank that staff members were informed of the policy this morning.

The Pfizer booster shot is being offered for free in the [British] Virgin Islands.


Boosters mandatory

According to a copy of the circular to staff and leaked to VINO, as of March 1, 2022, FirstBank will require all regular and temporary 'FirstbBankers' to be vaccinated with the booster dose against COVID-19.

"Employees who are vaccinated and are eligible for the booster, but do not obtain by March 1st, will be required to upload weekly evidence of negative test results beginning on March 7," the circular stated.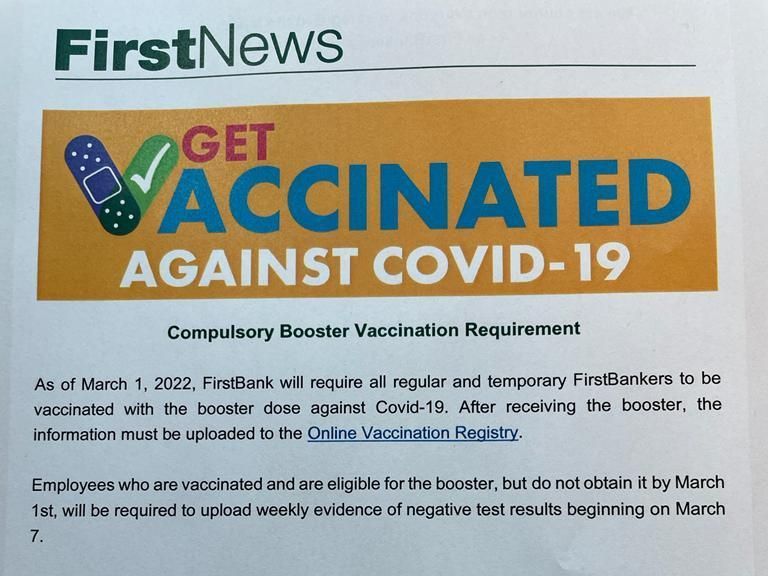 A section of the circular to staff of FirstBank today, February 8, 2022.
Disciplinary action possible

It also said that all staff must be registered in the company's 'Vaccination Registry' or face disciplinary action.

"This requirement is mandatory. Failure to comply with this requirement by the said date will lead to disciplinary action," the circular warned.

Meanwhile, efforts to get a comment from FirstBank, including in Puerto Rico and the US Virgin Islands, proved futile up to the time of publication.