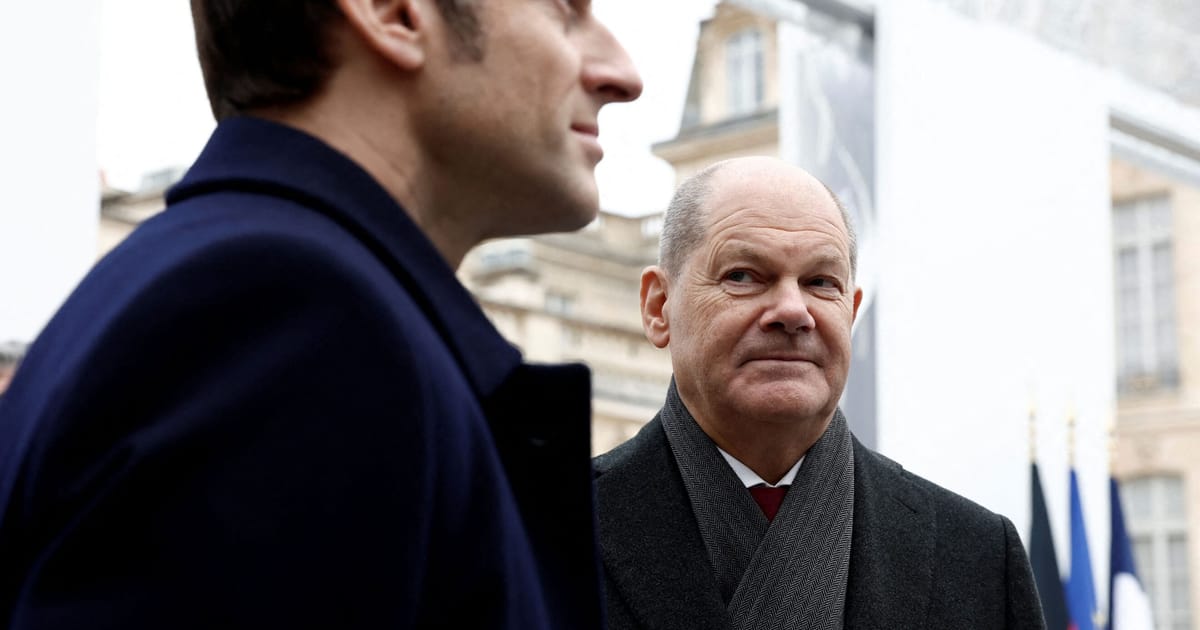 France-Germany feud heats up over cars and nuclear
Rift risks spilling over into EU leaders' summit in Brussels this week.
A growing row between Germany and France risks crashing into a crucial EU summit later this week.

EU leaders will meet in Brussels on Thursday and Friday to discuss economic competitiveness and ammunition for Ukraine, but the clash between Germany and France over combustion-engine cars and nuclear energy now looms disruptively over those talks.

"I am a supporter of permanent Franco-German compromise, but also of truth in the Franco-German relationship. When we have a disagreement, we don't hide it, we work to overcome it," French Transport Minister Clément Beaune told POLITICO.

The EU's move to ban the sale of polluting cars and vans by 2035 in order to tackle spiraling transport-linked greenhouse gas emissions has ignited the latest row after Germany mounted an unusually late blockade of the EU green car rules alongside a small group of allies, including Italy.

Berlin wants a clear exemption for e-fuels, a synthetic alternative to fossil fuels, which would benefit its automotive industry, but that change was already rejected twice in the European Parliament and member countries didn't back a binding loophole for such fuels in lengthy negotiations over the final draft last year.

France strongly criticizes Germany's roadblock, while at the same time is trying to push through nuclear energy exemptions in the EU's green rules — which has irritated Berlin.

France wanted to include a reference in EU summit conclusions that would have emphasized the importance of nuclear power for EU industry decarbonization, two diplomats said. But that's a no-go for German Chancellor Olaf Scholz's government, which includes the nuclear-skeptic Green party.

Although the disputed paragraph was not included in draft conclusions circulated Monday evening by European Council President Charles Michel, Paris continues to push to include nuclear power under the EU's clean tech legislation.

In recent days, France has not only lobbied to include nuclear energy in the EU's Net Zero Industry Act — a legislative package that aims to ramp up the bloc's clean tech manufacturing — but it is also making a renewed push to give nuclear-based hydrogen a bigger role in meeting EU renewable energy goals. The fact that the European Commission, under pressure from Berlin, downgraded the role of nuclear power under the Net Zero Industry Act before it was presented last week particularly angered Paris, according to two diplomats.

Meanwhile, Berlin continued intensive negotiations Monday with the European Commission about cars, regarding a potential deal for allowing synthetic fuels (or e-fuels) under the EU legislation. Scholz wants the issue resolved before Thursday's summit, to avoid it potentially becoming a bigger political discussion among leaders, three officials said.

But even if a deal can be struck on time, it's still likely to be overshadowed by resistance from France and the European Parliament.

Beaune called the German e-fuels push "risky" and said the issue could be discussed on the summit sidelines.

In a letter Monday to the Council of the EU, European Parliament President Roberta Metsola also protested against Germany's last-minute attempt to change already-agreed cars legislation.

Metsola warned it could "undermine the credibility of the [EU's] legislative process," according to an official who has seen the letter. Metsola might also directly bring up these concerns when she meets EU leaders at Thursday's summit.

The big problem for Germany is that its controversial push on e-fuels risks backfiring.

"It's not acceptable to compromise energy versus cars, and France should stick to its public guns and fight for the 2035 engine phaseout," said Julia Poliscanova from the green group Transport & Environment.

Two officials in Berlin said they were worried Germany's blockade on cars legislation would not only undermine Berlin's credibility but also weaken its ability to push back against France's nuclear plans.

"If we're saying at the last moment, 'hold on, we want to change the legislation because we have a key interest here,' it's more difficult to say 'no' if others are doing the same," one said.

Ahead of a meeting Tuesday of EU affairs ministers to prepare the leaders' summit, German EU Affairs State Secretary Anna Lührmann said she hopes Berlin's blockade on the cars legislation won't incentivize other countries to try copycat moves to protect their core national interests.

"It is important that Germany is perceived as a reliable negotiating partner in Brussels and acts early and cohesively. This has to become better," Lührmann told POLITICO.

"This stalemate must now be ended quickly," she added.