As the world grapples with its most serious energy crisis since the Second World War due to the war between Russia and Ukraine, Badr Jafar, chief executive officer of UAE-based Crescent Enterprises, told Arab News he believes it is actually more of "a management crisis."
"The reality is, when you refer to it as an energy crisis, you give the impression that it is somehow a problem with the actual energy source. The problem is, of course, the lack of conducive policies to make sure that the energy reaches the (necessary) markets," Jafar said, speaking on the sidelines of the World Economic Forum's Annual Meeting in Davos. "And this is related, fundamentally, to many, many years of underinvestment in critical sources of energy, in order to provide energy security to large parts of the world."

The headlines speak for themselves. Residents in the UK have been seeing ads suggesting coal furnaces as a replacement for electric or gas heating in their homes as a way to cut costs, while Europeans have been warned to brace for tough winters ahead.

"That's why I refer to it as a management crisis — not to be facetious, but because we need to learn," he said. "Policymakers need to learn to solve these problems with long-term conducive policies, and not short-term politics. (If you try) to address these challenges with short-term politics, this is going to be the result."
Every year at Davos, curated panels sound the alarm on global warming, climate change, and the need to curb the world's dependence on oil. But little has actually changed. Ironically enough, new research commissioned by Greenpeace found that private jet emissions quadrupled during last year's conference. Of the 1,040 private jets that landed, 53 percent were making trips of less than 750 km that could easily have been made by train or car, with the shortest flight clocking in at only 21 km.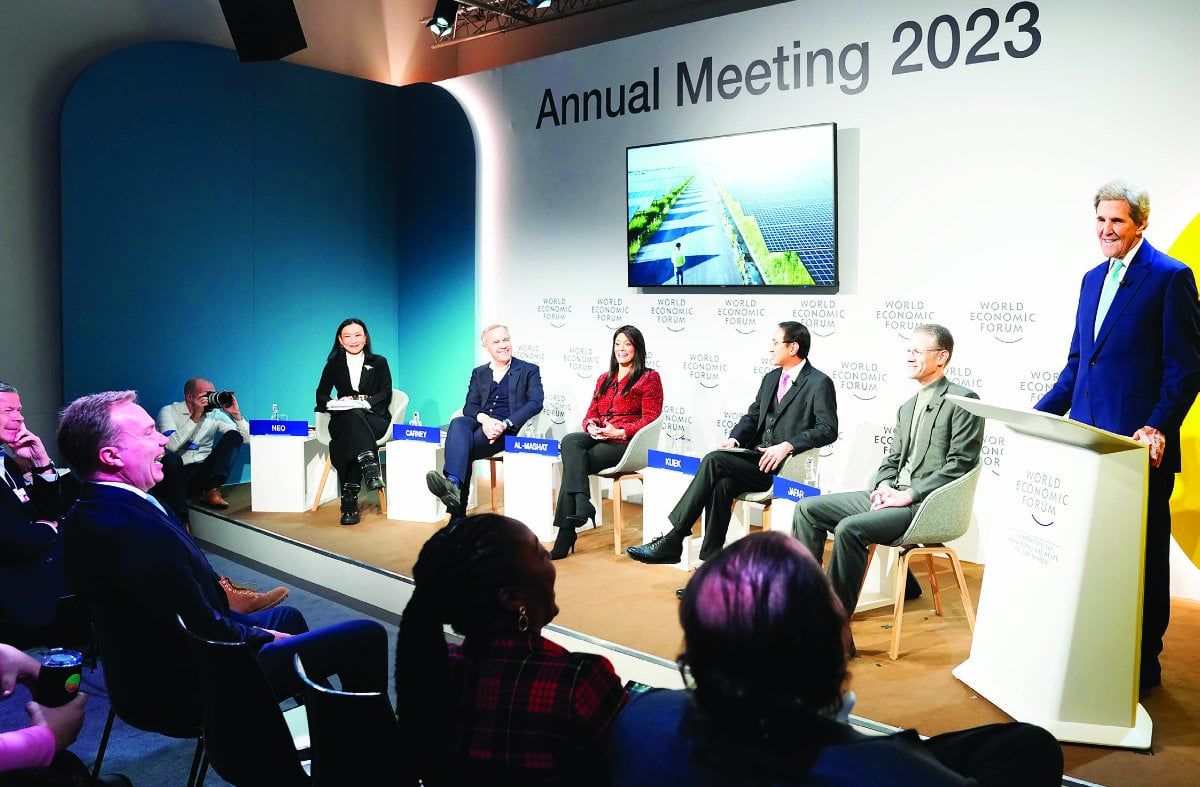 US special presidential envoy for climate (right) speaks during a session titled Philanthropy: A Catalyst for Protecting Our Planet at the WEF meeting this week.
Attendees — and the wider world — were berated by UN Secretary-General Antonio Guterres in his speech on Wednesday. "We are flirting with climate disaster," he said. "Every week brings a new climate horror story. Today, fossil-fuel producers and their enablers are still racing to expand production, knowing full well that their business model is inconsistent with human survival."
Jafar concurs, but doesn't see it as solely a climate issue, rather one that interlinks with the environment.
"It is a climate-nature nexus, which, of course, the world needs to come to terms with. Supporting and enabling a greener evolution of our energy systems is an imperative," he said. "Not just on a regional level, but on a global (level, there) has to be a concerted effort across business, policymakers and civil society."
Despite countries across the globe ratifying climate acts, promising to cut down on emissions and find better, cleaner sources of energy, more needs to be done across the board.
"I think growth and climate are two sides of the same coin. And the edge of that coin, if you will, is conducive policy to make sure that we are pursuing low emissions, but not low growth," Jafar said.
With the UN Climate Change Conference, COP27, having taken place in Egypt in November, and with COP28 to be hosted by the UAE later this year, many see now as the ideal time to "set the stage for 2035 for the region to become a leader and pioneer," as the WEF's head of Middle East and North Africa, Maround Kairouz, put it in an earlier interview.
"The UAE has been doing that by building out renewable energy. It's already supported and invested in at least 20 gigawatts, I believe, of renewable energy and has a goal to increase that to 100 gigawatts by 2030," Jafar said.
Indeed, the UAE Net Zero by 2050 strategic initiative was announced in 2021, making the Emirates the first country in the Middle East and North Africa to commit to a target of net-zero emissions.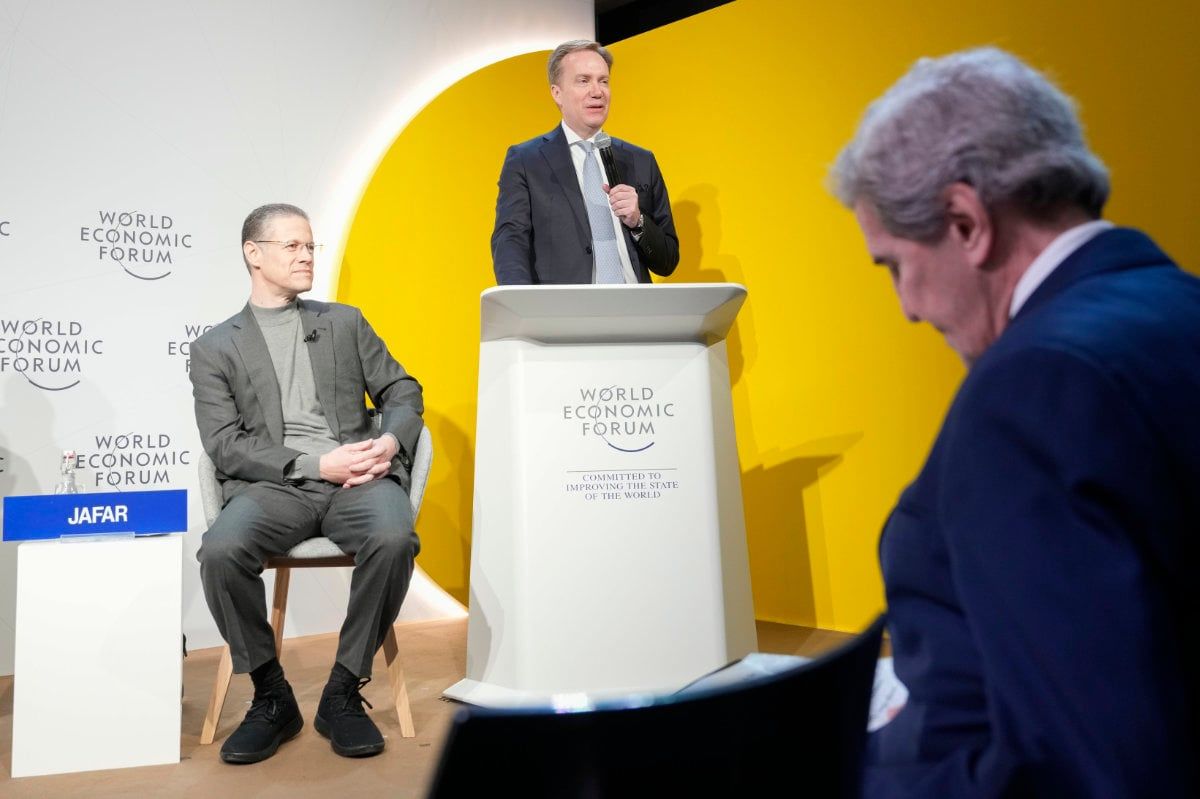 Crescent Enterprises CEO Badr Jafar at the WEF Annual Meeting 2023 in Davos-Klosters on January 17, 2023.

Jafar also cited global philanthropy and faith-based giving as other integral forms of investment that have not been expanded to their full potential.

"Climate philanthropy is growing rapidly. It's grown by three times over the last five years, and it can grow significantly in the years to come," he said.

"We need to create awareness and we need to create alliances. This is what COP28 will also do — help to create an alliance of philanthropists working with family offices and other creative capital actors to come together to really unite, in furtherance of our net-zero, nature-positive goals."

Jafar claims that there are moves underway in emerging markets to make a big difference in the years to come.

"One is greater institutionalization of philanthropy in these markets," he said, "The second is massive intergenerational wealth transfer; in Asia alone, approximately $5 trillion (will pass) from one generation to the next.

"And the third is a greater appreciation of the interconnectedness of the climate crisis with other systems like health, food security, national security, and, of course, social justice."

Jafar believes that such developments will mean the world witnesses "a big change and a big uptick in philanthropic engagement, but also climate philanthropy."